Professor Nikolaj Gadegaard
Professor (Biomedical Engineering)
telephone: 01413305243
email: Nikolaj.Gadegaard@glasgow.ac.uk
https://orcid.org/0000-0002-3396-846X
Research interests
Biography
I graduated from Copenhagen University in 1998 with a BSc degree in chemistry and MSc in physics. After a brief position as research assistant at Risø National Laboratory in Denmark I continued my PhD studies in biophysics graduating in 2002. This was followed by a post doc in the Centre for Cell Engineering at the University of Glasgow. In 2003 I received a personal fellowship from the Royal Society of Edinburgh and was appointed lecturer in 2006, senior lecturer in 2010, reader in 2012 and professor in 2014. In 2013, 2014, and 2015 I was visiting professor at University of California Santa Barbara.
I have published more than 120 papers in peer review journals, many of significant impact. Most notably is the work on the interplay between nanotopography and stem cells published in a series of papers in Nature Materials together with Prof. Matthew Dalby: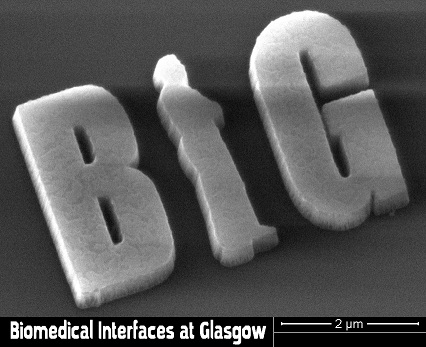 Research interests
My main research interest is surface engineering aimed at biological applications. This involves the design and fabrication of well-defined nanotopographies mainly using high-resolution electron beam lithography (EBL). The topography fabrication requires new methodologies for realising large area (>1 cm2) patterning with sub-100 nm features and pattern transfer technologies. I have developed new techniques for preparing well-defined nanostructured surfaces with dimensions as small as 30 nm and surfaces with different geometrical arrangements. Biological experiments require large number of samples which is realised through various pattern transfer technologies. For large volume pattern transfer I have been particularly interested in developing the possibilities of injection moulding for sub-100 nm surface features. Topographical analysis of fabricated surfaces is important and is carried out by combining high resolution electron microscopy and atomic force microscopy (AFM). I lead all fabrication activities of micro- and nanofabrication for cell and tissue engineering applications in the Centre for Cell Engineering.
Expertise
Micro- and Nanofabrication, injection moulding, biomaterials, polymers, interface characterisation
Grants
FAKIR, ERC; 2015-2020
Synergistic microenvironments for non-union bone defects. UK Regenerative Medicine Platform (UKRMP) - MRC; 2014 - 2017
Mapping the mesoscale structural landscape using "sculpted" chiral plasmonic fields, EPSRC; 2016-2019
Supervision
Research Assistants
Paul Reynolds
Andrew Greer
PhD students
Emma Barbour
Marie Cutiongco
Fraser Campbell
Daniel Morison
Maranda Thompson
Alistair Brydone
Andrew Connell
Teaching
Biosensors and Diagnostics 4 (ENG4036) - Course coordinator
Scaffolds and Tissues M (ENG5282) - Course coordinator
Introduction to Research in Nanoscience and Nanotechnology (ENG5144)
Research datasets
Number of items: 4.
2019
2017
2016
This list was generated on Tue Jul 23 20:37:15 2019 BST.
Additional information
Potential PhD projects
Development of a microfluidic probe for high-content single cell analysis
The golden standard in assessment of cellular function and state is by biochemical analysis such as qPCR, ELISA etc. Usually these measurements are based on whole cell populations of 1000s to 1000000s of cells. As there is a natural variance between cells, it is therefore of interest to analyse samples from smaller populations to single cells. As the analysis generally is acquired from a Petri dish or similar it is difficult to reduce the number of cells without reducing the concentration of the analysis too. However, with the use of a microfluidic probe, it is possible to sample directly in a Petri dish from a select population. Using this method it will be possible to sample from micro-array samples for higher throughput.
In this project you will develop a microfluidic probe platform based on an inverted microscope. This will involve the design of new probes and manipulation mechanics. Once assembled, it will be applied on a range of cell system to validate the process.
The project has partners at IBM Zurich.
Imaging Plasmonic Polarimetry
Developing a functional hepatic niche using nanopatterning and hepatic stem cells
Development of nanoscale mechanotaxis arrays for cell engineering
Advanced manufacturing of medical implants and devices
Publications
Number of items: 135.
2019
2018
2017
2016
2015
2014
2013
2012
2011
2010
2009
2008
2007
2006
2005
2004
2003
2002
This list was generated on Tue Jul 23 20:37:17 2019 BST.
Number of items: 135.
Articles
Book Sections
Conference Proceedings
This list was generated on Tue Jul 23 20:37:17 2019 BST.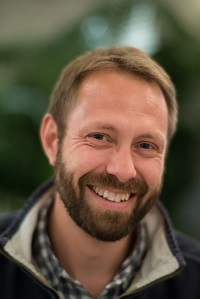 School of Engineering, Rankine Building, Room 622, Glasgow G12 8LT,