Dr Matteo Clerici
Lecturer (Electronic and Nanoscale Engineering)
telephone: +44 (0) 141 330 5222
email: Matteo.Clerici@glasgow.ac.uk
https://orcid.org/0000-0002-9100-8539
Research interests
Biography
Matteo received the Master degree (07/2006, 100/100 cum laude) and PhD (02/2010) in Physics from the Insubria University (Como, Italy). There, he worked in the group led by Prof. Di Trapani on nonlinear optics research themes, in collaboration with Profs. Degiorgio's (University of Pavia, Italy) and Lugiato's (Insubria) groups.

He has been a Postdoctoral Fellow for CNISM (2009-2010, Italy), working on extreme phase-matching through conical waves in the high-order harmonic generation process, in collaboration with Profs. Biegert's (ICFO, Spain) and Di Trapani's groups. He has been PEEE FQRNT Research Fellow (2011-2012) and Marie Curie International Outgoing Fellow (2012-2014) in the group led by Prof. Morandotti, at INRS-EMT, in Canada. There, Matteo conducted research on plasma physics, Terahertz broadband generation and detection, bulk second- and third-order nonlinear effects and quantum optics. In 2014 he returned to Europe, at Heriot-Watt University, for the last year of the Marie Curie fellowship, and worked in the group led by Prof. Faccio continuing his research activities on nonlinear optics, imaging and ultrafast phenomena.
Since October 2015 Matteo is Lecturer (Assistant Professor) at the School of Engineering of the University of Glasgow (UK), where he has established an independent research group: UNO (Ultrafast Nonlinear Optics), dedicated to the study of time-resolved nonlinear and quantum optical effects.
Other content related to Matteo's activities can be accessed at his personal web page: www.mclerici.com
Research Interests
Matteo's research interests cover a broad range of topics. Among them the most relevant are:
Nonlinear optics. Frequency conversion and nonlinear light-matter interaction in both free space and integrated configurations, in perturbative and non-perturbative regimes.
Quantum optics. Development of novel schemes for the generation and application of nonclassical states of light, both in free space and integrated platforms.
Terahertz photonics. Novel schemes for the generation, detection and imaging of terahertz radiation. Study of light-matter interaction with terahertz fields. Novel applications of intense terahertz pulses.
Plasma physics. Triggering and guiding of electric currents with optical pulses
Grants
Active funds
01/03/2018-31/03/2019. EP/R043299/1 (PI).

Polarisation Entangled Photon Emitter, Innovate UK and EPSRC.

01/11/2017-30/06/2018. Q

uantum-enhanced THz generation (PI).

Glasgow University Impact Acceleration Account.

01/01/2017-30/06/2018. EP/P009697/1 (PI). Quantum-enhanced THz spectroscopy and imaging, First Grant, EPSRC.
Past funds



01/10/2016-30/09/2017. RG160355 (PI), High resolution dynamical coherent imaging, Research Grant. The Royal Society.

01/01/2017-31/03/2017. Quantum-enhanced THz detectors (PI). Glasgow University Impact Acceleration Account, EPSRC.

2015-2016. Rewards for Excellence (PI). The College Of Science and Engineering.

The University

of Glasgow.
Fellowships
2012-2015 European Marie-Curie International Outgoing Fellowship awarded for performing research at INRS-EMT in Canada and Heriot-Watt University in Edinburgh.

2011-2012 Canadian MELS Postdoctoral Fellowship (V2) (1st rank), FQRNT, for conducting research at INRS-EMT.

2009-2010 Assegnista di Ricerca (Equivalent to Postdoctoral research fellow). Consorzio Nazionale Interuniversitario per le Scienze Fisiche

della

Materia (CNISM), Univeristà

degli

Studi dell'Insubria, Como, Italy.
Supervision
Research Associate
Shashi Prabhakar (01/04/2018)
PhD Students
Damian Powell (01/10/2017)

Taylor Shields (01/05/2018)
Students
Abu Inayat. MEng, 2017-2018
Alumni
Junsong Huang, Phase imaging with Shack-Hartmann sensors, BEng 2016-2017.

Peihong Tang, Multiplane camera based on the Gerchberg–Saxton algorithm, BEng 2016-2017.
Teaching
2015-Today: Lecturer and Convenor for "Engineering Electromagnetics 2" (ENG2031), 2nd year, School of Engineering, University of Glasgow

2016-Today: Lecturer for "Microwaves and Optical Transmission Systems" (ENG4100), 4th year, School of Engineering, University of Glasgow

2017-Today: Lecturer for "Design Special Topic 5" (ENG5026), 5th year, School of Engineering, University of Glasgow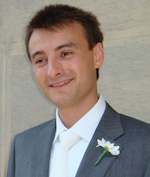 Rankine Building, Oakfield Avenue, R624,