Dr Manlio Tassieri
Lecturer (Biomedical Engineering)
Research interests
Biography
Manlio Tassieri is a Lecturer within the Division of Biomedical Engineering at The University of Glasgow.
He is a council member of The British Society of Rheology, an Associate Member of the Institute of Non-Newtonian Fluid Mechanics, a member of the EPSRC Peer Review Associate College and a member of the Institute of Physics.
He graduated as a Chemical Engineer from the Department of Chemical Engineering, The University of Naples "Federico II" in 2000. During his final‐year project, he developed two novel rheo-optical methods for determining interfacial tension in disperse polymer blends. After graduating, he continued collaborating with researchers in Naples on a pioneering study of the shear induced clustering of gelling droplets in aqueous biphasic mixtures. This topic is of particular interest, for instance, to the food processing industry.
Later, in 2000, he moved to a consultant designer post at TECNOSISTEM S.p.A. Whilst there, his main undertaking was to design ventilation and fireproof systems for underground railways. This involved contributions to the design of the Turin underground railway project associated with the 2006 Winter Olympic Games.
In 2003 he decided to follow his aspiration to become an academic researcher. To do this, he embarked on research in the field of Microrheology of semi-flexible bio-polymers at the School of Physics & Astronomy of The University of Leeds, from where he graduated with a PhD in 2007.
Following his PhD, he held a postdoctoral research position in the Polymer Science and Technology IRC at The University of Leeds, collaborating in the Microscale Polymer Processing project.
In 2008 he moved to the Division of Biomedical Engineering at The University of Glasgow to take up a Research Assistant post studying the use of optical tweezers to measure properties of biological cells.
In 2010 he was awarded a Royal Academy of Engineering Research Fellowship to combine Microrheological techniques with Microfluidic devices. The aim of this Fellowship was to deliver new sensitive tools that measure conformational changes of biological systems at nano‐ and micro‐length scales, occurring as a consequence of pathological phenomena and/or variations in the surrounding solutions (e.g. due to drug stimulation or osmotic changes).
In April 2013, he has been elected council member of The British Society of Rheology.
In July 2016, he has been elected Associate Member of the Institute of Non-Newtonian Fluid Mechanics.
In September 2016, he has been invited to become a member of the EPSRC Peer Review Associate College.
In January 2017, he has become a member of the Institute of Physics.
In February 2017, he has been invited to become an Editorial Board Member for Scientific Reports, a journal published by Springer Nature.
He acts as academic advisor for both national and international funding councils:
He acts as an academic referee for international scientific journals, such as Science, Physical Review Letter, Lab on a Chip, Macromolecules, Scientific Reports, Langmuir, RSC Soft Matter, Journal of the Royal Society Interface, PLOS ONE, Biomedical Optics Express, RSC Advances, Optics Express, Journal of Rheology, Journal of Chemical Physics, Biomicrofluidics, Industrial & Engineering Chemistry Research, Physical Review E, Philosophical Transactions of the Royal Society A, Europhysics Letters, Applied Spectroscopy, Applied Optics, Cellular and Molecular Bioengineering, Journal of Polymer Engineering.
Research Interests
Manlio Tassieri research interests are in the fields of rheology, microrheology and metrology applied to biological, bio-analytical and synthetic systems.
Expertise
Rheology, microrheology (i.e. passive video particle tracking, magnetic tweezers, optical tweezers), rheo-optics, polymer physics and technology, biophysics (i.e. bio-polymer network and cell mechanics)
Selected publications
Robertson, E.J. et al. (2014) Cryptococcus neoformans ex vivo capsule size is associated with intracranial pressure and host immune response in HIV-associated cryptococcal meningitis. Journal of Infectious Diseases, 209(1), pp. 74-82. (doi:10.1093/infdis/jit435)
Tassieri, M., Evans, R., Barbu-Tudoran, L., Khaname, G., Trinick, J. and Waigh, T. (2008) Dynamics of semiflexible polymer solutions in the highly entangled regime. Physical Review Letters, 101(19), (doi:10.1103/PhysRevLett.101.198301)
Grants
Title:
"Rheology at the Microscale: New Tools for Bio‐analysis", RAEng/EPSRC Research Fellowship. Duration five years: from 01/09/10 to 31/08/15. Value: £ 763,325.00.
School of Engineering PI fund. Awarded 27/04/12 Value: £1,729.00
"Novel Optical Electrical Mechanical Sensory Platform" in collaboration with Dr Alasdair W Clark and Dr Steven Neale from 11/06/12. Value: £40,000.00
"Upgrading the small scale equipment base for early career researchers in the engineering and physical sciences" awarded by the EPSRC in collaboration with Prof. Miles Padgett et al. Awarded on 28th November 2012. Value: £14,000.00 (as part of £447,930.00).
Supervision
Manlio Tassieri is second supervisor to:
Miss Liliana Acosta Alvarez; Mr Niall Geoghegan; Mr Bin Ismail Mohd Hafiz; Mr Arslan Khalid Muhammad; Mr David James Paterson; Mr Ben Tiller.
A PhD position is available within the Biomedical Engineering Division. The aim of the project is to deliver new instruments and tools for measuring fundamental information on the nature of macromolecular interactions, in solution. For more information please contact Dr Manlio Tassieri (Manlio.Tassieri@glasgow.ac.uk).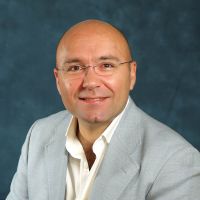 R105, School of Engineering, 76 Oakfield Avenue, Glasgow G12 8LT