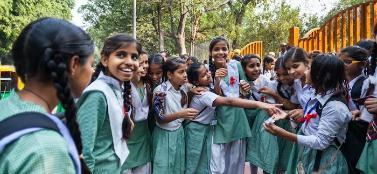 Related Publications
Ahmad, S. , Baffoe, G. , Bhandari, R. , Young, G. and Osborne, M. (2021) Sustainable, healthy, learning cities and neighbourhoods. In: Venter, M. (ed.) Learning for a Better Future: Perspectives on Higher Education, Cities, Business and Civil Society. AOSIS: Durbanville. (In Press)
Nesterova, Y. and Capsada-Munsech, Q. (2021) National and subnational approaches to regulating private technical and vocational education and training: comparative insights from Asia and Africa. Paris: UNESCO Global Education Monitoring Report. (commissioned; in preparation)
Nesterova, Y. and Young, G. (2020) Education Policies, Systems, and Progress in Africa and Asia : A Comparative Analysis of 12 Cities in Six Countries. Documentation. GCRF Centre for Sustainable, Healthy and Learning Cities and Neighbourhoods (SHLC).
Osborne, M. and Hernandez, S. (2020) Sustainable Learning Cities: Inclusion, Equity and Lifelong Learning. Project Report. UNESCO Institute for Lifelong Learning, Hamburg. (In Press)
Rowell, C. (2020) Education policies and issues in developing countries.
Rowell, C. and Osborne, M. (2020) Beyond schooling: learning cities and adult education in the Global South. In: London, M. (ed.) Oxford Handbook of Lifelong Learning. Second Edition. Oxford University Press: Oxford. ISBN 9780197506707 (doi:10.1093/oxfordhb/9780197506707.013.25)