Dental Students take part in World Restart a Heart Day 2019
Issued: Mon, 21 Oct 2019 13:34:53 BST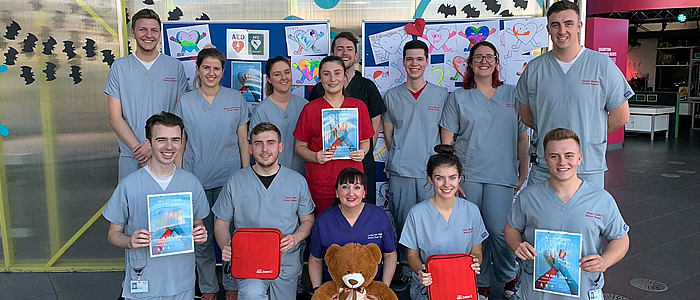 On Wednesday the 16th of October a group of undergraduate dental students attended Glasgow Science Centre for World Restart a Heart Day. The aim was to raise awareness on out of hospital cardiac arrest and train children in cardiopulmonary resuscitation (CPR) and the use of an automated external defibrillator (AED). The event was a huge success with a staggering 461 children trained, each child left proudly clutching a certificate of achievement.
This year the group was joined by a former student, Declan Cairns (pictured back row, centre) who graduated BDS in 2016. Earlier this year Declan was called to a local Tesco car park where he found a gentleman in cardiac arrest. The gentleman turned out to be a patient who they successfully managed to resuscitate.
A few months later the gentleman attended the practice for his routine dental check-up alive and well. Training and good quality CPR can save lives!
---