Dental School Postgrad Society Residential Writing Retreat
Issued: Fri, 12 Feb 2016 11:07:00 GMT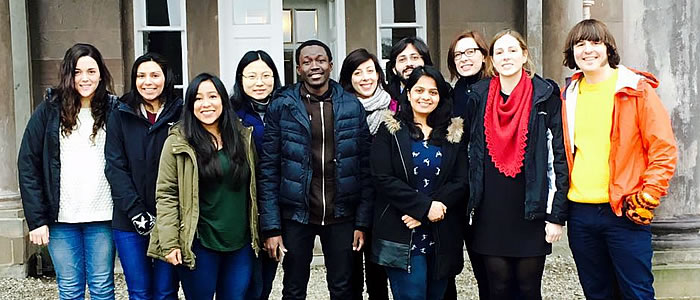 In early February 11 Postgradute MVLS students embarked on an intensive 3 day residential writing retreat at The Burn, a small country estate situated near the village of Edzell, north of Dundee.
The event was organised by the Dental School Postgraduate Society (DSPS), and thanks to funding from MVLS Graduate School Skills Training Award and the use of UofG Students Association mini-buses, the DSPS were able to cover the cost of transport, accommodation and full board.
The aim of the writing retreat was to provide students with the inspiration, encouragement and motivation for producing high quality writing with minimal distractions.
Over the 3 days, DSPS President Faith Hodgins and Secretary Mairi Young, hosted structured blocks of individual writing time. Each day started with students documenting their goals for the day ahead and at the end of each day, students were encouraged to reflect in pairs/small groups on whether they achieved their goals. Thanks to excellent catering from The Burn, students were happily fed and supplied with caffeine and home baking throughout each day.
Students were also lucky to enjoy sole use of The Burn's Georgian Mansion, built in 1791, which proved very beneficial for ensuring quiet writing blocks. During the evenings the students enjoyed their well-deserved time off with piano playing, an impromptu ceilidh and games around the open fire. It's no surprise they didn't want to leave.
---