A Fond Farewell at Campbeltown Dental Centre
Issued: Tue, 21 Oct 2014 15:19:00 BST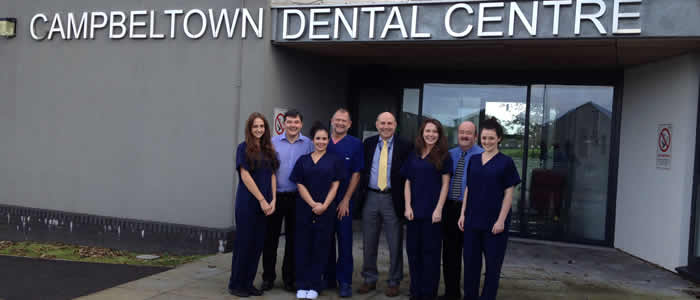 This year's annual Service Level Agreement Meeting at Campbeltown held on 16th October at the Dental Centre was rather more of an 'occasion' than usual. Following the business meeting, Jon Victor, Senior Salaried Practitioner and outreach tutor was presented with a University of Glasgow engraved whisky decanter and glasses by Professor Jeremy Bagg, Head of School, as he prepares to return home to the south of England at Christmas.
Jon Victor is in his fourth year in post in Campbeltown and has made an immense impression on all students who have attended residential outreach there, where they have benefited from his wealth of experience.
He came into post following a long naval career, then more recently from a management position with a corporate body in the south of England.
Since 2011, he has set up and organised a thriving Dental Centre in Campbeltown which is a partnership initiative with Argyll and Bute Community Health Partnership (NHS Highland), NHS Education for Scotland and the University of Glasgow. There is only one other General Dental Practice serving the Kintyre peninsula, so the outreach facility has contributed to the provision of oral health care for over 1500 patients per year in this rural community since opening.
Four final year dental students per week from University of Glasgow Dental School have attended Campbeltown on residential Outreach placement during academic sessions 2011-12, 2012-13, 2013-14 and 2014-15, improving their clinical and management skills under his generous guidance as they prepare for graduation and their subsequent working lives. Feedback from this Centre (one of eight in West Central Scotland involved in the final year programme) has been extremely positive. Jon has managed to combine the roles of educator and clinician seamlessly, integrating pastoral care for students working in an unfamiliar environment with ease. He also attends the Dental School to examine in the Final BDS Examination and participates fully in all training events organised for teaching staff.
Jon is actively interested in education and has demonstrated this during his time in Campbeltown, completing a Certificate in Postgraduate Medical Education through the University of Glasgow.
He is ideally placed to take up the role of Small Group Facilitator at Peninsula which he commences on his 60th Birthday in January.
Best Wishes, Jon!
---
Photograph (Left - Right)
Ashleigh Meikle - BDS 5
Frank Bonner – NHS Liaison and Outreach Administrator
Asha Thomson – BDS 5
Jon Victor – Senior Salaried GDP / Outreach Tutor
Jeremy Bagg – Professor of Clinical Microbiology / Head of Dental School
Amy Porter – BDS 5
David Watson – Senior Clinical University Teacher - Restorative Dentistry / Outreach
Lauren Humphries – BDS 5