Forty-Two Years and more than 3000 Dental Students: Jinty's retirement marks the end of an era
Issued: Fri, 12 Sep 2014 14:46:00 BST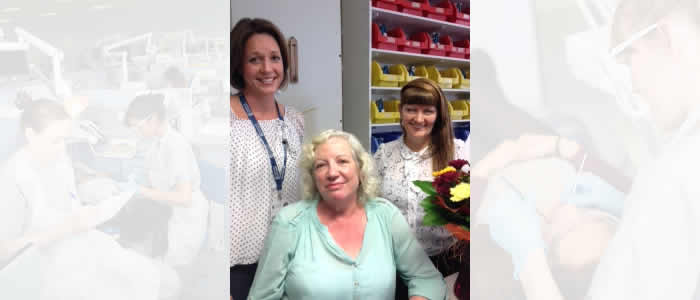 A visitor to the Dental School at lunchtime on Wednesday 10th September might have wondered where everyone was. The answer could be found on level 2, where a large group of staff, both past and present, had gathered in the level 2 teaching laboratory to give Jeanette Nimmo a send off worthy of her 42 years service to the Dental Hospital.
Jeanette, the Dental Nurse Team leader, in Restorative Main Clinic, the largest student clinic in the building, is retiring. Rough estimates suggest that more than 3000 dental students will have completed their undergraduate careers at the University of Glasgow Dental School during Jeanette's working life. Each one will know her and respect her. Nothing was ever too much bother for her. Apart from keeping the busy student clinic running, Jeanette also played an active part in student social events like the pantomime and she has been a great help in examinations over the years. In the recent BDS 5 OSCE in May of this year, whilst the Art School was burning ferociously, Jeanette carried on regardless, hoping not to be evacuated as she didn't want to miss out on her last OSCE!
The impressively large turnout of staff at her retirement lunch reflected the popularity of this down-to-earth lady and the respect her colleagues have for her. Jeanette was honoured to receive a letter from Professor Jeremy Bagg, Head of the Dental School, thanking her for her contribution to undergraduate teaching over the years. Flowers and gifts were presented by Dr Aileen Bell, Director of Dental Education and Dr Laura Cross, Head of the Clinical Dentistry Section.
Although everyone will miss Jeanette, we all wish her a long and happy retirement!
---