Burns in the World - Centre for Robert Burns Studies 2015 conference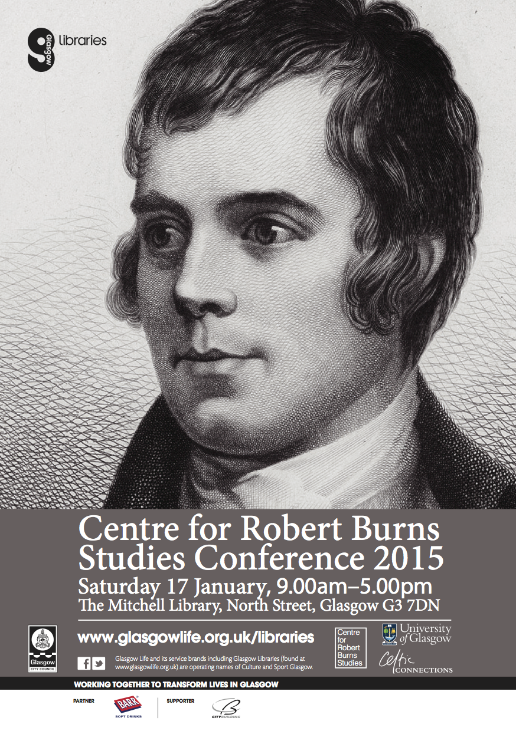 After the success of our conference in 2014, the Centre for Robert Burns Studies was delighted to hold its 2015 annual conference 'Burns in the World' back at the Mitchell Library, home to one of the world's finest collection of Burns materials.
An array of high profile speakers presented papers on a diverse range of Burns-related topics, from his use of 'sentimental language' and his reference to historic sites and places in his poetry, to a layman's look at his love song 'John Anderson my Jo' and a new discovery about his 'Grizzle Grim' Epitaph. Papers looked at Burns's 1787 Highland Tour and addressed the legacy of John Gribbel, the man who sent the famous Glenriddell manuscript back to Scotland. And the Burns Scotland annual lecture was delivered by Dr David Goldie (University of Strathclyde) who focussed, appropriately, on Robert Burns and the First World War.
The audience enjoyed hearing Alison and Fiona McNeill perform some of Burns's songs and the tunes he worked with, and the first volume of our new Oxford edition of the Works of Robert Burns – Nigel Leask's edition of the Commonplace Books, Tour Journals and Miscellaneous Prose - was launched in the Burns Room at 4pm.
Speakers:
- Kirsteen McCue (University of Glasgow)
- Jonathan Henderson (University of Glasgow)
- Ranald MacInnes (Historic Scotland)
- David Hopes (Robert Burns Birthplace Museum)
- Frank Shaw (Atlanta Burns Club)
- Douglas Abercrombie, Frank Brown, Simon Houison-Craufurd & Pamela McIntyre
---
First published: 28 November 2014