BAVS Conference 2010
Quick Links
BAVS Conference 2010

2-4 September, 2010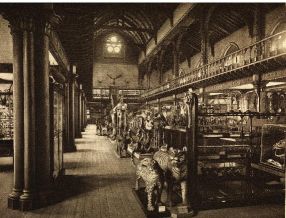 UPDATE: THE DRAFT CONFERENCE PROGRAMME IS NOW AVAILABLE - PLEASE CLICK THE LINK ON THE RIGHT

The University of Glasgow and the Department of English Literature are delighted to host the 10th anniversary conference of the British Association for Victorian Studies, on the theme of 'Victorian Forms and Formations'. Please click on the links on the right-hand side of this page to find details of the CFP, plenary speakers, accommodation and travel.
Download the conference poster here:
The conference will be held in the Main Building of the University of Glasgow, a spectacular Victorian Gothic building by George Gilbert Scott, which stands on a hill overlooking the city. It houses the Hunterian Museum, where we will be holding a drinks reception during the conference, and the Bute Hall, with impressive stained-glass windows by Edward Burne-Jones. The Main Building and central university campus are located in the heart of Glasgow's West End, a lively area about a mile from the city centre, known for its restaurants, bars and shops.
Within 10 minutes walk from the university, other attractions for Victorianists include:
During the conference we will also be using the Glasgow University Union, just across the road from the Main Building, for a conference dinner and ceilidh.