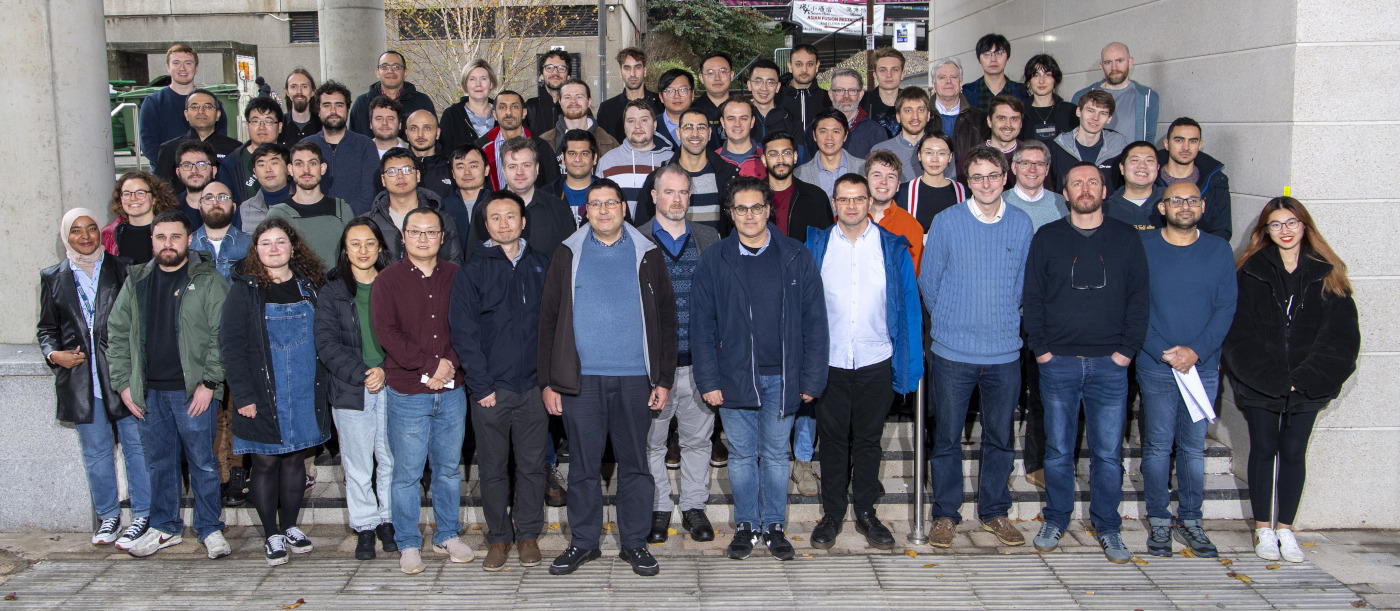 Information, Data & Analysis (IDA) Section
Overview
Technological advances in sensing, data acquisition, mobile devices and the impact of the Internet are leading to increasing amounts of data sampled more rapidly and comprehensively than ever before. If we are to acquire novel insights and knowledge from this data, it needs to be matched by innovations in data management, storage and retrieval and ultimately in data analytics. The many forms of data, their complexity and variations present challenges from information and data systems, to algorithms and inference about patterns through modelling, leading to visualisation, communication and human-computer interaction.
The Information, Data and Analysis Section is led by Professor Iadh Ounis, and has 31 academics, and 53 Post-Doctoral Fellows, Research Assistants and Ph.D. students active in this area. Our research is organised in four world-leading groups in data systems, human-computer interaction & machine learning, information retrieval, and computer vision & autonomous systems:
News
December 2022: Professor Iadh Ounis was awarded the prestigious international 2022 Tony Kent Strix Memorial Award in recognition of his significant contributions to the field of information retrieval research and development.
Professor Ounis is noted for his sustained contributions to advances in information retrieval, his inspirational leadership, commitment to PhD education, research and contributions to R&D through open-source software and information retrieval tools. The highly valued Terrier and PyTerrier platforms have been utilised extensively across the information retrieval community and advanced research significantly. His work on many information retrieval tasks including expert search models, search results diversification, search ranking, recommendation, fake news detection and query performance prediction has furthered the community's understanding of some of the most fundamental information retrieval questions.
October 2022: Dr. Graham McDonald (PI), Dr. Jake Lever and Prof. Iadh Ounis secured an EPSRC New Horizons award for their project SIEPH: Safe Information Extraction from Patient Histories. The project will develop machine learning methods for safely extracting useful information from patients' medical records for medical researchers while maintaining patient privacy.
June 2022: A team of students, led by Dr Jeff Dalton, are the winners of a major international competition to develop next-generation conversational assistants. The GRILL team (grilllab.ai) took first place in Amazon's Alexa Prize TaskBot Challenge, beating out nine leading research teams worldwide. The competition, launched in June 2021, challenged university students to develop conversational agents that assist people in completing cooking and do-it-yourself home improvement tasks that required multiple steps and complex decisions.
April 2022: Dr. Fani Deligianni (PI) secured an three year (2022-2025) EPSRC New Investigator Award for the project Privacy-Preserved Human Motion Analysis for Healthcare Applications, which will develop artificial intelligence algorithms for human motion analysis in healthcare applications that preserve users' privacy.
November 2020: Dr Jeff Dalton has recieved a prestigious Turing AI Acceleration Fellowship supported by a £20 million government investment (UKRI) to develop smarter, more helpful virtual personal assistants over the next five years. Read more about the award here.
Section members
Academic Staff:
Research Staff:
Honorary Research Fellow:
Research Students:
Events this week
There are currently no events scheduled this week
Upcoming events
There are currently no upcoming events
Past events
Music Information Retrieval and its Application in Music Recommender Systems (06 February, 2023)
The Fully Convolutional Transformer in Medical Imaging (01 February, 2023)
CVAS Weekly Meeting (25 January, 2023)
Evaluation and privacy in recommender systems (23 January, 2023)
Design Engineering for AI Engineering (19 January, 2023)
Query-Specific Entity Representations for Answering Entity-Centric Queries on the Web (16 January, 2023)
System design for the UGRacing driverless project (11 January, 2023)
Contrastive Search: The Current State-of-the-art Decoding Method For Neural Text Generation (09 January, 2023)
From Gambles to User Interfaces: Simulating Decision-Making in the Real World (08 December, 2022)
Stability within Reinforcement Learning (30 November, 2022)
Interplay between Upsampling and Regularization for Provider Fairness in Recommender Systems (28 November, 2022)
NeurIPS warm up talks: Bessel Equivariant Networks for Inversion of Transmission Effects in Multi-Mode Optical Fibres and Physical Data Models in Machine Learning Imaging Pipelines (24 November, 2022)
Sampling strategies with self-supervised learning for multi-label image classification (16 November, 2022)
Rethink conversational recommendations and beyond (14 November, 2022)
Advances in Data Stream Mining with Concept Drift (09 November, 2022)
Combining Network Structures and Natural Language Processing for Fake News Detection (07 November, 2022)
Brain-Machine Interface for Search (31 October, 2022)
Effectiveness and Efficiency Advancements in Conversational Search (24 October, 2022)
The road from Explainability in Recommender Systems to Visual XAI (17 October, 2022)
Retrieval-Enhanced Language Models and Semantic-Driven Summarization for Biomedical Domains (10 October, 2022)
Don't recommend the obvious: estimate probability ratios (26 September, 2022)
Machine Learning in Science Conference (27 July, 2022)
Aligning existing information-seeking processes with Conversational Information Seeking (25 July, 2022)
Complex question and clarifications (06 July, 2022)
Efficient Neural Ranking using Forward Indexes (04 July, 2022)
Item- and Sequence-level Contrastive Learning in Sequential Recommendation (20 June, 2022)
Recommender systems: From shallow learning to deep learning (13 June, 2022)
Responsible Information Access Beyond Fairness (06 June, 2022)
Search Among Sensitive Content (30 May, 2022)
Neural Query Performance Prediction (23 May, 2022)
Applied research for product development (16 May, 2022)
Different sides of the same coin? (25 April, 2022)
Reproducing Personalised Session Search over the AOL Query Log, or How to Reconstruct a Historic Web Corpus (04 April, 2022)
Different sides of the same coin? (28 March, 2022)
Neural Symbolic Processing - Effectively Handling Knowledge and Reasoning (21 March, 2022)
Principled Multi-Aspect Evaluation Measures of Rankings (14 March, 2022)
Sequential and Session-Based Recommender Systems (07 March, 2022)
Recommender Systems & Diversity of Consumption (28 February, 2022)
Recommending people in social networks: algorithmic models and network diversity (21 February, 2022)
Modelling for Millions of Users: Tales from Question Answering at Scale (14 February, 2022)
What's the matter with IR evaluation measures? Scales? Significance Tests? Meaningfulness? (07 February, 2022)
Probing and infusing biomedical knowledge for pre-trained language models (31 January, 2022)
Do I really have to read that paper? (17 January, 2022)
Effective and Efficient Dense Retrieval via Joint Optimization with Compact Index (10 January, 2022)
Neural Machine Translation Inside Out (06 December, 2021)
Footprint of Societal Biases in Information and Language Processing (29 November, 2021)
Recent advances in unbiased learning to rank from position-biased click feedback (22 November, 2021)
Data-efficient and Explainable Ranking with BERT models (15 November, 2021)
From research to production - bringing the neural search paradigm shift to production (08 November, 2021)
Reinforcement Learning from Reformulations in Conversational Question Answering over Knowledge Graphs (25 October, 2021)
A modular framework for task automation guided by VR Teleoperation (20 October, 2021)
Query Performance Prediction for Neural Models and With Neural Models (18 October, 2021)
A demonstration of a 3D printed robotic arm: Stages from printing to moving arm (13 October, 2021)
Not All Relevance Scores are Equal: Efficient Uncertainty and Calibration Modeling for Deep Retrieval Models (11 October, 2021)
Assessing top-𝑘 preferences (04 October, 2021)
Cost Modeling for Technology-assisted review (27 September, 2021)
Constructing personal knowledge bases for search (20 September, 2021)
"What can I cook with these ingredients?" - Conversational Search in the cooking domain (28 June, 2021)
Towards more practical complex question answering (21 June, 2021)
Natural Language Processing with Less Data and More Structures (14 June, 2021)
Progress in the Breadth: Broadening the Scope of Language Understanding (24 May, 2021)
Contextualized Neural Retrieval Models: From Effective to Efficiency (17 May, 2021)
Evaluating and Improving Neural Models for Ranking Responses in Information-Seeking Conversations (10 May, 2021)
Do People and Neural Nets Pay Attention to the Same Words? Studying Eye-tracking Data for Non-factoid QA Evaluation (26 April, 2021)
Understanding Dynamic User Intention in Personalized Recommendation (19 April, 2021)
Document re-ranking and entity set expansion (12 April, 2021)
What Does Conversational Information Access Exactly Mean and How to Evaluate It? (22 March, 2021)
Towards Mixed-Initiative Conversational Information Seeking (15 March, 2021)
Entity Linking in Documents and Conversation (08 March, 2021)
FA*IR: A fair top-k ranking algorithm for multiple protected groups (01 March, 2021)
information retrieval and deep reinforcement learning (22 February, 2021)
Generating music in the raw audio domain (18 February, 2021)
Biomedical Knowledge-Enhanced Language Modeling (15 February, 2021)
Smart Factory INDU-ZERO (03 February, 2021)
Building start-ups, with Stewart Whiting (01 February, 2021)
Understanding Product Reviews: Question-Answering and Brand-Sentiment Detection (25 January, 2021)
Closing the Dequantization Gap: PixelCNN as a Single-Layer Flow (21 January, 2021)
Using geometry to form identifiable latent variable models and Isometric Gaussian Process Latent Variable Model (03 December, 2020)
Soft Squishy Electronic Skin (23 November, 2020)
Bayesian model-based clustering in high dimensions (19 November, 2020)
Adaptive Pointwise-Pairwise Learning-to-Rank for Content-based Recommendation and Period-aware Content-based Attention for Time Series Forecasting (02 November, 2020)
Dark Data: Why What You Don't Know Matters (02 November, 2020)
A Brief History of Deep Learning applied to Information Retrieval: A Personal Perspective (19 October, 2020)
Towards Human-Robot collaboration (30 September, 2020)
Using an Inverted Index Synopsis for Query Latency and Performance Prediction (28 September, 2020)
Reinforcement Learning @Huawei R&D London – Towards real-world autonomous decision making (10 August, 2020)
Multiresolution Multitask Gaussian Processes: Air quality in London (27 February, 2020)
IR Seminar: Applied Research in Cross-functional Product Development (24 February, 2020)
IR Seminar: Quantum-inspiration for User Behaviour Modelling in Information Interaction and Beyond (17 February, 2020)
Advanced Machine Learning Reading Group (12 February, 2020)
IR Seminar: Modelling user interaction utilising Information Foraging Theory (27 January, 2020)
Artificial Intelligence for Data Analytics (23 January, 2020)
IR Seminar: Crowdsourcing and evaluating text quality (20 January, 2020)
Disentangled representation learning in healthcare applications (20 January, 2020)
Infinitech Cakes Event (14 January, 2020)
Machine learning for healthcare applications: Becoming the expert (05 December, 2019)
A reinforcement learning based traffic signal control in a connected vehicle environment (29 November, 2019)
Understanding where cells move using microscopes, computers and equations. (29 November, 2019)
IR Seminar: Revisiting Offline Evaluation for Implicit-Feedback Recommender Systems (25 November, 2019)
Statistical emulation of cardiac mechanics (08 November, 2019)
IR Seminar: Modelling Stopping Criteria for Search Results using a Poisson Processes (04 November, 2019)
IR Seminar: Hierarchical and Context-aware Query Expansion (28 October, 2019)
Glasgow workshop on Contextual Recommendations (24 October, 2019)
Seeing into the past – emerging applications of computer vision and machine learning in archaeology (23 October, 2019)
Vision Guided Autonomous Inspection for Manufacturing and Re-manufacturing Industry (09 October, 2019)
IR Seminar: The Semantic Space of Human Activity Phrases (07 October, 2019)
IR Seminar: Dialogue-Based Information Retrieval (30 September, 2019)
Machine Learning Models for Inference from Outliers (26 September, 2019)
Deep Residual Learning for Everyday Computer Vision Tasks (06 September, 2019)
IR Seminar: Implicit User Feedback in Open-Ended Dialogs, Alex Chuklin (Google) (02 September, 2019)
IR Seminar: The Potential of Making Sense of Quantities for IR (16 July, 2019)
Machine learning in optics: from solving inverse problems in imaging to high-speed hardware implementations (07 June, 2019)
Trained to Fuzz! (13 May, 2019)
SICSA DVF Masterclass - Predicting multi-view and structured data with kernel methods (10 May, 2019)
Machine Learning for Energy Disaggregation (30 April, 2019)
Multimodal Deep Learning with High Generalisation across Mobile Recognition Tasks (23 April, 2019)
Small Molecule Identification through Machine Learning: CSI:FingerID and beyond (17 April, 2019)
IR Seminar: Recommendations in a Marketplace: Personalizing Explainable Recommendations with Multi-objective Contextual Bandits (08 April, 2019)
IR seminar: Unbiased Learning to Rank from User Interactions (01 April, 2019)
On the Road to a Transfer Learning Paradigm based on Interpretable Factors of Variation (29 March, 2019)
Post-CHIIR IR Seminar (15 March, 2019)
IR Seminar: Topic-centric sentiment analysis of UK parliamentary debate transcripts (25 February, 2019)
Challenges and Opportunities at the Intersection of the Computing and Social Sciences (21 February, 2019)
Joint Variational Uncertain Input Gaussian Processes (20 February, 2019)
IDI Journal Club: Graph Attention Networks (31 January, 2019)
Big Hypotheses: a generic tool for fast Bayesian Machine Learning (18 January, 2019)
Quantum inspired image compression. (11 December, 2018)
Pushing image sensors and algorithms to the quantum limit (11 December, 2018)
IR Seminar: Measuring User Satisfaction and Engagement (10 December, 2018)
IR Seminar: Alana: Entertaining and Informative Open-domain Social Dialogue using Ontologies and Entity Linking (03 December, 2018)
IR Seminar: The Quantified Self as Testbed for Multimodal Information Retrieval (19 November, 2018)
Investigating How Conversational Search Agents Affect User's Behaviour, Performance and Search Experience (05 November, 2018)
IR Seminar: Measuring the Utility of Search Engine Result Pages (08 October, 2018)
Talk: Performance-oriented management in the large-scale cluster (08 October, 2018)
Talk: Resource management in Grid and Cloud Infrastructures (08 October, 2018)
Towards data-driven hearing aid solutions (04 October, 2018)
Variational Sparse Coding (13 June, 2018)
Deep, complex networks for inversion of transmission effects in multimode optical fibres (30 May, 2018)
Modelling the creative process through black-box optimisation (23 May, 2018)
IR Seminar: Controversy Analysis and Detection (21 May, 2018)
IR Seminar: Understanding and Leveraging the Impact of Response 1 Latency on User Behaviour in Web Search (18 May, 2018)
Understanding Capsule Networks (16 May, 2018)
Surviving the Flood of Big Data Streams (30 April, 2018)
Scaling Entity Linking with Crowdsourcing (23 April, 2018)
Shard Effects on Effectiveness (18 April, 2018)
Prototyping Deep Learning Applications Through Knowledge Transfer (16 April, 2018)
Simulating Interaction for Evaluation (09 April, 2018)
Analyzing and Using Large-scale Web Graphs (29 March, 2018)
IR Seminar: Using Synthetic Text for Developing Content Coordination Metrics and Semantic Verification (12 March, 2018)
Learning from samples of variable quality (26 February, 2018)
SOCIAL & CROSS-DOMAIN RECOMMENDATIONS (19 February, 2018)
QUANTITATIVE EVALUATION OF CANINE PELVIC LIMB ATAXIA USING A WIRELESS ACCELEROMETER SYSTEM (15 February, 2018)
IR Seminar: A Survey of Information Retrieval Approaches with Embedded Word Vectors (05 February, 2018)
IR Seminar: Natural Language Understanding in Virtual Agents for Airline Pilots. (22 January, 2018)
Approaches to analysis of genomic data (17 January, 2018)
Automated Clinical Patient Health Surveillance (15 January, 2018)
Part1: Calibration Brain-Computer Interfaces. Part2: The need for more flexible robotics tools (14 December, 2017)
Going beyond relevance: Incorporating effort into Information retrieval (04 December, 2017)
IR seminar: Summarizing the Situation with Social Media Streams (27 November, 2017)
IR Seminar: A Study of Snippet Length and Informativeness: Behaviour, Performance and User Experience (20 November, 2017)
Neural Models for Information Retrieval (06 November, 2017)
IR Seminar: Jarana Manotumruksa (30 October, 2017)
IR Seminar: Incorporating Positional Information and Other Domain Knowledge into a Neural IR Model (23 October, 2017)
Optimal input for low reliability assistive technology (19 October, 2017)
Recognition of Grasp Points for Clothes Manipulation under unconstrained Conditions (12 October, 2017)
Leveraging from Ontologies in machine learning (05 October, 2017)
Gesture Typing on Virtual Tabletop: Effect of Input Dimensions on Performance (28 September, 2017)
A Theory of How People Make Decisions Through Interaction (14 September, 2017)
Amplifying Human Abilities: Digital Technologies to Enhance Perception and Cognition (12 September, 2017)
Data-Efficient Learning for Autonomous Robots (23 August, 2017)
Context-aware and Context-Driven Applications on the Web (07 July, 2017)
Building relevance judgments automatically for a test collection. (19 June, 2017)
Effectively and Efficiently Searching Among Sensitive Content (08 June, 2017)
Simple Rules from Chaos: Towards Socially Aware Robotics using Agent-Local Cellular Automata (08 May, 2017)
Spatial Smoothing in Mass Spectrometry Imaging (08 May, 2017)
Integrating a Biologically Inspired Software Retina with Convolutional Neural Networks (08 May, 2017)
Investigation of users' affective and physiological traits in a multi-modal interaction context (04 May, 2017)
Real-time Mobile Object Removal using Google Project Tango (04 May, 2017)
IDA Seminar: Probabilistic Deep Learning: Models for Unsupervised Representation Learning (04 May, 2017)
Big Crisis Data - an exciting frontier for applied computing. (24 April, 2017)
ProbUI: Generalising Touch Target Representations to Enable Declarative Gesture Definition for Probabilistic GUIs (20 April, 2017)
Information Foraging in Environments (31 March, 2017)
Semantic Search at Bloomberg. (27 March, 2017)
Assessing User Engagement in Information Retrieval Systems (20 March, 2017)
Access, Search and Enrichment in Temporal Collections (06 March, 2017)
A stochastic formulation of a dynamical singly constrained spatial interaction model (02 March, 2017)
Collaborative Information Retrieval. (27 February, 2017)
A Comparison of Document-at-a-Time and Score-at-a-Time Query Evaluation (14 February, 2017)
Unsupervised Event Extraction and Storyline Generation from Text (13 February, 2017)
Applying Machine Learning to Data Exploration. (23 January, 2017)
Rethinking eye gaze for human-computer interaction (19 January, 2017)
The Role of Relevance in Sponsored Search. (16 January, 2017)
Working toward computer generated music traditions (12 January, 2017)
Studies of Disputed Authorship (09 January, 2017)
Satisfying User Needs or Beating Baselines? Not always the same. (12 December, 2016)
Supporting Evidence-based Medicine with Natural Language Processing (28 November, 2016)
SHIP: The Single-handed Interaction Problem in Mobile and Wearable Computing (24 November, 2016)
Demo of Google Soli Radar and Single Handed Smartwatch interaction (24 November, 2016)
IDA coffee breaks (22 November, 2016)
Human Computation for Entity-Centric Information Access (21 November, 2016)
IDA coffee breaks (15 November, 2016)
Control Theoretical Models of Pointing (11 November, 2016)
IDA coffee breaks (08 November, 2016)
Analysis of the Cost and Benefits of Search Interactions (07 November, 2016)
IDA coffee breaks (01 November, 2016)
I'm an information scientist - let me in! (31 October, 2016)
IDA coffee breaks (25 October, 2016)
The problem of quantification in Information Retrieval and on Social Networks. (17 October, 2016)
Analytics over Parallel Multi-view Data (03 October, 2016)
Improvising minds: Improvisational interaction and cognitive engagement (29 August, 2016)
Recognizing manipulation actions through visual accelerometer tracking, relational histograms, and user adaptation (26 August, 2016)
The whole is greater than the sum of its parts: how semantic trajectories and recommendations may help tourism. (22 August, 2016)
Skin Reading: Encoding Text in a 6-Channel Haptic Display (11 August, 2016)
Casual Interaction for Smartwatch Feedback and Communication (01 July, 2016)
Predicting Ad Quality for Native Advertisements (06 June, 2016)
Efficient Web Search Diversification via Approximate Graph Coverage (25 April, 2016)
Searching for better health: challenges and implications for IR (04 April, 2016)
A Comparison of Primary and Secondary Relevance Judgements for Real-Life Topics (07 March, 2016)
Steps towards Profile-Based Web Site Search and Navigation (29 February, 2016)
Sentiment and Preference Guided Social Recommendation. (22 February, 2016)
Recent Advances in Search Result Diversification for the Web and Social Media (17 February, 2016)
Practical and theoretical problems on the frontiers of multilingual natural language processing (16 February, 2016)
Information retrieval challenges in conducting systematic reviews (08 February, 2016)
Learning to Hash for Large Scale Image Retrieval (14 December, 2015)
An electroencephalograpy (EEG)-based real-time feedback training system for cognitive brain-machine interface (cBMI) (04 November, 2015)
Adapting biomechanical simulation for physical ergonomics evaluation of new input methods (28 October, 2015)
Detecting Swipe Errors on Touchscreens using Grip Modulation (22 October, 2015)
A conceptual model of the future of input devices (14 October, 2015)
Haptic Gaze Interaction - EVENT CANCELLED (05 October, 2015)
Challenges in Metabolomics, and some Machine Learning Solutions (30 September, 2015)
Engaging with Music Retrieval (09 September, 2015)
Building Effective and Efficient Information Retrieval Systems (26 June, 2015)
Deep non-parametric learning with Gaussian processes (10 June, 2015)
Intermittent Control in Man and Machine (30 April, 2015)
Get A Grip: Predicting User Identity From Back-of-Device Sensing (19 March, 2015)
Towards Effective Non-Invasive Brain-Computer Interfaces Dedicated to Ambulatory Applications (19 March, 2015)
Gait analysis from a single ear-worn sensor (17 March, 2015)
Imaging without cameras (05 March, 2015)
Analysing UK Annual Report Narratives using Text Analysis and Natural Language Processing (23 February, 2015)
Compositional Data Analysis (CoDA) approaches to distance in information retrieval (20 February, 2015)
Users versus Models: What observation tells us about effectiveness metrics (16 February, 2015)
Towards Effective Retrieval of Spontaneous Conversational Spoken Content (08 January, 2015)
On Inverted Index Compression for Search Engine Efficiency (01 September, 2014)
Interactive Visualisation of Big Music Data. (22 August, 2014)
Behavioural Biometrics for Mobile Touchscreen Devices (22 August, 2014)
Inference in non‐linear dynamical systems – a machine learning perspective, (08 July, 2014)
Adaptive Interaction (02 June, 2014)
Web-scale Semantic Ranking (16 May, 2014)
Optimized Interleaving for Retrieval Evaluation (28 April, 2014)
Gaussian Processes for Big Data (03 April, 2014)
Composite retrieval of heterogeneous web search (24 March, 2014)
Query Auto-completion & Composite retrieval (17 March, 2014)
Studying the performance of semi-structured p2p information retrieval (10 March, 2014)
Inside The World's Playlist (23 February, 2014)
Machine Learning for Back-of-the-Device Multitouch Typing (17 December, 2013)
IDI Seminar: Machine Learning for Back-of-the-Device Multitouch Typing (17 December, 2013)
Dublin City Search: An evolution of search to incorporate city data (24 November, 2013)
IDI Seminar: Uncertain Text Entry on Mobile Devices (21 November, 2013)
Economic Models of Search (18 November, 2013)
Predicting Screen Touches From Back-of-Device Grip Changes (14 November, 2013)
IDI Seminar: Predicting Screen Touches From Back-of-Device Grip Changes (14 November, 2013)
Online Learning in Explorative Multi Period Information Retrieval (11 November, 2013)
Stopping Information Search: An fMRI Investigation (04 November, 2013)
Towards Technically assisted Sensitivity Review of UK Digital Public Records (21 October, 2013)
Accelerating research on big datasets with Stratosphere (14 October, 2013)
IDI Seminar: Around-device devices: utilizing space and objects around the phone (07 October, 2013)
IDI Seminar: Extracting meaning from audio – a machine learning approach (03 October, 2013)
Validity and Reliability in Cranfield-like Evaluation in Information Retrieval (23 September, 2013)
Exploration and contextualization: towards reusable tools for the humanities. (16 September, 2013)
Quantum Language Models (19 August, 2013)
Toward Models and Measures of Findability (21 July, 2013)
How cost affects search behaviour (21 July, 2013)
[SICSA DVF] Language variation and influence in social media (15 July, 2013)
The Use of Correspondence Analysis in Information Retrieval (11 July, 2013)
A study of Information Management in the Patient Surgical Pathway in NHS Scotland (03 June, 2013)
Interdependence and Predictability of Human Mobility and Social Interactions (23 May, 2013)
Discovering, Modeling, and Predicting Task-by-Task Behaviour of Search Engine Users (20 May, 2013)
Personality Computing (13 May, 2013)
Fast and Reliable Online Learning to Rank for Information Retrieval (06 May, 2013)
Entity Linking for Semantic Search (29 April, 2013)
Flexible models for high-dimensional probability distributions (04 April, 2013)
Query Classification for a Digital Library (18 March, 2013)
Reusing Historical Interaction Data for Faster Online Learning to Rank for IR (12 March, 2013)
Scientific Lenses over Linked Data: Identity Management in the Open PHACTS project (11 March, 2013)
Modelling Time & Demographics in Search Logs (01 March, 2013)
Pre-interaction Identification By Dynamic Grip Classification (28 February, 2013)
Time-Biased Gain (21 February, 2013)
Evaluating Bad Query Abandonment in an Iterative SMS-Based FAQ Retrieval System (14 February, 2013)
[IR] Searching the Temporal Web: Challenges and Current Approaches (04 February, 2013)
Probabilistic rule-based argumentation for norm-governed learning agents (28 January, 2013)
IDI Seminar (29 November, 2012)
Context data in lifelog retrieval (19 November, 2012)
From Search to Adaptive Search (12 November, 2012)