International partners
To extend our global reach and reputation, we have developed partnerships with four highly respected institutions.
Singapore Institute of Technology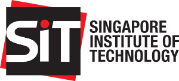 ‌Designed to support the government's initiative to transform Singapore into a Smart Nation, our in-country collaborative joint degree programme with Singapore Institute of Technology (SIT) is the first computing science programme offered by an autonomous university in Singapore that specialises in Internet of Things (IoT).
The programme encompasses a broad-based computer science curriculum which combines essential knowledge from IoT, software engineering, data analytics, cyber security and machine learning. Students will learn about fundamental principles in computing science including boolean logic, discrete mathematics, programming, software engineering, databases, operating systems and computer networks. With the foundation in computing science topics, students will be exposed to specialised modules in IoT, including topics on sensors, IoT network protocols, cloud and distributed computing, data analytics, cyber security fundamentals and machine learning.
Based at Nanyang Polytechnic and delivered over three years, the joint programme features an eight-month integrated work study programme and a three-week overseas immersion programme (OIP) at Glasgow in the summer between years two and three where the students will be introduced to Scottish culture and undertake a professional skills & issues course.
Find out more on our Singapore web site.