King Mongkut's Institute of Technology Ladkrabang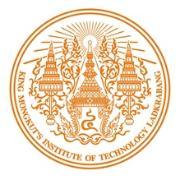 ‌King Mongkut's Institute of Technology (KMITL) was created in 1971 by amalgamation of several technical colleges, previously established in cooperation between Thailand and Japan, and achieved full university status in 1986. KMITL is named after a 19th century king who was instrumental in introducing science and technology into Thailand. It is located on a campus in the district of Ladkrabang in Bangkok. It is ranked 3rd for technology among the Thai universities. KMITL's vision is "to be a premier education institute with emphasis on research in science and technology: creating innovation and knowledge through wisdom and arts for the nation's development toward international success".
In 2010, the University of Glasgow signed a partnership agreement with KMITL's International College. This will enable students to study for two years at KMITL followed by two years at Glasgow, leading to the degree of BSc (Hons) Software Engineering. An industrial placement is undertaken in Thailand at the end of year two.
Glasgow is the biggest city in Scotland, has charming old buildings and the people are friendly. The University is around 50 in the world's rankings and I am excited and curious to study here. Supanat Auengsirirat
The first students from KMITL arrived in Glasgow in September 2012.
Eligible students are admitted to the third year of the BSc (Hons) Software Engineering programme delivered by the School of Computing Science.
Student eligibility
You undertake two years study at King Mongkut's Institute of Technology Ladkrabang (KMITL) on an approved syllabus which is concomitant with the qualifications normally required for entry to the honours curriculum at Glasgow; the admission and progress of students on Part 1 is the sole responsibility of KMITL. Students who have successfully completed Part 1 with a grade point average of at least 3.0 will be eligible for entry into Part 2.
In order to qualify for entry to Part 2, you must provide evidence of English language proficiency. This will normally be equivalent to an IELTS qualification of 6.5 overall with no subtest below 6.0.
You will also undertake a summer industrial placement organised by KMITL in Thailand at the end of year two. This placement will be assessed by University of Glasgow.
How to apply
Students who successfully complete their Part 1 study at KMITL may apply for admission to Part 2 at the University of Glasgow via the Universities and Colleges Admissions Service (UCAS). The minimum length of study in Part 2 will be two years for the award of an honours degree. On successful entry to Part 2, students will be registered students of the University of Glasgow and will be subject to the University's rules and regulations. They will follow the standard University curriculum for the third and fourth years of the degree programme, or the three years for MSci, and will be assessed for the award of their degree on exactly the same basis as all other students on their course. A decision regarding whether a student may transfer to the MSci Software Engineering programme will be taken by Glasgow at the end of year three.
Your UCAS application, once submitted, will be reviewed by our School's Internationalisation Lead, Dr Fani Deligianni. You can contact her at compsci-intpartners@glasgow.ac.uk
Tuition fees and scholarship
Students admitted onto Part 2 of the collaborative programme are responsible for the standard annual overseas tuition fee to the University of Glasgow and will be eligible to receive a KMITL-Glasgow Undergraduate Scholarship which will contribute towards these fees.