Dr William Peveler
Lord Kelvin Adam Smith Research Fellow (School of Chemistry)
telephone: 0141 330 2000 x.0911
email: William.Peveler@glasgow.ac.uk
https://orcid.org/0000-0002-9829-2683
Research interests
Available Positions - 1 PDRA
15 month PDRA position to start late 2020
We are looking for a synthetic chemist to join the group. You will design, synthesise and test new luminescent molecular architectures for the sensing of liver fibrosis, to create a sensor array for the disease. The final sensor will then be validated in collaboration with clinicians in London, Edinburgh and Glasgow. There will be opportunities to develop analytical, statistical and programming skills during the project.
Deaths from liver disease, in contrast to cancer and heart disease, have increased over the last 30 years, at an estimated £9bn annual cost to the NHS. Liver disease severity, treatment and survival are heavily impacted by the amount of liver scarring (fibrosis) caused by the disease. To improve detection and treatment of this liver scarring, we are working with the UK's leading clinicians to develop new blood tests that can identify fibrosis at an early stage, without recourse to painful and invasive liver biopsy.
For informal queries about this role, pleae contact me and full applications and further details are to be found here.
Overview
In the Bio-Nano-Sensing lab, our research focuses on the nanoscale interface between materials chemistry and biology. By synthesising new nanomaterials and functional molecules and by attempting to control nano-surface chemistry, we create new tools, techniques and sensors for use in biomedicine, industry and defence. Luminescent and plasmonic nanomaterials are of particular interest, and current projects focus on gold nanoparticles, quantum dots and fluorescent polymer nanoparticles.
With collaborators in Chemistry (Farnaby), the James Watt School of Engineering (Clark, Jimenez), Strathclyde University (Ward), LMU Munich (Cortés) and the University of British Columbia (Algar), my group are currently synthesising and characterising new luminescent nanomaterials for improved near-patient blood testing; building cross-reactive sensing arrays for biomedical and industrial sensing; and tailoring nanoparticle surface chemistry to sense and measure bacteria.
Current Projects
Fluorescent nanoparticle assemblies for protein and nucleic acid sensing
Colorimetric and luminescent sensing arrays for detecting liver disease and fraud
Lanthanide-containing polymer nanoparticles for multimodal imaging
Nano-surface chemistry for bacterial siderophore detection and bacteria binding
Novel labels for super-resolution imaging and optical sensing
Biography
I am a Lord Kelvin Adam Smith Fellow working in the School of Chemistry. After work with Dr Martin Grossel and Professor Harry Anderson FRS at the University of Oxford for my MChem, I moved to London to undertake a PhD in Chemistry at UCL (Professor Ivan Parkin), as part of the SECReT CDT, for which I was awarded the Ramsay Medal.
I then won an EPSRC Doctoral Prize Fellowship and Royal Society International Exchange Grant to undertake 2 years of postdoctoral work with Professors Claire Carmalt and William Rosenberg (UCL/Royal Free Hospital) and Professor Vincent Rotello (UMass Amherst), and subsequently a Killam Postdoctoral Research Fellowship at the University of British Columbia with Professor Russ Algar. I joined the University of Glasgow in 2018 to begin my independent career.
Expertise
Small molecule and nanoparticle synthesis and modification; Luminescent spectroscopy; Chemical and materials characterisation; Array-based sensing and chemometrics.
Grants
The Academy of Medical Sciences Springboard Grant "Fluorescent Sensor Arrays for Serum-Based Liver Fibrosis Detection." 2020-2022. £100k
Chief Scientist Office Research Grant "Rapid new methods for sepsis diagnosis in hospitals using microsystems." 2020-2022. £300k Co-I with Dr Melanie Jimenez, University of Glasgow
Royal Society Research Grant "Switchable nanoparticle assemblies for photonic sensing." 2020-2021. £20k
SULSA Technology Seed Fund "Siderophore fingerprinting on low-cost electrochemical sensors." 2019-2020. £6k Co-I with Dr Andrew Ward, University of Strathclyde
University of Glasgow/EPSRC Early Career Capital Award "A multifunctional, multi-user spectrometer" 2019. £40k
University of Glasgow LKAS Fellowship "Materials for Point-of-Care Liver Disease Diagnosis." 2018-2022. £165k
Killam Foundation Postdoctoral Fellowship "Hand-Held, Point-of-Care Biomarker Assays Enabled by Quantum Dots." 2017-2018. £50k
Royal Society International Exchange "Array-based sensing for disease detection." 2016-2017. £12k
EPSRC Doctoral Prize Fellowship "Functional nanomaterials for small molecule sensing and disease detection." 2015-2017. £111k
Supervision
Katie McGuire 2019 –
"Nanoparticle surface chemistry for novel sensing applications"
Teaching
ENG2087 (part) – Blood and Biomedical Engineering
Demonstrating 1st and 3rd year Organic/Synthetic Chemistry
Organic Chemistry tutorials (2nd year)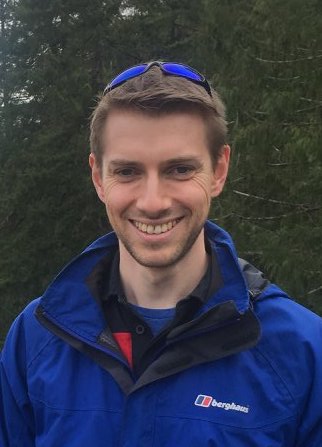 B2-16b, Joseph Black Building, University of Glasgow, G12 8QQ