Alumni Day
As part of the University 2001 celebrations an Alumni Open Day was held on 13 June 2001, at which past members and friends were invited for an informal visit to their old department. Some pictures and assorted reminiscences are give below.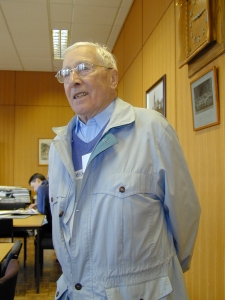 Nelson Elliott Wallace
- graduated B.Sc. Hons. Chemistry in 1932 - our oldest living graduate.

Nelson Wallace became Industrial Chemist with I.C.I. Billingham in 1934, then during the 1939-45 war was transferred to the commercial department and was in charge of contracts for sale of aviation spirit until early 1950's. He later worked for the Chemical Industries Association, and retired in 1974. Leisure pursuits: Became interested in Scottish Country Dancing and was founder Chairman of Teeside Branch of the Royal Scottish Country Dance Society in 1953. He maintained an interest for many years. Took up fellwalking at age 60 and achieved all the Lake District tops (some several times) within 15 years, and spent 80th birthday on top of Scafell Pike. Also climbed Ben Nevis, Snowdon and several other mountains. Did much long distance footpath walking over the years - Cleveland Way, 2/3 Pennine Way, Coast-to-Coast, etc. Family: Has daughter who became an ophthalmologist and a son with his own graphic art business.
(Notes provided by Mr. and Mrs. Wallace, 13/7/01)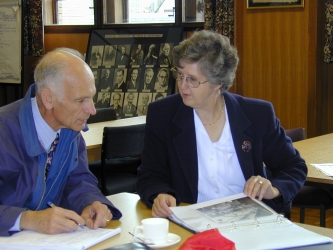 David and Janice Gardner
David L. Gardner - graduated 1966. Went on to do a PhD in Polymer Degradation working for Dr. Iain McNeil (graduate PhD 1969). Met Janice Heron - also a chemistry student - and we got married in 1969. Moved to Chester then Teeside working for ICI.

Janice Gardner (nee Heron) - BSc Chemistry 1966. MSc in physical organic chemistry with Jack Martin. Went to Jordanhill and taught chemistry in Dumbarton, Cheshire, Teeside.
(Notes provided by Dr. and Mrs. Gardner, 13/7/01)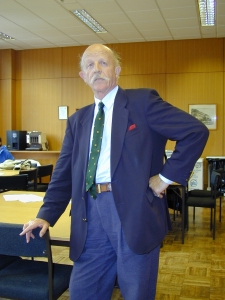 Murray S. Blair (son of Dr. R.D. Blair)

"My father (Dr. R.D. Blair) was lecturer here in Organic Chemistry 1930(approx.)-1941 when he went to ICI Billingham. He was contemporary with Dr. "Hoot" Gibson and served under Professor Henderson. I have notes on his researches in Graz (late 30's) with Prof. Einich (?) and Prof. Pregl to learn micro-chemistry. He came back and with Dr. Eaton set up "biochemistry" in the Royal Infirmary."

(Murray Blair is currently Hon. Librarian of The Trades House of Glasgow. Notes provided 13/7/01)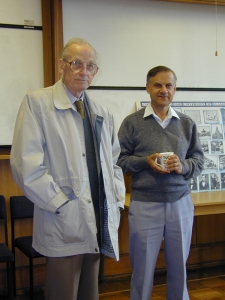 Dr. George Buchanan and Professor David Robins