Dr Hilary Macartney
Lecturer/Research Editor in Spanish/Hispanic Art (School of Modern Languages & Cultures)
Lecturer (History of Art)
telephone: 0141 330 2484
email: Hilary.Macartney@glasgow.ac.uk
https://orcid.org/0000-0001-9970-2958
Research interests
Biography
Dr Hilary Macartney is Project Director of The Stirling Maxwell Research Project. Her doctoral thesis for the Courtauld Institute of Art, University of London, examined the important contribution of the nineteenth-century Scottish scholar Sir William Stirling Maxwell to the historiography of Spanish art. A graduate of the University of Glasgow, she began her career in Glasgow Museums. She has also worked in publishing and cultural tourism.
Research Interests
My principal research interests are centred around Spanish art, including its historiography, theory, and reception. They focus in particular on the role of Sir William Stirling Maxwell (1818-78) as scholar and collector of Spanish art. His landmark Annals of the Artists of Spain (1848) was the first photographically illustrated book on art and prompted my wider interests in the reproduction of art, early photography and the relationship between art and photography. Likewise, Stirling Maxwell's fascination for illustrated books and the relationship between word and image generally have developed my own interests in these areas. More broadly, my research in the above areas is also linked to my long-term interests in nineteenth-century British art, taste and collecting.
Since 2010, many of my research interests and activities have been brought together within The Stirling Maxwell Research Project. The principal outputs of the first phase of this international and interdisciplinary collaboration were the publication of Copied by the Sun a facsimile and critical edition of the photographic illustrations to Stirling's book (see PUBLICATIONS), along with an exhibition of the same name held at the Prado Museum in Madrid during May to September 2016 (see EXHIBITIONS below).
Grants
Core funding for The Stirling Maxwell Research Project from Santander Universities.
Additional funding for The Stirling Maxwell Research Project from Santander Shareholders, the Kress Foundation, Royal Society of Edinburgh, University of Glasgow Chancellor's Fund, as well as a Harry Ransom Center Fellowship at the University of Texas at Austin
Supervision
Lyon, Carter Elizabeth
Theory and practice of Spanish Golden Age art in Sir William Stirling Maxwells collection and scholarship: A case study Carduchos Self Portrait and Dialogos de la Pintura
Teaching
'Golden Age Iberia in Glasgow' Junior Honours course (open to students of Spanish, Portuguese and/or History of Art)
'Art in Spain in the Golden Age' Level 2 (History of Art)
Additional Information
Exhibitions
'Copied by the Sun: Talbotype Illustrations to the Annals of the Artists of Spain by William Stirling Maxwell (1847)', Museo Nacional del Prado, Madrid, 18 May – 4 Sept. 2016. Curator, with José Manuel Matilla, Museo Nacional del Prado (see also Publications). PowerPoint Virtual Tour available here‌. See also www.museodelprado.es/
'The Discovery of Spain', National Gallery of Scotland, Edinburgh, Edinburgh International Festival Exhibition, July – Oct. 2009. Guest curator & catalogue contributor.
'El joven Murillo', Museo de Bellas Artes de Bilbao/ Museo de Bellas Artes de Sevilla, October 2009 – May 2010. Catalogue contributor.
Affiliation
Recent lectures and conference papers
'Deteniéndose en la descripción gráfica de grandes actos de estado y fiestas: Stirling Maxwell y el papel del artista en España en el Siglo de Oro'. Symposium paper, Teatralidad y performatividad de las artes en la Edad Moderna, Universidad de Málaga, 12-13 December 2016
'Sir William Stirling Maxwell (1818-78). Un escocés singular apasionado por España', Public lecture, Museo Nacional del Prado, Madrid, 1 June 2016
'El proyecto de rescate del primer libro de Historia del Arte con ilustraciones fotográficas (1847-48)', Special Lecture, Official Closing Ceremony of the Master's in Social Developments in Artistic Culture, University of Málaga, 20 April 2016
'In Search of a True Likeness: Sir William Stirling Maxwell and the Photography of Art', Symposium paper, Photo Archives V: The Paradigm of Objectivity, The Getty Research Institute & The Huntington, Los Angeles, 25-26 February 2016. https://www.youtube.com/watch?v=z3gH1o162mw&list=PLdcw4RhcVX8tYG0Ybg924Vix7Ewsy3c03&index=2
'An Icon is Born: The Lady in a Fur Wrap, Stirling Maxwell and Reception of El Greco', Public lecture, Institute of Art History, in association with School of Modern Languages and Cultures, University of Glasgow, 4 March 2015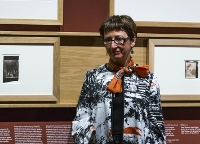 History of Art, 8 University Gardens,