New Publication: Inventing the Recording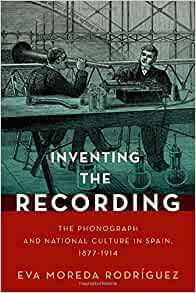 Eva Moreda Rodriguez's monograph 'Inventing the Recording: The Phonograph and National Culture in Spain, 1877-1914', has recently been published by Oxford University Press as part of their Currents in Latin American and Iberian Music series.
It is the first critical account of the early history of recording technologies in Spain and draws on a range of disciplines including musicology, cultural studies, sound studies and cultural history) to explain the advent of recording in the country. It is one one of the outcomes of Eva's recent AHRC Leadership Fellowship.
The book is available to buy and digitally via the University Library (for students and staff).
Eva has also co-edited (with Elodie Roy) a collection of work on early phonography, published earlier this year.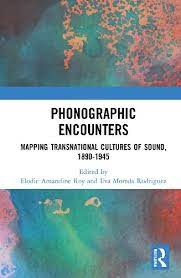 'Phonographic Encounters: Mapping Transnational Cultures of Sound, 1890-1945' (Routledge) is similarly cross-disciplinary and uses case studies from China, Australia, USA, Latin America, Russia, Sweden, Germany, Portugal and Italy to expand the study of early recordings beyond the dominant (Western, recording industry) narratives.
The book is now available to buy.
---
First published: 21 October 2021