Professor Ross Cagan
Regius Chair of Precision Medicine

(Therapeutic Science Research)
email: Ross.Cagan@glasgow.ac.uk

Wolfson Wohl Cancer Research Centre, Garscube Estate, Switchback Road, Bearsden, G61 1BD
Biography
Dr. Cagan received his Ph.D. from Princeton University. After a postdoctoral fellowship at UCLA, he achieved the rank of Professor at Washington University School of Medicine (1993-2007), then at Icahn School of Medicine at Mount Sinai (2007-2020).
He is currently Regius Professor of Precision Medicine and Royal Society Wohl Fellow at University of Glasgow and Scientific Director of the Wolfson Wohl Cancer Research Centre. He was co-Founder and board member of the biotechnology company Medros Inc.
Taking advantage of a century of powerful genetic tools, his laboratory has developed highly complex, whole animal models for cancer and inherited genetic diseases. Their work helped promote the first FDA-approved chemotherapeutic for Medullary Thyroid Carcinoma. Working with the chemist Arvin Dar and computational chemist Avner Schlessinger, his laboratory has developed a novel platform that combines genetics with medicinal and computational chemistry to build novel lead compounds that emphasize rational polypharmacology.
Leveraging these new technologies, Dr. Cagan leads the Center for Personalized Cancer Therapeutics team that develops and treats thyroid and colorectal cancer patients through a personalized fly-to-bedside, open label clinical trial.
Research interests
Biology of Therapeutics

The Cagan laboratory uses Drosophila to explore the biology of therapeutics. Data from several laboratories including our own have highlighted the role of genomic complexity in drug resistance. To explore this, we have developed genomically complex fly models of cancer (colorectal, thyroid, breast, lung) and rare genetic diseases (primarily RASopathies).
Complex disease models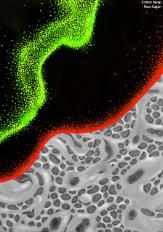 Each personalized fly avatar' line models a different patient, each with typically 5-15 altered genes. While targeted therapies are effective in '2-hit' models, 12-hit models—even with many of the same cancer drivers—are often resistant to these same therapies.
We are leveraging our fly platform containing dozens of avatar lines to explore changes in transformation that come with genomic complexity. These include complex models for colorectal, thyroid, lung, and breast cancers as well as the rare Mendelian diseases RASopathies and Tauopathies. These models demonstrate complex disease networks and unpredictable drug response. We are using a broad palette of approaches to understand the impact of these 'secondary mutations' on disease progression and treatment. Our avatars also form the basis of a recent fly-to-bedside clinical trial; to date we have reported two patients with exceptional responses.
Developing lead therapeutics
Further, we are working with chemists to address this complexity through drug cocktails and through building a new generation of 'network-based' novel

lead compounds that address tumour complexity through multi-targeted 'polypharmacology'. This ability to address multiple points along a network provides one avenue towards addressing disease complexity.
Grants
Grants and Awards listed are those received whilst working with the University of Glasgow.
A Cytochrome P450 Therapeutic Space for Tauopathies
National Institutes of Health
2021 - 2022

A Chemical Genetic Approach to Exploring Novel Therapeutic Space for Colorectal Cancer
National Institutes of Health
2021 - 2022

Developing an Integrated Platform to Explore Disease-Based Networks and Therapeutics
The Royal Society
2020 - 2025

Developing a therapeutics platform for adenoid cystic carcenoma
National Institute of Dental and Craniofacial Research
2020 - 2021

Teaching
Tirtha K. Das, Jared Gatto, Rupa Mirmira, Ethan Hourizadeh, Dalia Kaufman, Bruce D. Gelb, and Ross Cagan (2021). Drosophila RASopathy Models Identify Disease Subtype Differences and Biomarkers of Drug Efficacy. iScience, in press.
Erdem Bangi, Peter Smibert, Andrew V. Uzilov, Alexander G. Teague, Sindhura Gopinath, Yevgeniy Antipin, Rong Chen, Chana Hecht, Nelson Gruszczynski, Wesley J. Yon, Denis Malyshev, Denise Laspina, Isaiah Selkridge, Huan Wang, Jorge Gomez, John Mascarenhas, Aye S. Moe, Chun Yee Lau, Patricia Taik, Chetanya Pandya, Max Sung, Sara Kim, Kendra Yum, Robert Sebra, Michael Donovan, Krzysztof Misiukiewicz, Celina Ang, Eric E. Schadt, Marshall R. Posner, and Ross L. Cagan (2021). A Drosophila Platform Identifies a Novel, Personalized Therapy for an Adenoid Cystic Carcinoma Patient. iScience, in press.
Bangi E, Ang C, Smibert P, Uzilov A, Teague A, Antipin Y, Chen R, Hecht C, Gruszczynski N, Yon W, Malyshev D, Laspina D, Selkridge I, Rainey H, Moe A, Lau CY, Taik P, Wilck E, Bhardwaj A, Sung M, Kim S, Yum K, Sebra R, Donovan M, Misiukiewicz K, Schadt E, Posner M, and Cagan R. (2019). A Personalized Platform Identifies Trametinib Plus Zoledronate For A Patient With KRAS-Mutant Metastatic Colorectal Cancer. Science Advances doi: 10.1126/sciadv.aav6528.
Das TK, Esernio J, Cagan R. (2018). Restraining Network Response to Targeted Cancer Therapies Improves Efficacy and Reduces Cellular Resistance. Cancer Res. doi: 10.1158/0008-5472.CAN-17-2001.
*Sonoshita, M., *Scopton, A., Ung, P., Murray, M., Silber, L., Maldonado, A., Real, A., Schlessinger, A., **Cagan, R., **Dar, A. (2018). A Whole Animal Platform to Advance A Clinical Kinase Inhibitor Into New Disease Space. Nature Chem Biol 14(3):291-298. *Co-first author; **co-corresponding.
Ung P*, Sonoshita M*, Scopton A., Dar A., Cagan R.**, Schlessinger A.** (2019). Integrated computational and Drosophila cancer model platform captures previously unappreciated chemicals perturbing a kinase network. PLoS Comput Biol. 15(4):e1006878. doi: 10.1371/journal.pcbi.1006878. *Co-first author; **co-corresponding
Hirabayashi S, Baranski T, and. Cagan R. (2013). Transformed Drosophila Cells Evade Diet-Mediated Insulin Resistance Through Wingless Signaling. Cell 154(3):664-75.
*Dar AC, *Das T, Shokat KM, and Cagan R. (2012). Chemical Genetic Discovery of Targets and Anti-targets for Polypharmacological Treatment of Cancer. Nature 486(7401):80-4. *Co-first authors.