Paediatric and Adult Acute Myeloid Leukaemia
Dr Karen Keeshan
Reader

(Paul O'Gorman Leukaemia Research Centre)
telephone: 0141 3017895
email: Karen.Keeshan@glasgow.ac.uk

R324 Level 3, Paul O'Gorman Leukaemia Res Cent, Gartnavel General Hospital, Glasgow G12 0YN, G12 0xb
https://orcid.org/0000-0001-7266-0890
Biography
Dr Karen Keeshan is a Reader in Leukaemia Research at the Paul O'Gorman Leukaemia Research Centre, in the Institute of Cancer Sciences, University of Glasgow. 
Dr Keeshan graduated with a B.Sc. in Biochemistry from the University College Cork, Ireland in 1998. She trained for a PhD degree under the joint supervision of Prof. Tom Cotter and Dr Sharon McKenna and graduated with a PhD on Apoptosis and Chronic Myeloid Leukaemia from University College Cork in 2002. 
Dr Keeshan carried out her postdoctoral training in the USA. She first undertook a post-doctoral research post in Prof. Bruno Calabretta's laboratory in the Kimmel Cancer Centre, at Thomas Jefferson University, Philadelphia, working on signalling in Chronic Myeloid Leukaemia. She then undertook a second post-doctoral position in Prof. Warren Pear's laboratory at the University of Pennsylvania. She held two Leukaemia and Lymphoma Society awards, The Leukemia and Lymphoma Society, Special Fellowship Award and The Leukemia and Lymphoma Society, Career Development Award working on Acute Lymphoid and Acute Myeloid leukaemia where she first identified TRIB2 as a novel oncogene.
In 2008, Dr Keeshan was awarded a President of Ireland Young Researcher award (PIYRA) a highly prestigious award granted by the President of Ireland on behalf of the Irish Government Agency Science Foundation Ireland which supports "future leaders". She also received a Marie Sklodowska-Curie Actions –Individual Fellowship. These enabled Dr Keeshan to establish her Leukaemia research group at the University College Cork, Ireland.
In 2012, Dr Keeshan moved her research group to the University of Glasgow having been awarded a non clinical Senior Lecturer post in Paediatric Haematology funded by the Howat Foundation and Children with Cancer UK, to develop paediatric leukaemia research in Scotland. She has received additional funding from Blood Cancer UK, Yorkhill Leukaemia & Cancer Research Fund and a number of additional charity, studentship and grant awards. Dr Keeshan reviews for high impact journals, a large number of funding agencies including charities and government, is a panel evaluator for fellowships including Marie Sklodowska-Curie Actions and enjoys collaborating with colleagues across the world, giving seminars and talks at international conferences and institutes. Dr Keeshan is a leader in Tribbles and cancer research, and has co-organised international conferences in this field.
Dr Keeshan was promoted to Reader in Leukaemia Research in 2016 at the University of Glasgow. She works closely with clinical colleagues at the Royal Hospital for Children and has trained clinical and non-clinical researchers in Leukaemia Research aiming to translate our scientific advances in paediatric leukaemia into clinical practice. Research in the lab focuses on acute myeloid leukaemia and identifying paediatric disease specifications that may improve current therapy. PhD students and post-doctoral researchers in Dr Keeshan's group are offered opportunities to attend local, national and international conferences and have been awarded prices for selected talks and travel awards. Lab alumni have gone into a variety of careers including academic research, teaching, industry and clinical posts.
Grants
Grants and Awards listed are those received whilst working with the University of Glasgow.
Using single cell transcriptomics to combat chemoresistance and disease relapse in paediatric acute myeloid leukaemia.
Children's Cancer and Leukaemia Group
2022 - 2025

The role of the Bone Marrow Microenvironment in Acute Myeloid Leukaemia (AML) Drug Resistance.
NHS Greater Glasgow and Clyde Endowment Funds
2021 - 2022

Targeting ERBB signalling in acute myeloid leukaemia
Blood Cancer UK
2019 - 2022

Investigation of CD33-targeted therapy in childhood acute myeloid leukaemia (AML)
Glasgow Children`s Hospital Charity
2016 - 2019

The influence of the microenvironment in paediatric AML
Yorkhill Leukaemia & Cancer Research Fund
2016 - 2018

Dissecting the function of Bcl-3 in NF-kappaB signaling in B cells
Biotechnology and Biological Sciences Research Council
2015 - 2018

The importance of stem cell ontogeny in paediatric and adult acute myeloid leukaemia
Glasgow Children`s Hospital Charity
2014 - 2016

Investigating leukaemic stem cell responses following CD33-targeted therapy and the implications for low and high risk paediatric AML groups
Aila Coull Foundation
2014 - 2015

Targeting Trib2 oncogenic signalling in normal and malignant stem cells.
Blood Cancer UK
2013 - 2016

Supervision
SUPERVISION
Dr Karen Keeshan supervises Postdoctoral researchers, clinical research fellows and PhD students from countries around the world including Ireland, UK, Greece, Italy, Saudi Arabia, Egypt, Malaysia, Portugal, India, China, Spain, Poland, Australia.
Dr Karen Keeshan supervises Masters students (MSc, MRes and MSci) from different courses and Institutes e.g. Cancer Sciences, Immunology, Biomedical Sciences.
The lab also hosts students for final year undergraduate projects, Erasmus internships, summer internships, and second level school experiences.
Teaching
TEACHING
Dr Karen Keeshan teaches and assesses on a number of masters and medicine courses;
MB ChB BSc Intercalated course
MSc Cancer research & Precision Oncology
MB ChB Haematology and Oncology
MSc Molecular Pathology
MSc/MRes Biomedical Sciences
MRes Biomedical Sciences and Integrative Mammalian biology
Dr Karen Keeshan is external and internal PhD Thesis examiner for students at Universities across the UK and EU.
STEM AMBASSODOR
D Karen Keeshan is a STEM Ambassador in Scotland Hub. She is available to provide STEM activities to primary school and second level schools in the area.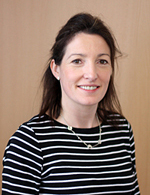 External and Social Media Links

@keeshanlab
Funded by www.bloodcancer.org.uk