PhD Studentship
Friends of Paul O'Gorman funded PhD Studentships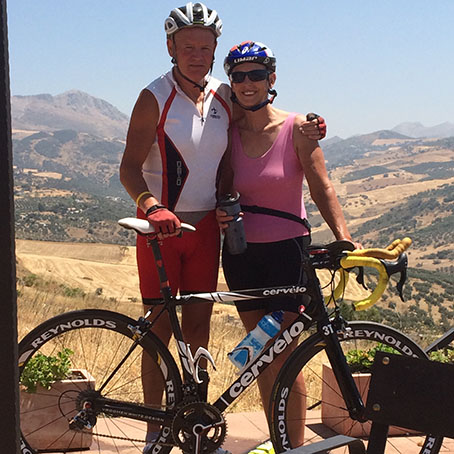 A central ethos of the principal investigators at the Paul O'Gorman Leukaemia Research Centre (POG-LRC), and the University of Glasgow, is to invest in the development of scientists for the future. Through the hard work and loyalty of hundreds of people that have raised funds for the research effort within our Centre, we are pleased to announce the development of the Friends of Paul O'Gorman PhD studentship. This annually-awarded studentship will provide a promising science graduate the opportunity to carry out a programme of leukaemia research within our state-of-the-art facilities at the POG-LRC which will contribute towards their PhD. The studentship will be awarded in open competition to the most promising candidate.
In recognition of our fundraisers who work tirelessly to assist in the success of our research, we would like to associate the named studentship with them. The studentships we are offering for a start date of October 2016 are as follows:
Forgie PhD Studentship in Chronic Lymphocytic Leukaemia The role of the CD70/CD27 axis in promoting Chronic Lymphocytic Leukaemia survival Supervisors: Alison M. Michie and Heather G. Jørgensen
Abstract: Chronic lymphocytic leukaemia (CLL), a malignancy of mature B-lymphocytes, is the most common leukaemia in the Western world. CLL disease progression results from both enhanced cell division within "proliferation centres" of lymphoid organs through interaction with the stromal niche, and cellular accumulation resulting from acquired resistance to apoptosis due to aberrant expression of anti-apoptotic Bcl-2 protein family members. Targeting these proliferation and survival signals represent a promising novel way to deliver a cure for CLL. Dysregulation of the Wnt/-catenin signalling pathway plays a central role in CLL pathogenesis. However, the mechanisms responsible for Wnt/-catenin activation in CLL cells are not well understood. As it is possible to exploit this pathway therapeutically, research in this area is warranted. CD27 is a TNF receptor family member, which upon engagement with its cognate ligand CD70 activates the Wnt signalling pathway in leukaemic cells. Interestingly, CD27 expression is upregulated in poorer prognostic patient subsets, and upon ligation of the B cell receptor, suggesting that this receptor may play a key role in the activation of Wnt-mediated proliferative and survival pathways in CLL cells. Therefore, the purpose of this PhD studentship is to elucidate the molecular and cellular regulation of the CD70/CD27 signalling axis in cell survival in primary CLL patient samples in vitro and in vivo models. The student will learn a broad array of cellular and molecular techniques including: CLL cell cryopreservation and recovery; cell culture of cell lines and primary CLL cells; in vitro co-culture systems; lentiviral transduction of primary cells; gene silencing with shRNA; flow cytometry; Western blotting; RNA extraction and RT-PCR techniques; Q-PCR and mini-array Taqman-based PCR, thus providing a solid scientific and technical foundation with which to build a successful translational research career.
Contact: Alison.Michie@glasgow.ac.uk
Hugh Forgie is an ex Scotland athlete and triathlete and was a member of Great Britain's long range rifle team competing in two world championships. In July 2015, Hugh and his wife Margaret planned an extremely challenging cycle from the Glasgow Beatson West of Scotland Cancer Centre to Malaga, Spain, cycling around 2000 miles in 10 days. Hugh cycled 140 miles with Margaret cycling 60 miles, covering 200 miles a day between them. They achieved this cycling challenge and raised over £28,000 for which we are extremely grateful. This was the second time that they had raised funds for our leukaemia research centre, the first time in 2003. Hugh was diagnosed with CLL over 12 years ago. He has had chemotherapy twice in the past 6 years but has now developed a gene mutation making his disease resistant to further treatment. He is now being treated with a new drug called ibrutinib, which acts as Btk inhibitor. While initial studies indicate that this drug holds promise, the outcome is very unclear as this drug has only recently become licensed in the UK and very few people are being treated. In Hugh's words "I have always been into running, cycling and keeping fit and I am really passionate about completing this trip one more time as this could be my last time if a cure is not found."
Moverley PhD Studentship in Chronic Myeloid Leukaemia The Role of Autophagy in the Regulation of Quiescence and Survival of Leukaemic Stem Cells Supervisor: Vignir Helgason
Abstract: Chronic myeloid leukaemia (CML) develops following a specific mutation in a single blood stem cell. Therefore, these cells serve as crucial target for therapeutic intervention. We have shown that patient-derived quiescent CML stem cells are not eradicated with currently available drugs and can become resistant leading to relapse in patients. Hence, drug combination therapy is required to cure CML. Recently we showed that autophagy (self-eating) affects differentiation, mitochondrial metabolism, reactive oxygen species (ROS) generation, and is an attractive target for CML stem cell eradication. These pre-clinical data led in turn to an on-going clinical trial in which hydroxychloroquine (HCQ)-mediated autophagy inhibition is being tested in CML patients. This is an area of great importance in CML and other stem cell-driven leukaemia types where autophagy inhibition might also improve therapy. The main aim of our proposed research is to further understand how autophagy controls the way in which leukaemic stem cells function - how they stay quiescent and prevent ROS-mediated differentiation, and how they and metabolise nutrients compared to normal cells to escape drug treatment. An additional aim is to use the best laboratory models to test new autophagy inhibitors that have recently been developed. We will use established cell lines and patient-derived cells that have been bio-banked at the POG-LRC. Additionally, we will use a state-of-the-art mouse model in which mice develop leukaemia resembling the human disease. This offers an excellent opportunity to investigate autophagy, quiescence and mitochondrial function/metabolism in both normal and leukaemic cells located in the bone marrow. The student will gain significant experience in the isolation of leukaemic stem cells (FACS), survival assays following in vivo/vitro drug treatments, measurement of autophagy (immunofluorescence, live cells imaging, Western blotting), mitochondrial function, ROS levels, DNA damage (immunofluorescence/FACS) and energy metabolism (Mass-spec/Seahorse Extracellular Flux Analyser).
Contact: Vignir.Helgason@glasgow.ac.uk
Sandra Moverley has been fundraising for the POG-LRC since 2009 and has raised over £42,000 so far. Sandra is a committed member of the Friends of POG volunteer committee and, over the years, has supported a number of other fundraising events in addition to organising her own. Sandra raises funds in memory of her husband, Lindsay Moverley, who died of AML in 2011. Sandra, who lives in Polmont, is part of a team who organise an annual event called "Young Once", which takes place in the Dobbie Hall in Larbert every December. Thanks to their hard work, determination and excellent fundraising, the event has become more successful each year. The proceeds are split between her local hospice, Strathcarron, and POG-LRC. In addition, Sandra has raised funds over the years by taking part in Cycle Glasgow, a sponsored cycle event through Glasgow and West Dunbartonshire. Sandra also supported a fundraising Ladies Lunch in Glasgow in 2012. Sandra's passion and commitment for fundraising in support of POG-LRC is invaluable. Sandra said: "Initially I became a member of the POG committee to try to make something good out of something bad and raise funds for research into leukaemia. I enjoy our annual fundraiser, as well as being part of the Friends of POG fundraising committee. It's great seeing friends come back year after year, having a really good time, knowing that the funds raised help to support world renowned leukaemia research in Glasgow, which makes all the organising that goes into the event worthwhile"
Applications: Please send a covering letter and CV to the respective supervisor by Friday 18th December 2015.
Previous Friends of Paul O'Gorman funded PhD students 2011 – Odette Middleton Investigation into the Efficacy of the Anti-CD20 Monoclonal Antibody Ofatumumab in Chronic Lymphocytic Leukaemia Supervisors: Alison M. Michie & Helen Wheadon
2013 – Mara Salome Investigating novel roles for TRIB2 in leukaemia transformation Supervisors: Karen Keeshan
2014 – Christopher Estell What is the function of erythrocytic miRNA? Supervisors: Mhairi Copland & Andrew Hamilton