About Us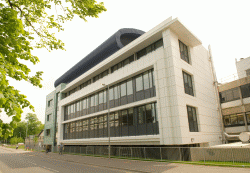 The Paul O'Gorman Leukaemia Research Centre is part of the University of Glasgow's Institute of Cancer Sciences. The Centre was officially opened on the 22nd of May 2008 by Dr Richard Rockefeller. It was built after a fundraising drive by the University of Glasgow in collaboration with Leukaemia & Lymphoma Research (LLR), which saw more than £2.6million raised in six years, through the commitment and generosity of more than 1800 donors and supporters. The facility is state of the art and incorporates the latest research technologies required to perform basic, translational and clinical research. The Centre also benefits from close interactions with the Beatson Institute for Cancer Research and clinical departments of the Beatson West of Scotland Cancer Centre.
The major focus of the Centre is the haemopoietic stem cell which is weakened to cause many different forms of leukaemia. Our aim is to perform basic research to identify novel therapeutic targets for leukaemia and translate our laboratory findings into new effectiveness medicines for patients.
Finally, we would like to express our immense gratitude to all those who have supported our research over the past few years.