Professor Danture Wickramasinghe
Professor in Accounting (Accounting & Finance)
Biography
Professor Danture Wickramasinghe is the Chair in Management Accounting and the Co-ordinator of PhD programme in Accounting, and Alternate Cluster Lead in Accounting Research at Adams Smith Business School.
Previously, he was the Chair in Management Accounting and the Director of Research Centre in Accounting and Accountability at Hull University of Business School and a Lecturer/Senior Lecturer and the Programme Director of MSc in Accounting and Finance at Manchester Business School, University of Manchester, where he was also the coordinator of the Management Accounting Module on the Global MBA Programme. Before moving to the United Kingdom, he was the Dean of the Faculty of Management & Finance and the Head of the Department of Commerce at the University of Colombo, Head of Department of Business Administration, and a Lecturer/Senior lecturer at the University of Ruhuna, Sri Lanka.
Being an academic over a period of 35 years, Danture is now globally known as a critical researcher in accounting in developing countries. His international visibility is evidenced in his extensive profile of publications in reputed journals, including Accounting, Auditing and Accountability Journal; Critical Perspectives on Accounting; Accounting and Business Research; Accounting & Organizational Change; Qualitative Research in Accounting and Management; and Accounting in Emerging Economies. Currently, he serves on editorial boards of these 6 journals. He is also the co-author/editor of two landmark books in accounting. Presently, is writing two new books to be published by Routledge in 2017 and 2018, respectively. He has contributed to several edited collections with monographs on accounting and development issues and presented at many international conferences.
Danture has produced 15 PhDs both at Manchester and Glasgow and examined over 50 PhDs in the UK, Australia, Norway, France, New Zealand, Malaysia and Sri Lanka. He has held visiting appointments at, and research collaborations, with Paris Dauphine University, Nord University in Norway, Manchester Business School in the UK, York University in Canada, and several Sri Lankan universities. Currently, he supervises 5 PhD students at Glasgow.


Research interests
Danture is a member of the Accounting research cluster.

Areas of expertise:
Critical- interpretive accounting
Accounting, development and governance
NGO accountability, controls and development
Management controls within global supply-chains and production networks
Microfinance, social controls, and accounting
Accounting consequences of public sector reforms in developing countries
Teaching
Danture teaches management accounting and control and conducts Master Classes for PhD students at Glasgow.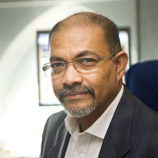 Gilbert Scott Building, University Avenue, Glasgow G12 8QQ,