Launch of menopause and menstrual health policy will address women's health inequalities
Published: 31 October 2023
The recommendations from one of the first studies in the world to explore both menstrual health and menopause at work is informing a new NHS Scotland policy.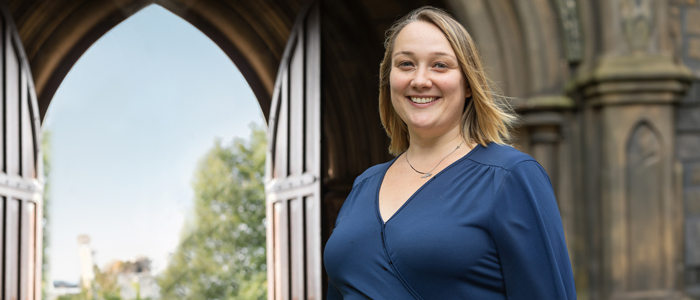 The work aims to create an environment where those experiencing menopause or menstruation are supported through positive cultures, practical support mechanisms and challenging stigma or negative stereotypes.
'Advancing Menopause and Menstrual Health in Organisations' ( AMMInO) was carried out by University of Glasgow Adam Smith Business School's Professor Kathleen Riach in 2022. The work sought to understand the menopause and menstrual experiences and needs of more than 6,000 NHS employees.
Results revealed that most employees can continue to work through
menstruation or menopausal transition without having a disruptive impact on their jobs. However, for those that do have menstrual and menopausal health experiences that have some kind of impact on their working lives, cultural, structural or institutional conditions can negatively impact and exacerbate these experiences. Other findings revealed:
Misdiagnosis, under diagnosis and late diagnosis surrounding healthcare remained an ongoing challenge and had an influence on women's careers and their capacity to work.

E

mployees were creative and resilient in how to work through pain, and were often able to manage any disruption due to menstrual or menopausal experiences through 'micro accommodations', particularly when supported by colleagues and line managers.

Organisational culture played a significant role in employees' experiences of reproductive health at work; with 40% of respondents having had an embarrassing or stigmatising experience surrounding menstruation or menopause in the workplace in the last year, tackling bias and stereotypes is vital.
Professor Kathleen Riach from University of Glasgow Adam Smith Business School said: "NHS Scotland's new Menopause and Menstrual Health Workplace policy marks a vital step in ensuring all employees are valued, supported, and recognised as an integral part of the country's workforce, no matter their age or stage of their reproductive lives.
"Healthier women mean a healthier economy. By identifying and scaling some of the best practice currently existing across the NHS Scotland workforce, as well as introducing new evidence-based practices, this policy will ensure the no barrier to jobs and careers in healthcare."
Minister for Women's Health Jenni Minto said: "It's important to foster a culture of awareness and compassionate management in the workplace so women feel confident and comfortable in raising issues around their menopause or menstrual health.
"NHS Scotland's policy will recommend a number of measures that will make work life easier such as flexible breaks and working arrangements.  
"This is a positive example of an employer taking proactive steps to reduce barriers to women's health in the workplace and we hope it promotes equivalent efforts across the public, private and third sectors."
The work was undertaken by University of Glasgow Adam Smith Business School in collaboration with the Scottish Government's Women's Health Plan and NHS Scotland.
---
Claire.Smith.2@glasgow.ac.uk
First published: 31 October 2023
Advancing Menopause and Menstrual Health in Organisations