Dr David Bailey
Reader

(Ecology & Environmental Change)
telephone: 01413308183
email: David.Bailey@glasgow.ac.uk

R403, Institute of BAH&CM, Graham Kerr Building, Glasgow G12 8QQ
https://orcid.org/0000-0002-0824-8823
Research interests
Research Interests
Reader in Marine Ecology
Ecology and physiology of marine animals
Dr David Mark Bailey
Institute of Biodiversity, Animal Health & Comparative Medicine
College of Medical, Veterinary & Life Sciences
Graham Kerr Building
University of Glasgow
Glasgow
G12 8QQ
Tel +44 (0)141 330 8183
@davemarinebio
I am a marine biologist with broad interests. My research group works in all marine environments from Antarctica to coral reefs, and of course also around Scotland. The main theme is the conservation and management of marine systems, usually in collaboration with governments, NGOs and industry.
Academic History
August 2021 Reader, Institute of Biodiversity, Animal Health and Comparative Medicine
May 2007 Lecturer, Division of Environmental and Evolutionary Biology, University of Glasgow
2004-2007 Post-doc University of Aberdeen and Scripps Institution of Oceanography, University of California, San Diego
2000-2004 Post-doc. Oceanlab, School of Biological Sciences, University of Aberdeen
1997-2000 PhD Student, University of St Andrews and British Antarctic Survey
1996-1997 Research Assistant Tropical Marine Research Group, Department of Biology, University of York
1995-1996 MRes Ecology and Environmental Management. University of York
1994-1995 Environmental Division, Scott Wilson Kirkpatrick and Partners, Consulting Engineers
1991-1994 University of Plymouth. BSc (Hons) Biological Sciences
Deep Water Biology
The oceans cover 70% of the Earth's surface and about 80% of this water is more than 1000 m deep. The average depth of the ocean is about 3700 m. As a result, deep-water environments are the most common habitats on the planet. Despite this, they are not well-understood, mostly because of the technical challenges involved in studying the deep-sea.
My work has involved basic studies of the physiological characteristics and behaviour of deep-water fish, but most recently has focussed on how fish are distributed and how this has changed over time. Click here for further information
I have helped show how fishing impacts spread deep into the oceans, but also that fish communities in deep-water systems can change quite dramatically due to natural variations in climate Click here for further information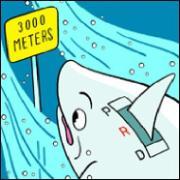 In 2006 I was part of an international group which showed that sharks, rays and chimaeras do not live deeper than 3000 m (see article - ). We found this out by trawling and deploying baited camera all around the world, and we never found sharks deeper than around 3km.
This cartoon from the New York Times was one response to the story. We don't know why sharks do not live deeper than this, but it means that all sharks are within the range of commercial fishing boats.
Long-term observatories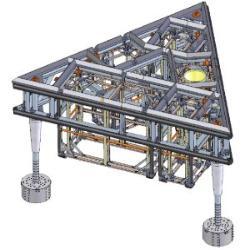 Deep-sea fishes are generally badly understood, and getting more long-term data on their populations is important. In 2006 we discovered that deep-sea fish numbers had increased dramatically in one area of the North Pacific. For more information on this story check out these radio clips on NPR and AAAS. Spot the deliberate mistake in the NPR report.
As part of a consortium of UK and US universities and our industry partner BP we are trying to improve the science and management of the deep-sea by building long-term biological observatories in deep-water. The Deep-ocean Environment Long-term Observatory System (DELOS) project is scheduled to install two observatories at around 1500 m depth off Angola in late 2007.
This is a diagram of one of the observatories, which was designed and assembled in 2007. Each side of the triangle is about 8 metres long, and the frames within the triangle carry scientific instruments such as cameras and current meters. For me details see the main DELOS page.
Grants
Grants and Awards listed are those received whilst working with the University of Glasgow.
Marine input to NatureScot commission on the indirect drivers of biodiversity loss in Scotland
NatureScot
2022 - 2022

An inter-disciplinary approach to performing a habitat suitability analysis for native oysters in the Clyde
Natural Environment Research Council
2022 - 2022

Mapping protected marine habitats in Scotland
Sustainable Inshore Fisheries Trust
2020 - 2020

Assessing implications of wrasse fishing for marine sites and features
Scottish Natural Heritage
2019 - 2020

Wrasse populations on the west coast of Scotland
Sustainable Inshore Fisheries Trust
2019 - 2019

Sundarbans fisheries: a model system for the application of landscape ecology and social science approaches to management
Natural Environment Research Council
2018 - 2019

Recovery and management of the marine ecosystem around the Isle of Arran
Blue Marine Foundation
2018 - 2019

IBIS (SCENE 2)
Dee District Salmon Fishery Board
2016 - 2017

IBIS (SCENE 2)
Scottish Natural Heritage
2015 - 2015

Evaluation of trends in status of deep-sea fish populations
Deep Sea Conservation Coalition
2014 - 2015

Marine imaging analysis for gadoid fish habitat association
Marine Alliance for Science and Technology Scotland
2014 - 2014

Scotland's Marine Protected Area Network: A participatory approach to designing guidelines for climate change management and monitoring
Marine Alliance for Science and Technology Scotland
2014 - 2014

Nephrops Creel Project
Scottish Creel Fishermen`s Federation
2013 - 2014

Is Scotland's MPA Network resilient to change? How will this affect the human communities who interact with it?
Marine Alliance for Science and Technology Scotland
2013 - 2013

Assessment of the impacts of mobile gear in the Clyde - desk study.
Sustainable Inshore Fisheries Trust
2012 - 2012

IBIS (SCENE 2)
European Commission
2011 - 2015

Evaluating the abundance of abyssal megafauna using an autonomous imaging platform.
Natural Environment Research Council
2011 - 2014

Using advanced microchemical methods to explore connections between deep reef fish populations.
British Council
2010 - 2011

West of Scotland Taskforce: desk study.
Scottish Government
2009 - 2010

Development and Evaluation of methods for surveying fish populations in nearshore waters
Scottish Government
2009 - 2010

Long term changes in Pacific and Atlantic deep sea fish communities
Marine Conservation Biology Institute
2007 - 2008

Hadal Environment and Education Partnership (HADEEP)
Natural Environment Research Council
2007 - 2010

Additional information
Grant Advisory Board
2011 - present: NERC - National Oceanography Centre Association
2010 - present: Scottish Marine Institute - Promotions board member
2009 - present: Marine Alliance for Science and Technology for Scotland - Graduate School Board
2009 - present: Marine Alliance for Science and Technology for Scotland - Executive Committee
Invited International Presentations
2010: EIlat, Israel - Inter-University Institute for Marine Sciences. : "Photographic techniques for studying fish; from coral reefs to the abyss".
Professional Learned Society
2008 - present: British Ecological Society - Member of Marine Environment Policy Advisory Group
Research Fellowship
2004 - 2007: Marie Curie Outgoing International Fellowship