Success for Institute research team at the Guardian University Awards
Published: 16 March 2016
A project that developed and implemented a mobile phone-based surveillance for rabies elimination in Tanzania has won the international category of the Guardian University Awards 2016.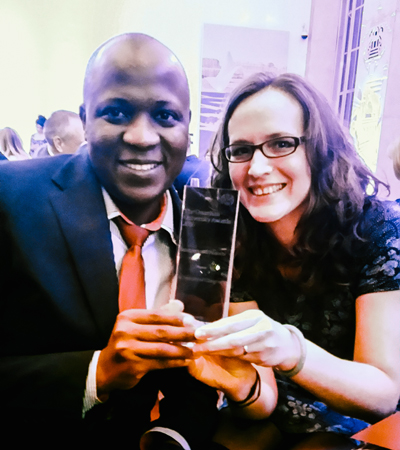 A project that is saving lives in some of the world's poorest communities has won a Guardian University Award at an ceremony in London last night.‌
The submission, Mobile phone-based surveillance for rabies elimination from Africa, won in the International Projects category. This award celebrates an outstanding project, venture or collaboration that shows the university operating with global vision and ambition.
The project, led by Reader Dr Katie Hampson, developed and implemented a mobile phone-based surveillance system in Tanzania that is proving crucial in the fight against rabies.
Dr Katie Hampson talks about her mobile health project in Tanzania
The system harnesses the widespread reach of mobile technologies, offering a user-friendly platform that enables frontline health and veterinary workers to track every rabies-related event, including human bite exposure, vaccinations of dogs or humans, or a dog being seen with rabies signs. It overcomes the inadequacies of weak paper-based surveillance systems, providing the data needed to detect and coordinate responses to outbreaks of rabies, and to demonstrate the success of rabies elimination programmes.
The mobile phone platform itself was developed by computer scientist-come-epidemiologist Zac Mtema during his PhD at UofG with Katie Hampson and Roderick Murray-Smith. The ambition and success of the project, reflected by the award, owes much to the long-term partnerships we have established with institutions in Tanzania, and to the talented Tanzanian scientists who have studied with us.
The research was funded by the Wellcome Trust and the UBS Optimus Foundation, is reported in an article published in PLoS Medicine, 'Mobile Phones As Surveillance Tools for Rabies in Tanzania' [updated 12th April].
Follow us on Twitter (@IBAHCM) or Facebook for all the latest news and up to date conversation.
---
First published: 16 March 2016