Glasgow research wins Guardian award for rabies surveillance technology
Published: 16 March 2016
Mobile phone health surveillance technology, designed and monitored by researchers at the University of Glasgow, has proven crucial in the fight against rabies in Tanzania.
Mobile phone health surveillance technology, designed and monitored by researchers at the University of Glasgow, has proven crucial in the fight against rabies in Tanzania.
The award-winning research, which last night won a Guardian University Award in the International Projects category, reveals the success of a large-scale mobile surveillance system that has played a critical role in improving rabies control across large areas of Tanzania.
Dr Katie Hampson talks about her mobile health project in Tanzania
The implementation of the project, by researchers from the University of Glasgow's Institute of Biodiversity, Animal Health and Comparative Medicine, is described in an article that is in press at PLOS Medicine.
The system has also been used in follow up studies to confirm that rabies has been eliminated from Pemba Island in Tanzania and that elimination could soon be achieved in other areas of the country too.
Since 2011, the researchers have been monitoring a cross-sector mobile phone-based (mHealth) system that they developed and implemented for rabies surveillance across southern Tanzania. Without this kind of surveillance, there would be no effective way to detect and coordinate responses to rabies outbreaks.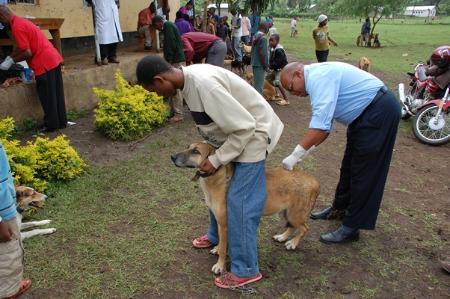 The system was used to report real-time instances of rabid animal bites on humans, as well as human and animal rabies vaccination use. It is currently used by more than 300 frontline health and veterinary workers in a 150k square km area with more than 10 million inhabitants.
Researchers found that the system, which has generated more than 30,000 rabies-linked reports, has become a popular and valuable tool across medical and veterinary sectors in southern Tanzania.
Dr Katie Hampson, the lead author of the study, said: "Rabies is the most fatal disease known to man – there is no cure. About one in five people who get bitten go on to develop rabies and there's no way of knowing who that 1 in 5 will be. Unless you are vaccinated immediately after being bitten, you are at risk of dying."
"It is historically really difficult to measure what's going on in terms of rabies in Tanzania. The records there are very incomplete and hard to access. Our system was designed to track all rabies incidences in the southern part of the country in real time. The system had to be easy to for vets and health workers to use, even though most users are only familiar with very basic mobile phones."‌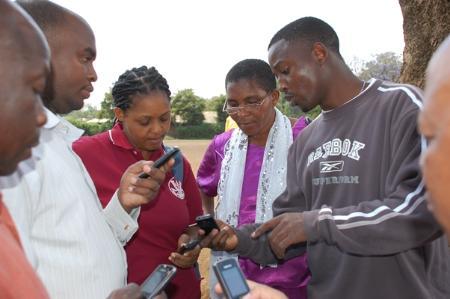 In many low-income countries most virus surveillance is paper-based, and therefore doesn't provide up-to-date feedback. It is also frequently hindered by limited, poor and late reporting of events.
Mobile technology was chosen for this surveillance system because most health and veterinary facilities in southern Tanzania have no internet access and unreliable power; however mobile phone network coverage was widespread and local staff already owned phones.
The system has been designed to track every rabies-related event, including human bite exposure, vaccinations of dogs or humans, or a dog being seen with rabies signs. The tracking was done by health and vet workers in Tanzania on their phones. The surveillance data is held in a central database that can be accessed by field workers or central government, via mobile phone or computer, to see what is happening and when.‌
Dr Hampson said: "Bringing the vets together with the medics, for a disease like rabies, is absolutely essential. The results show people generally like it, it works, and it's the same price, if not cheaper, than paper systems.
"There are many different diseases – including rabies – which require medics, vets or environmental scientists all working together to control and hopefully eradicate them. Bridging those sectors sounds easy, but it has not proved to be in the past. Sharing tools, information and infrastructure, and then piecing it altogether, is essential, and that's what this mHealth system has done."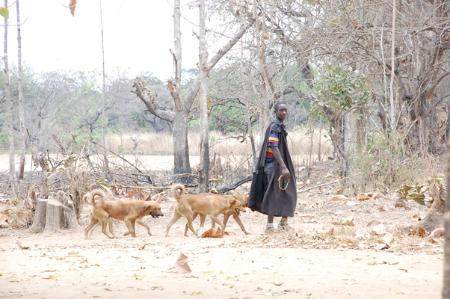 Dr Mike Turner, Head of Infection & Immunobiology at the Wellcome Trust, which part-funded the project, said: "Ninety-five percent of deaths from rabies occur in Asia and Africa. Poor diagnosis, inadequate monitoring, and a lack of coordination when an outbreak has been identified all result in people not receiving life-saving vaccinations. There is very limited data on rabies outbreaks in these areas, so it's impossible to know the full scale of the problem.
"Closely monitoring both animal and human populations is key in the fight against rabies, and is illustrated perfectly by the overwhelming success of this collaborative surveillance project."
After being awarded the Guardian University Award, Dr Hampson said: "I am delighted that we have won a Guardian University Award in the International Projects category. Everyone on the team, including all the students and staff across all the medical and veterinary facilities, are really happy to see this reward for our work."
The study 'Mobile phones as surveillance tools: implementing and evaluating a large-scale intersectoral surveillance system for rabies in Tanzania' is in press in PLOS Medicine. It was funded by the Wellcome Trust and the UBS Optimus Foundation. The study is currently in print at PLOS Medicine. Copies of the approved manuscript are available on request.
---
Media enquiries: ali.howard@glasgow.ac.uk or elizabeth.mcmeekin@glasgow.ac.uk / 0141 330 6557 or 0141 330 4831
First published: 16 March 2016