iii PhD student wins best oral presentation
Issued: Wed, 31 Jul 2019 12:11:00 BST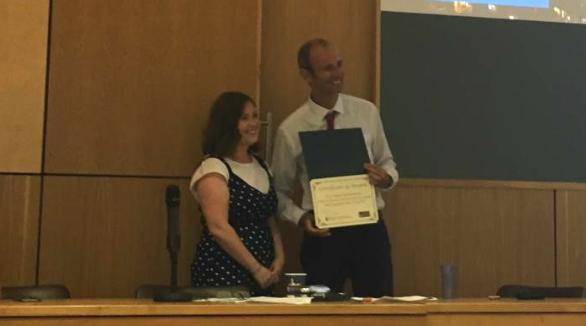 Institute of Infection, Immunity & Inflammation PhD student Caitlin Duncan was awarded the prize for best oral presentation at the recent Medical Research Council (MRC) Postgraduate Day.
One of three third-year students on the joint Edinburgh-Glasgow Precision Medicine Doctoral Training Programme (DTP) to outline their research, Caitlin discussed data from precision medicine in rheumatoid arthritis and took first place on the day.
The presentation explored the background to her project, specifically a paper published in the Journal of Translational Medicine illustrating that a biomarker could predict response to Methotrexate in people with rheumatoid arthritis.
Caitlin's research asks various questions, including whether the biomarker can also predict response to other medications, and if other biomarkers exist that could help further stratify people with rheumatoid arthritis.
A thrilled Caitlin said: "Communicating science and presenting my work is one of my favourite parts about being a PhD student and scientist.
"This was the longest presentation I've given to an audience in my PhD so far and I really enjoyed having the opportunity to present some of my data.
"For others to enjoy the presentation and recognise the effort made to give a presentation that could be understood by a varied audience was great!"
---