President of Malawi visits the University of Glasgow
Issued: Tue, 19 Jun 2018 12:45:00 BST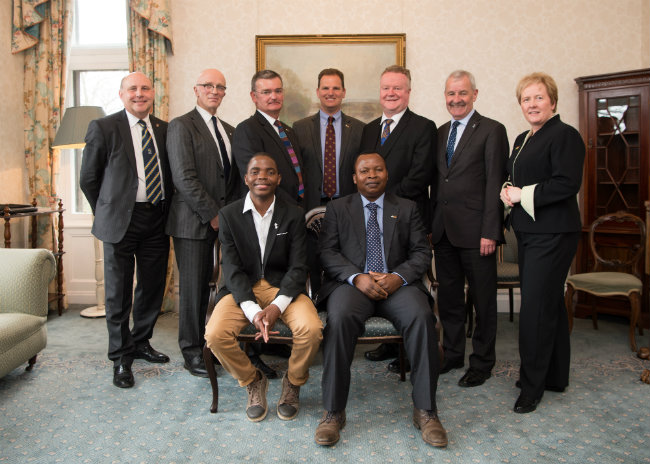 Researchers from the Institute of Infection, Immunity and Inflammation were among representatives to meet His Excellency, Professor Peter Mutharika, President of the Republic of Malawi, during his visit to the University on Monday 23 April.
Welcomed at the Principal's Lodgings, President Mutharika and the First Lady, Professor Gertrude Mutharika, were joined for lunch by Dr Alasdair Allen, Scottish Minister for International Development and Europe, and a number of representatives of the Malawi Government, the Scottish Government and the University.
Professor Iain McInnes, Director of the Institute of Infection, Immunity and Inflammation, talked about the Blantyre-Blantyre clinical lab facility at the College of Medicine in Malawi – a £2million project funded by the Scottish Government, Wellcome Trust and the World Bank to bring educational and health benefits to the people of both Malawi and Scotland, in part by comparing healthy and unhealthy lifestyles in Blantyre in Malawi and Blantyre just outside Glasgow. His area of specialisation – rheumatology – is a growing health problem in Malawi.
Professor Paul Garside, Global Health Lead, talked about his work with colleagues in Malawi on immune systems research, while Professor Andy Waters, Director of the Wellcome Centre for Molecular Parasitology, discussed his research into malaria and other parasite-borne diseases.
Professor Jeremy Bagg, head of the Glasgow Dental School, is working through the University of Glasgow and the Royal College of Physicians and Surgeons of Glasgow to support the College of Medicine in Malawi to establish a Batchelor of Dental Surgery programme and also to establish a national oral health policy for Malawi.
The College of Medicine has been given £100,000 by the Scottish Government to support its transition to a fully independent university. Professor Simon Guild, Head of the School of Life Sciences, is to support the College in terms of academic governance, ethics and oversight.
The President also met two young Malawians - Nelson Simwela, a PhD student who is working on malaria in the Wellcome Centre for Molecular Parisitology, and Dr Mukanthu Nyirenda, a post-doctoral researcher at the Institute of Infection, Immunity and Inflammation, who is working on rheumatoid arthritis and multiple sclerosis pathways.
Professor Sir Anton Muscatelli said: "We were absolutely delighted that the President of Malawi chose to come to the University of Glasgow to witness the way in which our world-changing research is having a real impact through our collaborations with Malawi. We look forward to continuing to work closely with Malawi and the Scottish Government."
---