Microbiology Society Prize for Dr Tansy Hammarton
Issued: Mon, 30 Oct 2017 16:20:00 GMT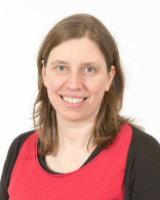 Congratulations to 3I's Dr Tansy Hammarton who has been awarded the Microbiology Society's Peter Wildy Prize 2018.
Dr Hammarton has a long career in scientific outreach activities, working for over a decade to develop material that engages with a wide variety of audiences, from teaching nursery school children about handwashing, through to teaching educators about public engagement activities.
Tansy has been recognised for her effort, energy and enthusiasm in public engagement, championing her research in parasitology. She is acknowledged both in her own right as a communicator who can encourage the curiosity of anyone she interacts with, and also as an enabler for others to learn how to engage the public effectively.
She said: "I am delighted to have been awarded the 2018 Peter Wildy Prize and feel very honoured that my public engagement work has been recognised in this way. I have been very fortunate to have received a lot of support over the years from many University of Glasgow staff and students, and would like to pay tribute to all who have helped me organise and deliver public engagement activities."
---