Co-Directors
Neil McDonnell
Iain Findlay-Walsh
Rachel Opitz
Johnny Briggs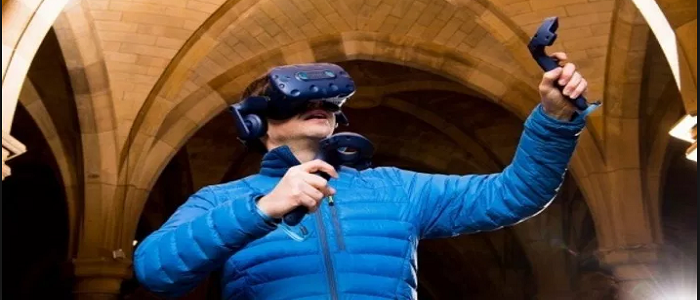 Immersive Experiences(IELab) MISSION STATEMENT
To grow a community at the University of Glasgow, made up of researchers, artists, professionals and students interested in work at the intersection of arts and humanities, virtual and augmented reality, and related technologies.
In pursuit of this mission we circulate a regular IELab newsletter containing details of funding opportunities, events and technological developments that are relevant to this community. We also host the IELab event series of lectures, workshops and demos. See for instance our Extended Reality and Psychology webinar series, held in June 2020.
Join IELab - 2021 call for new members
We are looking to grow the IELab community, and we are particularly keen to welcome new staff and research students arriving at Glasgow in 2021. No matter your field or discipline, if you are interested in immersive technologies and want to get together with researchers working in this space, please join us!
If you'd like to become a member of the new Immersive Experiences Lab at Glasgow please send an email to Rachel Opitz stating, "I would like to join the Immersive Experiences ArtsLab at Glasgow." To receive regular, approximately monthly, email updates on news and events relevant to the community.
Co-Directors
Neil McDonnell
Iain Findlay-Walsh
Rachel Opitz
Johnny Briggs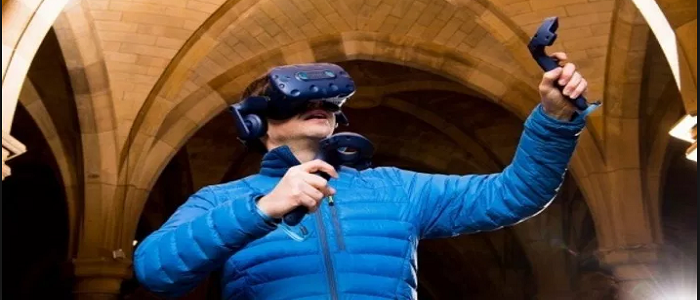 IELab XR Research Ethics Seminar
IELab XR research ethics seminar
Thursday, May 27, 2021 15:00 BST
This seminar will introduce research ethics challenges specific to work with XR technologies (VR/AR/immersives). We will discuss these in the context of approaches to research ethics review at the University of Glasgow and in relation to the wider XR community's discourse around the ethical use of these technologies in society. To make these reflections concrete, we will undertake a design critique exercise, assessing the research ethics implications and wider ethical implications of the design of specific XR projects.
Register on Eventbrite at: https://www.eventbrite.co.uk/e/immersive-experiences-artslab-ielab-xr-ethics-seminar-tickets-150690097137
SGSAH Catalyst - Immersives in Cultural Heritage
IELab co-sponsored event
Immersives in cultural heritage research and practice
Cultural & Museum Studies SGSAH Discipline+ Catalyst one-day online training event
Tuesday 20th April 2021, 10:00 AM BST
This free event is offered by the SGSAH Cultural and Museum studies Discipline+ Catalyst. It is aimed at PhD students in arts and humanities disciplines registered at Scottish universities and who are in the early stages of their research (normally first or early second year).
The use of immersive technologies (such as Virtual Reality–VR, Augmented Reality–AR, Extended or Cross Reality–XR) in the cultural sector has expanded in the last few years, impacting the way various users are engaging with collections, exhibitions and related themes, stories, and ideas. Immersives are affecting how visitors are experiencing cultural heritage in public venues as well as in other settings like home and work. New research is examining not only the technological issues and challenges that these technologies raise, but also those related to the arts, humanities, and social sciences, such as creativity, accessibility, materiality, learning, and social interaction.
This one-day event will offer the opportunity to hear about and discuss the potentials offered by a range of immersive technologies in cultural heritage. The event will include an introduction to the range of immersives that can be used in cultural heritage and their areas of application, with a discussion of the potential and challenges of these new technological affordances for the cultural heritage sector. Invited experts and practitioners will deliver presentations on their experiences of immersives and will take part in a round-table discussion. PhD students will deliver short presentations on their own research as part of a PhD showcase.
The event is organised for the Scottish Graduate School of Arts and Humanities Cultural and Museum Studies Discipline+ Catalyst by Prof. Maria Economou (University of Glasgow) with Prof. Ian Ruthven (University of Strathclyde) and Dr Thea Stevens (Glasgow School of Art). It is supported by the Immersive Experiences Arts Lab of the University of Glasgow.
Eventbrite at:
https://www.eventbrite.com/e/immersive-technologies-in-cultural-heritage-research-and-practice-registration-141453103039?aff=ebdssbonlinesearch&keep_tld=1
Eleni Ikon, The Lament
Eleni Ikon, Senior Tutor (Research), Visual Communication, Royal College of Art.
Title: The Lament (talk and Q&A)
Wednesday 16th March, 1-2pm.
Live online via zoom.
Abstract:
For many voices.
The voice can assume almost any shape, sculpted both by human body and technology but reducible to neither. This talk will follow the voice in its capacity to channel the alien and open up a door to the otherworldly.
This event is part of the RMA Colloquium in Music Research series at the University of Glasgow, in association with the Immersive Experiences Lab.
Graduate Student Research Showcase - December 2020
IELab Graduate Student Research Showcase - 10th December 2020 15:00-17:00
on zoom - details will be circulated shortly before the event
Detailed Schedule:
15:00 Welcome
15:10 Adriana Minu - Ecstasies of Rooms - Process, technology and participation
The participatory piece Ecstasies of Rooms is a pandemic-baby, born after months of artistic sharing and exploration on Zoom between composer-performers Adriana Minu (PhD researcher in UoG's music department) and Christine Cornwell. In the 45-minute audio journey participants are invited to use their voices to establish a different relationship with their living space, the rooms the pandemic has limited us to for months. Ecstasies of Rooms uses an app that collects participant's recorded voices and a 3D virtual 'common' room to re-house these vocal utterances. In this short overview of the process and final piece, we retrace the steps that led us to develop the concept and discuss the technological implementation of the work, all under the umbrella of research through artistic practice.
15:40 Elisa Jockyman Roithmann - Immersive Spectatorship and Environmental Video Art in Brazil
Since the 1960s, when artist Helio Oiticica experimented with multimedia installations launching the Tropicalia movement, Brazilian moving image artists have set out to create sensory and immersive experiences for their audiences. In the height of the climate emergency, these artists have used immersive techniques and new technologies in environmental narratives that open dialogues about modern audiences and accountability.
15:50 Siobhan Healy - Performance Art at the Hunterian Art Gallery with augmented reality
I am an Mlitt student interested in discussing the possibility of a collaboration between my group curatorial project at the Hunterian Gallery and people working with augmented reality. The project is essentially a performance artwork that echoes the theme of the exhibition which will be on Jan-April, which relates to Scottish landscape. The details of the performance are to be confirmed. The performance will take place in Feburary. I would like to discuss the possibility of including an augmented reality element to this project and see if any students working with augmented Reality would be interested in getting involved.
16:00 Joseph O'Hagan - Reality aware VR headsets: Increasing VR user awareness of bystanders
As VR headsets become more common in everyday life interactions between VR users and bystanders will occur more often. Recent research has begun to consider the concept of a 'reality aware VR headset' - one that is capable of automatically detecting a bystander and notifying a VR user of their existence. This talk will highlight some of the work done here at Glasgow which has investigated this topic.
16:10 break
16:20 Luca Ottonello - Emotional Immersion in Palmyra
The virtual talk will involve a guided tour through the stages of construction and exploration of a full area in the town of Palmyra in a videogame environment. The reconstruction of the area is not based on purely technical requirements as it would be of practice in archaeology, but it is built in a way which allows immersion in exploration, guiding the user through a linear series of events triggered by the user's investigative interest. The town area includes a temple, a garden, a villa and several characters which interact through time by solving very simple puzzles, which enhance the immersion. The project has not been focussed on VR which would imply a first person view, but in point & click 3rd person view, which is another method of immersion that focusses on artistic style as opposed to hyperrealism, more reminiscing of reading a book and following the character through the adventures, this method which follows the main character through different camera angles allows more intrinsic interaction between the user and the character, giving a base story to follow and get emotionally lost into, as the experiences of the character are developed and investigated through a series of life events. This technique should allow for a better emotive immersion, walking among the people who lived in the past where there are now excavation sites, and at the same time give an interactive emotional connection between such characters, the architecture and potentially the users.
16:40 Elliot Millington - Sensorily Stressed: Using Virtual Reality to examine the relationship between anxiety and the senses.
Anxiety is one of the most common psychiatric disorders in the western world, with lifetime incidence estimates of up to 25%. Anxiety acts as a barrier to educational, vocational, and societal engagement and is estimated to cost the US economy $38 billion annually. One of the most consistent causal factors of anxiety are sensory sensitivities, usually over- and/or under-responsivity to everyday sensory stimulation such as noises, lights, and smells. Whilst there is a robust empirical and theoretical literature looking at the interaction between sensory sensitivities and anxiety, unfortunately it is largely questionnaire-based and correlational. The aim of my PhD project is to use the methodological advantages of Virtual Reality technologies to experimentally test the key relationships of the theoretical frameworks and then apply these findings in the form of environmental accommodations.
16:50 Yiheng Ding - Manipulation and VR
In ethics and moral philosophy, our minds are traditionally portrayed as an internal citadel which is undetectable and intractable. For this reason, the gravity of traditional ethical concerns falls on the physical dimension, focusing on bodily harm, violence, and coercion. However, in recent decades, the rules of the game have changed. Individuals have become vulnerable in ways that could not be conceived by ethicists and philosophers in the past. We now know that human mind and behaviour are plastic. We can change individuals' desires, behaviours, and decisions in predictable ways through the arrangement of the factors in their external environment. In a relavant sense, users of VR are put into a virtual world which is entirely determined by the service provider, and their external virtual environment can be much more conveniently modified than the physical environment. This means that VR could enable powerful forms of mental and behavioral manipulation. Thus, it is the time to think of the moral hazard of manipulating people through techniques like VR — but firstly, what does it mean to manipulate a person? Why is manipulation morally wrong?
VR Environment Creation Seminar - November 2020
19th November 2020: 15:00 - 16:30.
Description: Alex Harvey, Co-Founder and CEO of RiVR will present on how he and his team create their hyper-realistic environments for clients accross a diverse range of industries.
Join us on zoom:
Topic: IELab Seminar - VR Environment Creation
Time: Nov 19, 2020 03:00 PM London
Join Zoom Meeting
https://uofglasgow.zoom.us/j/97399359045?pwd=RzZ3eHRkQ3JObkRiT1JHL2N0eXpsdz09
Meeting ID: 973 9935 9045
Passcode: 897829
One tap mobile
+442080806592,,97399359045#,,,,,,0#,,897829# United Kingdom
+443300885830,,97399359045#,,,,,,0#,,897829# United Kingdom
Dial by your location
+44 208 080 6592 United Kingdom
+44 330 088 5830 United Kingdom
+44 131 460 1196 United Kingdom
+44 203 481 5237 United Kingdom
+44 203 481 5240 United Kingdom
+44 203 901 7895 United Kingdom
+44 208 080 6591 United Kingdom
Meeting ID: 973 9935 9045
Passcode: 897829
Find your local number: https://uofglasgow.zoom.us/u/aiZcxfy8e
Virtual Auditory Reality (Research Colloquium) - October 2020
22nd October 2020: 15:00 - 16:30. This event was rescheduled from the Spring. Zoom link to be provided.
Description: Iain Findlay-Walsh (University of Glasgow) will be giving a talk on "Virtual Auditory Reality: Inhabiting pop as virtual environment". Event organised jointly with the Royal Music Association Research Colloquia series.
Interdisciplinary PhD Research Showcase - Spring 2020
30 April 2020, 15:00-17:00
Event Format:
Presentations from our speakers are posted below, linked from under the title of each talk. Join us on zoom for a roundtable discussion of everyone's research. We'll talk about the challenges and opportunities of using immersive technologies and media, and of thinking about immersive experiences, as part of PhD research.
Speakers: Francis Butterworth-Parr, Monica Vazquez and more
Tuned to a Dead Channel: Critical Immersion in Contemporary Literary Culture - Francis Butterworth-Parr
And as a ppt presentation:

Criticality and immersion have often been figured as mutually exclusive modes of reading and playing. When figured as such, the act of critically playing video games (understanding the interconnectedness of the game and gameplay with its cultural, historical and aesthetics contexts) and the act of being immersed in a video game are forked. This opposition serves two extant arguments that are anathema to video game criticism: that video games are essentially apolitical despite being representational, and that the video game form is incapable of drawing sophisticated interpretations from players. The former argument served to validate the misogyny of Gamergate, the latter argument erroneously linked violence in games to real violence such and contributes to video game addiction's controversial induction into the WHO's list of mental disorders. To correct this, my presentation will experiment with dissolving the negative relationship between criticality and immersion in video games through their representation in contemporary literary culture, using examples where novelists have explored these concepts to question have we may reckon with the immersive video game playing experience through criticality.
The Neverending Immersion: inhabiting the impossible in Fantasy Literature and VR. - Monica Vasquez
Virtual Reality is the narrative architecture of the impossible. It stirs our imagination and challenges humanity to redefine the limits of immersion and our interactions with the spaces we inhabit. If, as Ortega y Gasset puts it, 'I am me and my circumstances', who am I when I am given the chance of facing the impossible? This research project will aim to answer this question, dwelling in the matters of how immersion inherently shapes identity and how the different degrees of interaction can affect our understanding of the concept of consequence, calling for a new definition for Fantasy, Reality and Immersion. In order to do so, it will analyze the inner workings of fantasy literature and its techniques on world-building and narrative immersion. For the most immersive thing one can do without VR goggles would be to read a book, isn't that so, Don Quixote?
Virtual Reality Experiences as Intimate Performance
Virtual Reality Experiences as Intimate Performance
Speaker: Harry Wilson
When: 21 November 2019, 15:00-17:00
Where: Sir Charles Wilson Building, Room 101AB
Despite the hype surrounding immersive media as the 'future of storytelling', there is an increasing number of theatre and performance practitioners making, staging and exhibiting VR experiences that place much more focus on the experiential, intimate encounter over and above narrative storytelling. Some recent examples include Laurie Anderson's To the Moon 2019; Robert Lepage's The Library at Night 2016; Marina Abramovic's mixed reality performance projects Rising (2018) and The Life (2019); companies like Marshmallow Laser Feast and Kaleider who are creating experiential installations and performative public art incorporating VR. These examples invite further reflection on the expanded theatrical and performative practices that are being drawn on in VR experiences - specifically modes of interaction borrowed from live art, intimate or one-to-one performance. This has been the starting point for my recent practice-as-research project exploring the intersections between VR and intimate performance as part of my role as Digital Thinker in Residence with the National Theatre of Scotland.
In September 2019, working with computing scientist Julie Williamson from the University of Glasgow and visual artist and theatre designer Rachel O' Neill, we developed a VR performance response to John Berger's book and our faces, my heart, brief as photos (1984). In this talk I will reflect on this emerging field of VR performance as well as what we found out about VR and about performance by bringing these two forms together.
Dr.
Harry
Robert
Wilson
is a researcher and performance maker based in Glasgow and until recently was Digital Thinker in Residence with the National Theatre of Scotland.
Harry
has a practice-as-research PhD in performance, photography and affect from the University of Glasgow. He has shared research at a range of conferences from Stockholm to Chicago and as a practitioner has shown work at venues and festivals across the UK including The Arches; the Citizens Theatre, Glasgow; Forest Fringe, Edinburgh; DCA, Dundee; BAC, London; and internationally at Defibrillator Gallery, Chicago and Kilowatt Festival, Sansepolcro.
Harry
is currently teaching in Theatre Studies at the University of Glasgow.
Twitter:@theharry_wilson
Academia.edu:glasgow.academia.edu/

Harry

Wilson
Using VR technology to understand inner world of autism
3rd October 2019, 15:00-17:00
253, Main Building, University of Glasgow
Speaker: Sarune Savickaite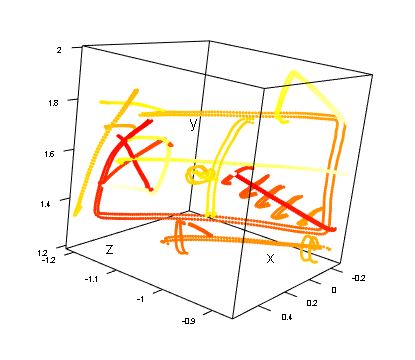 Sarune's research addresses the intersection of VR and research on autism.
Global and local processing is part of human perceptual organisation, where global processing enables us to extract the 'gist' of the visual information and local processing helps us to perceive the details. Individual differences in these two types of visual processing have been found in autism (ASD) and ADHD. Rey-Osterrieth Complex Figure (ROCF) test was selected for this study. Virtual Reality (VR) has become a more available method of research in the last few decades. No previous research has investigated perceptual differences using this technology. In this study, we investigated individual differences in local and global processing as a function of autistic and ADHD traits. ROCF was presented in the virtual environment and a standard protocol for using the figure was followed. A novel method of quantitative data extraction was used. Differences have been found in the standard scores of ROCF, however, no differences were observed between the conditions and participants scoring higher on ASD and ADHD questionnaires. Limitations of the study and implications of the novel methodology are discussed.
You can read more about Sarune's work on her website: https://www.sarune.info/.
Let us know you're coming by reserving a spot at: https://www.eventbrite.co.uk/e/74320954977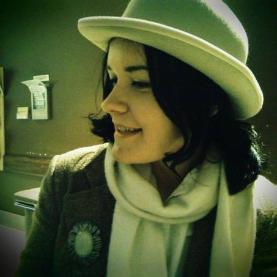 Sarune Savickaite
Group VR and Immersive Theatre
Thursday 18 April, 2019, 15:00-17:00
Wolfson Medical School - Gannochy Seminar Room 3
Co-Located VR Experiences
Current VR research often focuses on maximising immersion and personalising experiences, but an alternative approach could focus on social VR and co-located group experiences. During this hands-on talk and workshop, we will explore the current capabilities of group VR experiences using mobile VR headsets and tracked objects to create a shared physical and virtual experience. This has interesting application areas for entertainment, arts and theatre, education, and productivity. The workshop will involve experiencing a prototype of such an application and developing design fictions that might use this configuration of hardware to create new kinds of immersive experiences.
Gesturing the landscape in VR
Thursday 14 February, 2019, 15:00-17:00pm
Dr Rachel Opitz
Wolfson Medical School - Gannochy Seminar Room 3
The Value of Virtual Objects
Thursday 18 October, 2018, 15:00-17:00