Directors
Rachel Opitz
Neil McDonnell
Iain Findlay-Walsh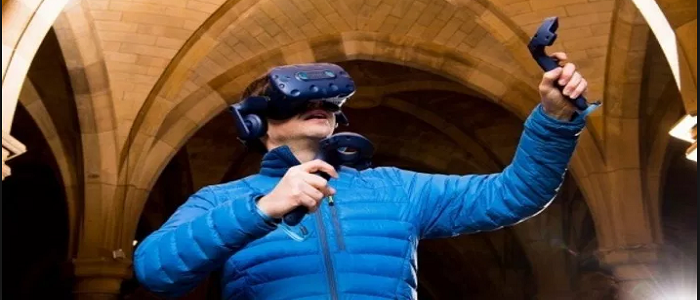 Immersive Experiences(IELab) MISSION STATEMENT
To grow a community at the University of Glasgow, made up of researchers, artists, professionals and students interested in work at the intersection of arts and humanities, virtual and augmented reality, and related technologies.
In pursuit of this mission we circulate a regular IELab newsletter containing details of funding opportunities, events and technological developments that are relevant to this community. We also host the IELab event series of lectures, workshops and demos. See for instance our Extended Reality and Psychology webinar series for June 2020.
Join IELab - 2020 call for new members
We are looking to grow the IELab community, and we are particularly keen to welcome new staff and research students arriving at Glasgow in 2020. No matter your field or discipline, if you are intrerested in the immersive technologies, and want to get together with researchers working in that space, please join us!
If you'd like to become a member of the new Immersive Experiences Lab at Glasgow please send an email to Rachel Opitz stating, "I would like to join the Immersive Experiences ArtsLab at Glasgow. To receive regular, approximately monthly, email updates on news and events relevant to the community."
Directors
Rachel Opitz
Neil McDonnell
Iain Findlay-Walsh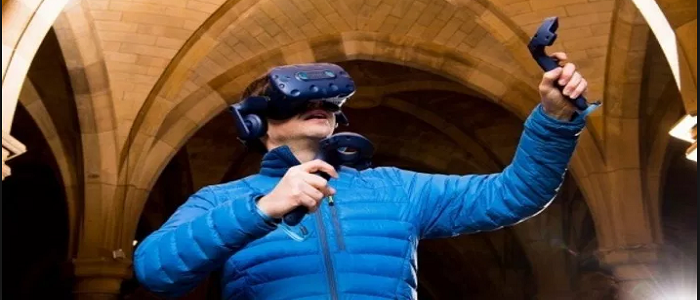 Next IELab Event
IELab Seminar
Thursday, 22nd October 2020, 15:00-16:30
On Zoom! Link to follow.
Speaker: Iain Findlay-Walsh
Virtual Auditory Reality: inhabiting digital pop music as narrative world (online presentation and Q&A)
Graduate Student Research Showcase - December 2020
December 2020: Date, Time, and Zoom link to follow.
Description: The Immersive Experience ArtsLab will showcase research from Graduate Students working in the immersive sphere.
VR Environment Creation Seminar - November 2020
19th November 2020: 15:00 - 16:30. Zoom link to be provided.
Description: Alex Harvey, Co-Founder and CEO of RiVR will present on how he and his team create their hyper-realistic environments for clients accross a diverse range of industries.
Virtual Auditory Reality (Research Colloquium) - October 2020
22nd October 2020: 15:00 - 16:30. This event was rescheduled from the Spring. Zoom link to be provided.
Description: Iain Findlay-Walsh (University of Glasgow) will be giving a talk on "Virtual Auditory Reality: Inhabiting pop as virtual environment". Event organised jointly with the Royal Music Association Research Colloquia series.
Interdisciplinary PhD Research Showcase - Spring 2020
30 April 2020, 15:00-17:00
Event Format:
Presentations from our speakers are posted below, linked from under the title of each talk. Join us on zoom for a roundtable discussion of everyone's research. We'll talk about the challenges and opportunities of using immersive technologies and media, and of thinking about immersive experiences, as part of PhD research.
Speakers: Francis Butterworth-Parr, Monica Vazquez and more
Tuned to a Dead Channel: Critical Immersion in Contemporary Literary Culture - Francis Butterworth-Parr
And as a ppt presentation:

Criticality and immersion have often been figured as mutually exclusive modes of reading and playing. When figured as such, the act of critically playing video games (understanding the interconnectedness of the game and gameplay with its cultural, historical and aesthetics contexts) and the act of being immersed in a video game are forked. This opposition serves two extant arguments that are anathema to video game criticism: that video games are essentially apolitical despite being representational, and that the video game form is incapable of drawing sophisticated interpretations from players. The former argument served to validate the misogyny of Gamergate, the latter argument erroneously linked violence in games to real violence such and contributes to video game addiction's controversial induction into the WHO's list of mental disorders. To correct this, my presentation will experiment with dissolving the negative relationship between criticality and immersion in video games through their representation in contemporary literary culture, using examples where novelists have explored these concepts to question have we may reckon with the immersive video game playing experience through criticality.
The Neverending Immersion: inhabiting the impossible in Fantasy Literature and VR. - Monica Vasquez
Virtual Reality is the narrative architecture of the impossible. It stirs our imagination and challenges humanity to redefine the limits of immersion and our interactions with the spaces we inhabit. If, as Ortega y Gasset puts it, 'I am me and my circumstances', who am I when I am given the chance of facing the impossible? This research project will aim to answer this question, dwelling in the matters of how immersion inherently shapes identity and how the different degrees of interaction can affect our understanding of the concept of consequence, calling for a new definition for Fantasy, Reality and Immersion. In order to do so, it will analyze the inner workings of fantasy literature and its techniques on world-building and narrative immersion. For the most immersive thing one can do without VR goggles would be to read a book, isn't that so, Don Quixote?
Virtual Reality Experiences as Intimate Performance
Virtual Reality Experiences as Intimate Performance
Speaker: Harry Wilson
When: 21 November 2019, 15:00-17:00
Where: Sir Charles Wilson Building, Room 101AB
Despite the hype surrounding immersive media as the 'future of storytelling', there is an increasing number of theatre and performance practitioners making, staging and exhibiting VR experiences that place much more focus on the experiential, intimate encounter over and above narrative storytelling. Some recent examples include Laurie Anderson's To the Moon 2019; Robert Lepage's The Library at Night 2016; Marina Abramovic's mixed reality performance projects Rising (2018) and The Life (2019); companies like Marshmallow Laser Feast and Kaleider who are creating experiential installations and performative public art incorporating VR. These examples invite further reflection on the expanded theatrical and performative practices that are being drawn on in VR experiences - specifically modes of interaction borrowed from live art, intimate or one-to-one performance. This has been the starting point for my recent practice-as-research project exploring the intersections between VR and intimate performance as part of my role as Digital Thinker in Residence with the National Theatre of Scotland.
In September 2019, working with computing scientist Julie Williamson from the University of Glasgow and visual artist and theatre designer Rachel O' Neill, we developed a VR performance response to John Berger's book and our faces, my heart, brief as photos (1984). In this talk I will reflect on this emerging field of VR performance as well as what we found out about VR and about performance by bringing these two forms together.
Dr.
Harry
Robert
Wilson
is a researcher and performance maker based in Glasgow and until recently was Digital Thinker in Residence with the National Theatre of Scotland.
Harry
has a practice-as-research PhD in performance, photography and affect from the University of Glasgow. He has shared research at a range of conferences from Stockholm to Chicago and as a practitioner has shown work at venues and festivals across the UK including The Arches; the Citizens Theatre, Glasgow; Forest Fringe, Edinburgh; DCA, Dundee; BAC, London; and internationally at Defibrillator Gallery, Chicago and Kilowatt Festival, Sansepolcro.
Harry
is currently teaching in Theatre Studies at the University of Glasgow.
Twitter:@theharry_wilson
Academia.edu:glasgow.academia.edu/

Harry

Wilson
Using VR technology to understand inner world of autism
3rd October 2019, 15:00-17:00
253, Main Building, University of Glasgow
Speaker: Sarune Savickaite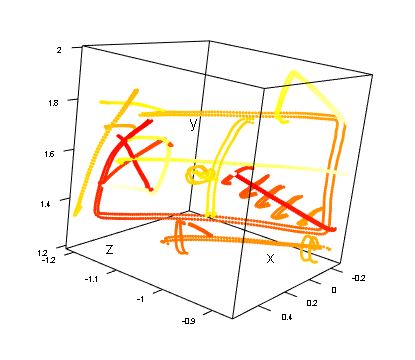 Sarune's research addresses the intersection of VR and research on autism.
Global and local processing is part of human perceptual organisation, where global processing enables us to extract the 'gist' of the visual information and local processing helps us to perceive the details. Individual differences in these two types of visual processing have been found in autism (ASD) and ADHD. Rey-Osterrieth Complex Figure (ROCF) test was selected for this study. Virtual Reality (VR) has become a more available method of research in the last few decades. No previous research has investigated perceptual differences using this technology. In this study, we investigated individual differences in local and global processing as a function of autistic and ADHD traits. ROCF was presented in the virtual environment and a standard protocol for using the figure was followed. A novel method of quantitative data extraction was used. Differences have been found in the standard scores of ROCF, however, no differences were observed between the conditions and participants scoring higher on ASD and ADHD questionnaires. Limitations of the study and implications of the novel methodology are discussed.
You can read more about Sarune's work on her website: https://www.sarune.info/.
Let us know you're coming by reserving a spot at: https://www.eventbrite.co.uk/e/74320954977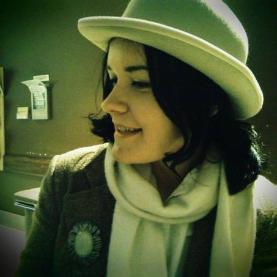 Sarune Savickaite
Group VR and Immersive Theatre
Thursday 18 April, 2019, 15:00-17:00
Wolfson Medical School - Gannochy Seminar Room 3
Co-Located VR Experiences
Current VR research often focuses on maximising immersion and personalising experiences, but an alternative approach could focus on social VR and co-located group experiences. During this hands-on talk and workshop, we will explore the current capabilities of group VR experiences using mobile VR headsets and tracked objects to create a shared physical and virtual experience. This has interesting application areas for entertainment, arts and theatre, education, and productivity. The workshop will involve experiencing a prototype of such an application and developing design fictions that might use this configuration of hardware to create new kinds of immersive experiences.
Gesturing the landscape in VR
Thursday 14 February, 2019, 15:00-17:00pm
Dr Rachel Opitz
Wolfson Medical School - Gannochy Seminar Room 3
The Value of Virtual Objects
Thursday 18 October, 2018, 15:00-17:00