Directors
Dr Louise Harris
Dr Timothy Barker
Professor Sarah Cook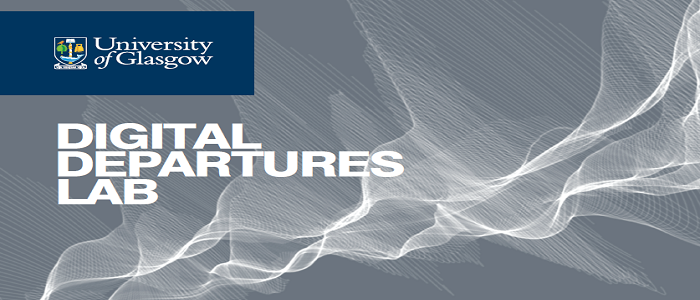 Digital Departures
The Digital Departures Lab will focus on the untraditional or deviant use of digital media, both in terms of practical and theoretical interventions. This might include, for instance, DIY or hacktivist approaches to digital technologies or filmmakers that explore alternatives to digital cinema by repositioning or repurposing the apparatus. It might also include historical work that explores the role of errors in computer history, art histories of movements such as net art, as well as theoretical work around the agency of media in communication and sociological work around the deviant use of technology.
The Digital Departures Lab's aims are:
To explore the potential for creative art and design when dominant media systems are repurposed or challenged
To investigate how deviant media practices can create new opportunities for research
To explore theoretical questions raised by deviant media practices (or deviant cultural techniques)
To inquire into the history of misuse, practices of hacking, and the resistance to dominant media frameworks.
Directors
Dr Louise Harris
Dr Timothy Barker
Professor Sarah Cook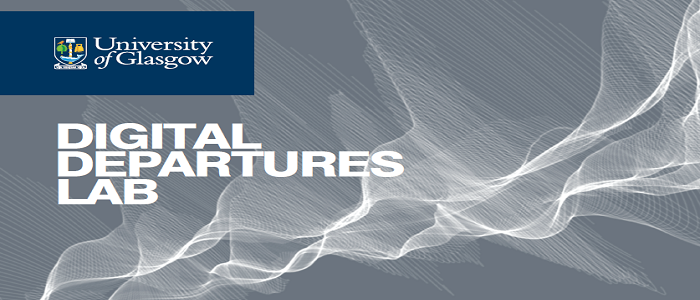 2021 Events
Programmable Nature: Conversations with Artists
From 26 October 2021
Hosted by the Digital Departures Lab as part of The Dear Green Bothy
As the world grapples with possible technological solutions to environmental crisis, the topic of 'programmable nature' has become a powerful theme in the areas of ecology, preservation, and biotechnology, as well as in art, philosophy and cultural studies.
In this series of interviews, the College of Arts Digital Departures Lab profile the work of three of the most exciting artists working at the cross section of art, science and technology to explore the condition of 'programmable nature'.
Online | See website for details
DDL Reading Group
The Digital Departures Lab is setting up a regular online reading group on the topic of 'Cultural Techniques and Practices of the Self'. The reading group is being put together by Tim Barker (Film and TV) and Michael Bachmann (Theatre Studies), and will focus on the emergence of 'cultural techniques' as a conceptual framework in the field of media studies, with an interest in exploring how other engagements with the notion of the self can be re-read through this framework. As an indication, the first few texts that we read will likely be drawn from scholars such as Sybille Krämer, Cornelia Vismann, Thomas Macho, Bernhard Siegert and Friedrich Kittler (on cultural techniques). We would then like to see how these 'cultural techniques' can be put in dialogue with other media techniques and practices of the self. Here, we might look at texts from Foucault, Heidegger, Marcel Mauss and Lisa Gitelman, though we of course want this list to develop organically, and will be looking for suggestions from group members.
2019 Events
Digital Departures Lab Showcase: Playing Data...
When: Thu 10 October 2019, 3.30-5.30
Where: WILT Lecture Theatre
Description: This session will highlight practice research and creative approaches to the use of data, with a focus on how live, algorithmic and data-driven projects encounter audiences and the challenges this presents. Presenters include Louise Harris, Tim Barker, Lizelle Bisschoff, Andrew McIntyre, Sarah Cook, Rafael Lozanno Hemmer (via skype), and Elzbieta (Ela) Orleans.
Post Digital Day
When: 26 April 2019: 11.45-20.00
Where: Centre for Contemporary Arts, Sauchiehall St
Description: A study day and live performance event, interrogating the term "Post-Digital" from a range of disciplinary perspectives. Event by the "Thinking and Working Post-Digitally" theme (which became the "Digital Departures" Lab).
______
Event:Game On, Africa!
When:1-3 November 2019
Where:Civic House Glasgow
Description:Game On, Africa! brings together a collection of video games from the African continent that address the diverse set of challenges expressed in play and games. Some games in the exhibition challenge the aesthetics of contemporary video games, introducing African myths and characters into the narratives that drive play. Other games challenge conventional notions of just what it is to be a game. And others still challenge the player, either through the difficulty of the gameplay or the difficulty of the game's content. Although the games in the exhibition are diverse, all the games are related in that they not only offer a wide range of challenges to players, but also a challenge to play in general. They ask visitors to begin playing within a world of video games, instead of one oriented toward the West. The games assembled in this exhibition challenge us to begin thinking about the different contexts for game development and the different opportunities for players that emerge from these contexts. Most of all, the exhibition is designed to introduce games from the African continent to Western audiences and to challenge us to think about what a game can be.
The exhibition was generously funded by the University of Glasgow's Knowledge Exchange Fund and was a collaboration with Lizelle Bisschoff, the Africa in Motion Film Festival and We Throw Switches (wethrowswitches.com).