Directors
Peggy Brunache
Rachel Douglas
Rosie Spooner
Christine Whyte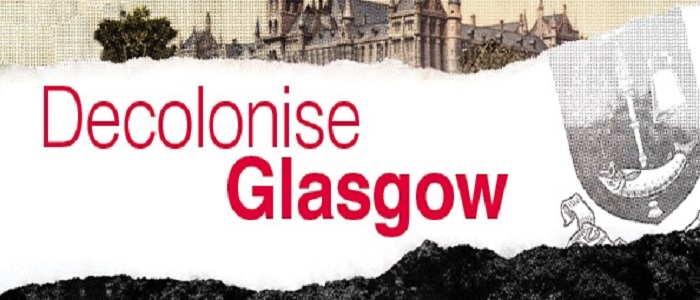 Decolonise Glasgow
Decolonise Glasgow aims to foster the discussion and exchange of ideas around institutional decolonisation and related issues such as representation, diversity and empire.
Decolonise Glasgow acknowledges the leading role of student activism and protest, such as Rhodes Must Fall (University of Cape Town), Why is My Curriculum White (University College London) and the NUS Black Students' Campaign (UK), in centring universities in this conversation. It also responds to the report 'Slavery, Abolition and the University of Glasgow' (Mullen and Newman) published in 2018, and the Lab has strong links with the Beniba Centre for Slavery Studies, established in 2020.
As a higher education institution with clear historical links to racial slavery located in a city colloquially known as 'the second city of the British empire', we believe in the importance of having a space for engaging in constructive dialogue about what decolonisation means and what decolonial work looks like at the University of Glasgow.
We organise events like talks and workshops and circulate details of wider happenings. See below for a list of future events. We welcome individuals and groups within and beyond the university to get in touch by contacting the Lab's co-directors (below).
Directors
Peggy Brunache
Rachel Douglas
Rosie Spooner
Christine Whyte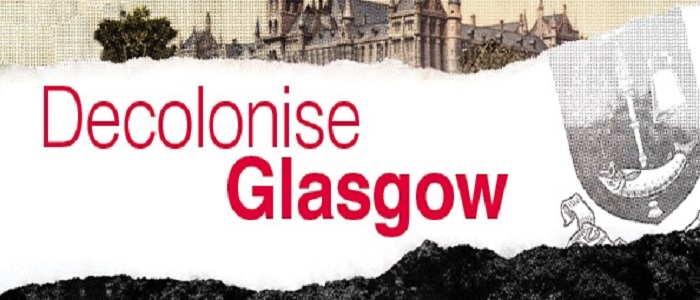 2021 Events
Decolonising Teaching & Research Coffee Morning
31 March 2021: 10-11am
Hosted by SCCA's Equality, Diversity and Inclusion Committee
Joined by co-directors of the Decolonising Glasgow Lab: Dr Christine Whyte, Dr Rachel Douglas & Dr Rosie Spooner
2020 Events
Rethinking Museums and the Stories They Tell
When: digital tour as part of the "Being Human" Festival Nov 12-22
Description: Museums are increasingly being called on to rethink how they display, represent and interpret objects in their care. Throughout the festival we will be posting videos, images, prompts and provocations on our social media channels, forming a critical online heritage tour of The Hunterian Museum. By calling attention to the hidden histories of empire embedded in our collections, we will propose new ways of seeing and understanding museum objects, taking a fuller view of the stories they tell.
Event details here.
Annual James McCune Smith Lecture by Professor Matthew J. Smith (UCL)
When: 29 October 2020: 3.30pm. Online.
Title: Since 1804: Haiti and the Movement of Caribbean Freedom
Description: This presentation will examine the implications of Haitian independence for black people in the Caribbean after slavery. It will give special focus to the movement of Haitians across the archipelago and how the stories of their intersecting lives tell us volumes of the expectations of liberty and decolonization and the enduring struggle for recognition among black Caribbeans.
Event details here.
Scotland, Slavery and Statues
When: BBC Scotland documentary, 20 Oct 2020
Contribution from Dr Rachel Douglas. Watch it here.
The Complexities of Commemorating Difficult Heritage
When: Thursday, 17 September, 6.00-7.00pm. Online panel discussion.
Description: Monuments and plaques are generally created to celebrate events and people, so how do we memorialise difficult and contested histories? Featuring of panel made up of artists, academics, tour guides and independent researchers, this discussion takes as its starting point displays and shows of foreign people, such as Buffalo Bill's Wild West Show and the 'West African Village' built for the Scottish National Exhibition of 1911. These events promoted racist views of non-European peoples and cultures, which raises questions about whether they should be commemorated. This conversation relates to prescient debates about what is and what is not acknowledged and remembered in the built environment, particularly when it comes to addressing the history of slavery, colonialism, imperialism and empire.
Event details here.
Archives and Decolonisation of the Curriculum - #ArchiveHour
When: 28 May 2020
Description: The co-directors of Decolonise Glasgow contribute to #ArchiveHour, run by the Archives and Records Association
See the discussion here.
2019 Events
David Blight - James McCune Smith lecture
When: 15 October, 6pm
Where: Bute Hall
Description: The annual James McCune Smith lecture will be delivered by David Blight, the Pulitzer Prize-Winning author of Frederick Douglass: Prophet of Freedom. This extraordinary biography has redefined understanding of one of the most significant African-American campaigners in history.
'Unsilencing the Haitian Revolution'
When: Wednesday 9 October, 2pm
Where: Hunterian Museum, University of Glasgow
Description: Rachel Douglas will be giving a talk, 'Unsilencing the Haitian Revolution: CLR James and The Black Jacobins', and launching her new book, Making the Black Jacobins: CLR James and the Drama of History (Duke University Press). The launch will include a wine reception. This event is part of the University of Glasgow- Smithsonian Institution Partnership Showcase Week.
'Call and Response' exhibition tour
When: Wed 9 October, 3.30pm
Where: University Chapel
Description: Christine Whyte will lead a tour of the current exhibition 'Call and Response: the University of Glasgow and slavery' and a discussion of museums, collecting, race and empire with curators, anti-racist campaigners and academics. Zandra Yeaman (Coalition for Racial Equality and Rights), Graham Campbell (activist and politician, leading 'Flag Up Scotland Jamaica') Rosie Spooner (Information Studies, University of Glasgow), Siobhan Convery (University of Glasgow Library), Lola Sanchez-Jauregui (Curator, The Hunterian Museum) and Chandra Brooks (Theology, University of Glasgow) will discuss the future of museums and collecting and the role they play in addressing and challenging legacies of slavery and empire, such as institutional racism. What might decolonial museum work look like in Scotland? This event is part of the University of Glasgow- Smithsonian Institution Partnership Showcase Week.
'Making Haiti' at Explorathon
When: 27 September, 6 to 10pm
Where: The Riverside Museum
Description: Rosie Spooner, Peggy Brunache, Rachel Douglas and Toussaint Louverture (played by Shelton Makora) will be 'Making Haiti'. With excerpts from CLR James' play about the Haitian Revolution, flag-making and sugar-eating activities and a chance to test out your French skills, this family event aims to centre the world-changing events of the Haitian Revolution. Details on Explorathon are here. And you can read a short Decolonise Glasgow Explorathon Event Report.
The Psychosis of Whiteness
When: 7.30pm, Friday 14 June 2019
Where: Andrew Stewart Cinema, Gilmorehill Centre, University of Glasgow
Description: The Psychosis of Whiteness sheds light on society's perceptions of race and racism by exploring cinematic representations of the slave trade. The documentary takes an in-depth look at big budget films that focus on the transatlantic slave trade and, using a wealth of sources and interviews, it argues that these depictions are metaphoric hallucinations about race. Rather than blaming the powerful institutions that are responsible for slavery, these films rewrite history by praising those same institutions for abolishing the slave trade. The event is co-hosted by the Africa in Motion Film Festival, Equality and Diversity Unit at the University of Glasgow, and the "Decolonising Glasgow and the Post/Colonial" Artslab theme.
"Decolonising Glasgow and the post/colonial" Panel Discussion
When: 9 May 2019, 2pm-4.30pm
Where: Hugh Fraser Seminar Room in the Wolfson Medical Building.
Description: Panel discussion featuring Dr Stephen Mullen (co-author of the Slavery & Abolition Report), Zandra Yeaman (anti-racism campaigner and representative of CRER), Graham Campbell (Glasgow SNP Councillor), and Sir Geoff Palmer (Professor Emeritus in the School of Life Sciences at Heriot-Watt University in Edinburgh).
"Decolonising Glasgow and the post/colonial" Lightning Talks
When: Monday 29 April, 2- 4.30pm
Where: Humanities Lecture Theatre, Main Building.
Description: The organisers are inviting everyone interested in our Arts Lab theme to give a 5-minute lightning talk to one PowerPoint slide on their relevant research and teaching. This event will be a chance to connect with other researchers working on topics related to the theme.
Selwyn Cudjoe lecture
When: Wednesday 20 March, 4-6pm
Where: The University Chapel
Description: Public lecture and book launch by Selwyn Cudjoe, Professor of Africana Studies, Wellesley College. Venue: Sponsored by the University of Glasgow Slavery Committee.
Launch event for the "Decolonising Glasgow and the Post/Colonial" Theme
When: Tue 19 March
Where: Hugh Fraser Room and Yudowitz Lecture Theatre, Wolfson Medical Building
Description: Kaiama Glover, Professor of French and Africana Studies, Columbia University, leads two events:
2-3.30pm: Digital Humanities Workshop
"The Desires of the Humanist: On the Interpretation of Digital Caribbean Dreams"
4-6pm: Public lecture
"Blackness and Borders"