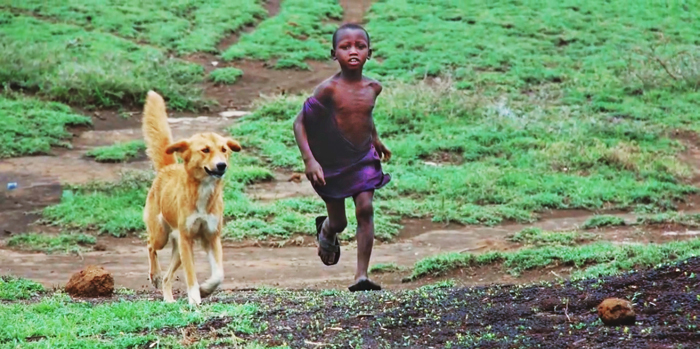 At the University of Glasgow, we are at the forefront of research into rabies elimination.
What is rabies?
Rabies is a deadly viral disease that affects the nervous system. It is transmitted through the saliva or tissues from an infected mammal to another mammal.
Most human cases of rabies are caused by a bite or scratch from an infected dog. However, rabies also exists in bats, raccoons, skunks, foxes and coyotes.
About 20% of bite victims develop rabies, but it can only be diagnosed once symptoms develop. The incubation period is usually between two and twelve weeks, and it is a disease with a 100% fatality rate.
Rabies symptoms are highly distressing. Initially, pain and stiffness start at the site of the wound, followed by fever, delirium, aggression and strange and uncontrollable vocalisations. Hydrophobia (fear of water) can also be a symptom. Death occurs between two and ten days after the first symptoms appear.
Rabies is found all over the world; however, it is well controlled in most developed countries. Today over 90% of rabies deaths are in Africa, Asia and the Middle East, where canine rabies is prevalent.
It is estimated that around 59,000 people die from rabies every year. Tragically, many of these are children from poor rural communities where there is little access to healthcare. Rabies therefore exemplifies global and local health inequalities.
Can rabies be prevented?
Though rabies cannot be completely eradicated as a virus, rabies in humans can be eliminated, as has been proven by its near-eradication in the developed world.
The most effective way of achieving this is through the mass vaccination of dogs.
Vaccination for humans is also available. However, the vaccine must be delivered promptly following the bite of a rabid animal in order to be effective. As these vaccines are very expensive and often only available in major cities, it usually renders them inaccessible to the rural poor who are most vulnerable to the disease.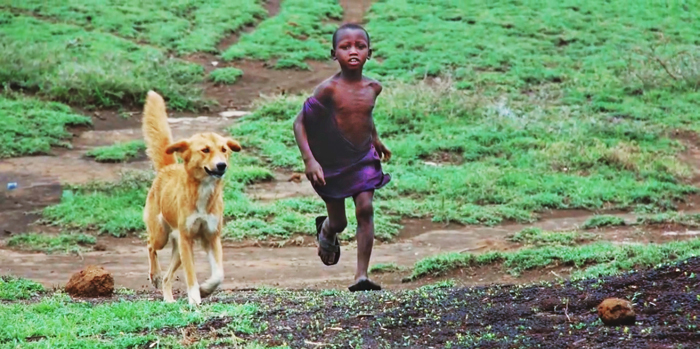 Rabies research at Glasgow
Rabies is a zoonotic disease that spans animal health, human health, ecology and the environment, therefore our researchers are strong advocates of the One Health approach.
Over the past 15 years, Glasgow researchers have been conducting research in the Serengeti in Tanzania in order to find answers to basic questions such as: What is the scale of the rabies problem? How does the virus circulate? and Where should we target control measures?
Key Glasgow scientists carrying out this research include Professor Sarah Cleaveland, Dr Katie Hampson, Dr Tiziana Lembo and Professor Dan Haydon, from the Institute of Biodiversity, Animal Health & Comparative Medicine.
‌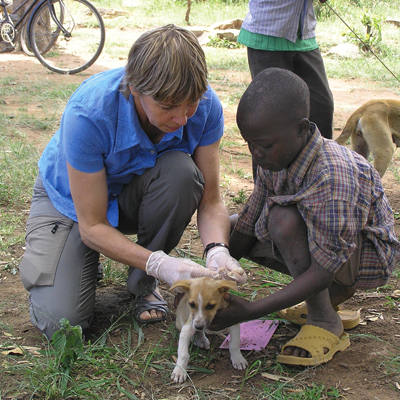 Professor Sarah Cleaveland carrying out dog vaccinations in Tanzania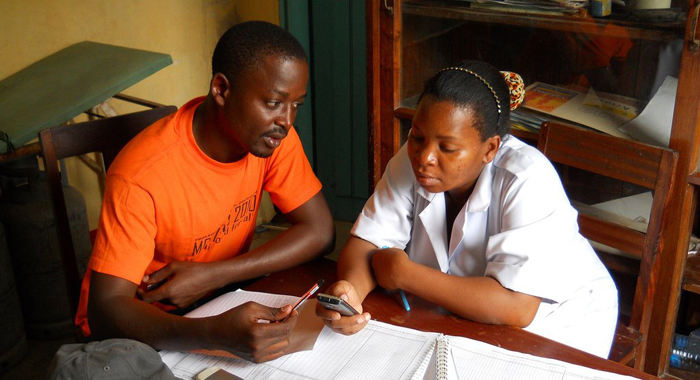 Training healthworkers to use the mHealth app
Vaccinations
The results from the Glasgow scientists' research revealed that the most straightforward approach to eliminating rabies is through the mass vaccination of domestic dogs.
If 70% of dogs are vaccinated during sustained vaccination campaigns, then the rabies virus that causes 99% of human rabies deaths around the world today would disappear completely.
This approach is both a practical and cost-effective means of reducing human rabies deaths.
Their research has highlighted that most dogs in African villages, though they may roam freely, are in fact domestic pets. By setting up dog vaccination clinics where owners are encouraged to bring their dogs, the virus can be gradually eliminated.
The challenge comes with implementing this approach logistically. A One Health approach has helped to tackle the problem: "Theoretically it's simple," says Professor Cleaveland. "Just go out and vaccinate most of the domestic dogs. So what we are tackling now are the operational issues and the feasibility, the cost, the policy, and how we bridge across both veterinary and medical sectors to implement an effective and cost-effective strategy."
As well as advocating dog vaccination strategies to prevent the disease from being transferred to humans, the Glasgow team has also developed strategies to help minimise the impact of rabies after someone has been bitten. This includes reducing the costs of medical treatment, such as the lifesaving post-exposure prophylaxis, given to victims of bites by suspected rabid dogs. They have also increased its effectiveness by improving patient compliance."
This has been made possible through policy discussions with international organisations, government health and veterinary ministries, and by direct operational training of veterinary and medical officers in Tanzania; the latter in partnership with the WHO/Bill and Melinda Gates Foundation rabies elimination project.
Since 2010, Glasgow scientists, in particular Dr Tiziana Lembo in conjunction with other global rabies experts, have developed an online resource to help countries prevent and control rabies. The Canine Rabies Blueprint is a website that provides a step-by-step action plan for health authorities in rabies-endemic areas. The rabies blueprint has been used in many regions with a high incidence of rabies including Uganda and Benin in Africa, and Afghanistan and Indonesia in Asia.

Mobile phone technology
In addition to their research into vaccination strategies, Glasgow researchers have also developed mobile phone surveillance technology, known as "mHealth", to closely monitor rabies in animal and human populations in Tanzania.
The mobile phone-based system, developed by Dr Katie Hampson and her team, is used by frontline health and veterinary workers to track every rabies-related event in the country. It enables them to report real-time instances of rabid animal bites on humans, as well as all human and animal rabies vaccinations.
The surveillance data is then held in a central database that can be accessed by field workers or central government to help monitor the virus and coordinate vaccination campaigns.
Dr Hampson has emphasised how the success of mHealth is due to it being rooted in a One Health approach. "There are many different diseases, including rabies, which require medics, vets or environmental scientists all working together to control and hopefully eradicate them," she says. "Bridging those sectors sounds easy, but it has not proved to be in the past. Sharing tools, information and infrastructure and then piecing it all together is essential, and that's what this mHealth system has done."

‌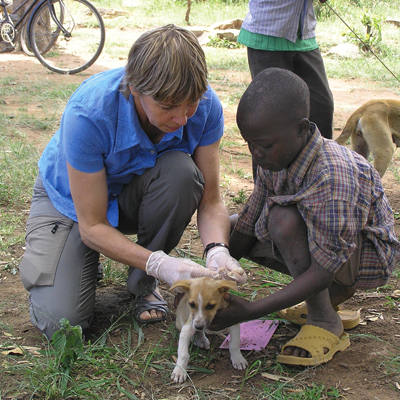 Professor Sarah Cleaveland carrying out dog vaccinations in Tanzania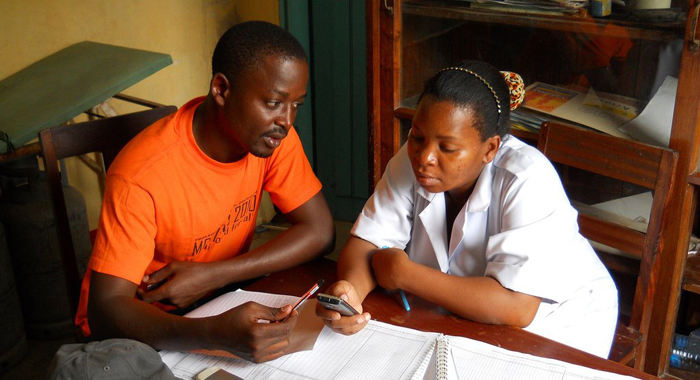 Training healthworkers to use the mHealth app
Dr Katie Hampson explains how a mobile phone application allows researchers to collect up-to-date rabies data and information from remote regions in Tanzania.
Impact of research
The Glasgow team's work on rabies has been recognised on a global level, with their research contributing to the World Health Organization's recognition that it is now feasible to eliminate global canine rabies. National and global strategies are now focusing on dog vaccination as a cost-effective means of reducing human rabies deaths with the target of 2030 being set to eliminate all human deaths by rabies.
On a national level, work done by Glasgow researchers in Tanzania has already garnered very positive results. The number of patients reporting to clinics with dog bites has halved over the past five years, and rabies has entirely disappeared from Pemba, an island with a population of 400,000.
The work of Sarah Cleaveland and her team has also directly influenced decisions made by government health and veterinary authorities in Tanzania and Kenya. In Tanzania, new standard operating procedures for measures that both control rabies in animal populations and prevent rabies from developing in humans have been developed and implemented. In Kenya, the team is currently developing a national rabies control and prevention plan for the government.
Awards and recognition
On an individual level, Sarah Cleaveland's pioneering research on rabies has led to her being elected to the National Academy of Medicine, one of the highest honours in the fields of health and medicine. She has also been elected as a fellow of the Royal Society and a fellow of The Academy of Medical Sciences.
In 2017, Professor Cleaveland was awarded the prestigious Leeuwenhoek Medal from the Royal Society. As part of this, she has been invited to deliver the Leeuwenhoek lecture in 2018. The Leeuwenhoek Medal and Lecture are given triennially as an honour bestowed for high achievement in scientific research.
Professor Cleaveland was also recently awarded the Zoological Society of London (ZSL) Frink Award. The ZSL Frink Award, which has been given out every year since 1975, is given for significant and original contributions to the development of zoology.
The mobile phone rabies surveillance technology project led by Katie Hampson also won a Guardian University Award in 2016 in the International Projects category.