SUERC researchers show the public what we do at Explorathon 2017 with GAIMS!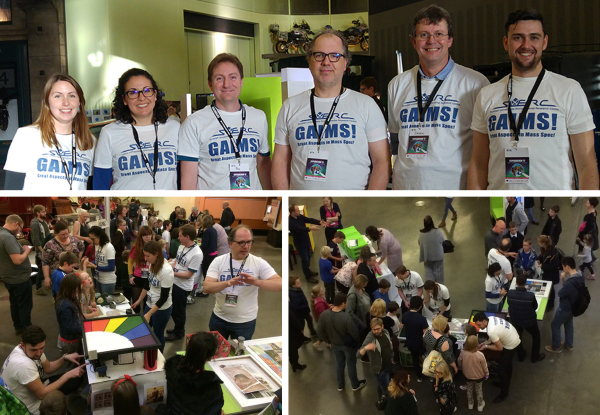 ‌
The evening of Friday 29th September, a team of six SUERC researchers shared their love of science, and their chosen analytical tool, with the greater Glasgow community at the Riverside Museum during Explorathon 2017. Dan Barfod, Ben Cohen, Derek Fable, Sevi Modestou, Katie Preece, and Kieran Tierney showed how we play with magnets every day to answer our research questions, with interactive games for children of all ages.
The SUERC stall included something for everyone, from small "sandboxes" to learn how magnetic separation of ferromagnetic objects from non-magnetic objects works, a model mass spectrometer with it's own electromagnet, to parts of real mass spectrometers. The team also showed off samples of the kinds of objects we test, including meteorites, lava, and crystalline rock specimens.
The SUERC team joined over 30 other research groups in showing off what we do. Over 1000 members of the public attended the Riverside Museum event alone, and thousands more attending Explorathon events all over Scotland.
---
First published: 2 October 2017