SUERC student makes a Big Bang in London
SUERC student Joan Miller has just returned from presenting at the Big Bang Fair in London, taking part in the largest STEM celebration for young people in the UK.
Joan Miller has just returned from presenting at the Big Bang Fair in London, taking part in the largest celebration of science, technology, engineering and maths for young people in the UK. Joan presented her work on 'Adipose- muscle crosstalk in cancer cachexia: new approaches to clinical tracer studies' which she had investigated as part of a Nuffield Research Placement at SUERC (Scottish Universities Environmental Research Centre) in 2012. Joan's research was entered into the National Science and Engineering Competition which aims to recognise and reward young people's achievements in all areas of science, technology, engineering and mathematics (STEM). The Competition is open for entries from Jan - October each year, through either regional heats or online applications. The chosen finalists are invited to showcase their work to thousands of people at The Big Bang Fair in March. This year's finalists were judged by a celebrity panel including Brian Cox, Rachel Riley, Dick Strawbridge, Ben Miller, Mark Champkins, Shini Somara, Kate Bellingham, Maggie Aderin-Pocock, and two Nobel prizewinners – Sir Tim Hunt and Professor Ada Yonath. The National Science + Engineering Competition Finals 2013 were the biggest yet with 200 finalists selected to present their work from thousands of entries. Joan was one of only 6 students from Scotland to make it to the finals amidst tough competition.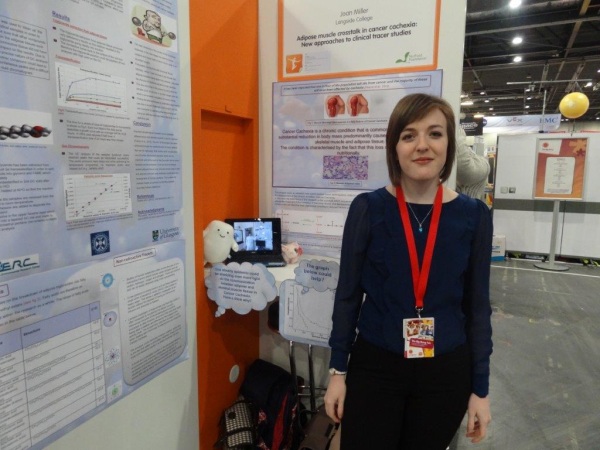 Joan worked alongside Professor Tom Preston of SUERC and Neil Johns and Professor Ken Fearon from the Edinburgh Royal Infirmary, using stable isotope techniques to study metabolic changes in cancer patients. Their research involved looking at the problem of muscle wastage and the implications of excess body fat with low muscle mass.
Joan began the project whilst in her 6th year at Calderglen High and is currently attending Langside College. She hopes to go on to study medicine at university. This project has provided her with access to clinical studies and the chance to participate in world-class research before she even embarks upon her university career. Speaking of her time on the project Joan has said "I just wanted to thank everyone involved for giving me this opportunity; I don't even have the words to express how amazed I am by what it has achieved". Speaking before the event she said "I can't wait to go to London and do my first national event! I couldn't believe I was chosen as a finalist!" With her passion and enthusiasm for science, exciting times lie ahead for Joan in her future career. SUERC is proud to have supported Joan so far in her science career and continues to provide a variety of outreach and education opportunities to the local community, hoping to inspire and enthuse the next generation of young scientists.
---
First published: 27 March 2013