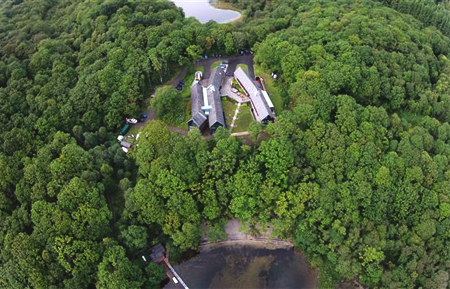 What is SCENE
‌SCENE, the Scottish Centre for Ecology and the Natural Environment, is the field station of the University of Glasgow. As part of the School of Biodiversity, One Health and Veterinary Medicine, within the College of Medical, Veterinary and Life Sciences, SCENE is dedicated to excellence in field research and teaching. SCENE's researchers address fundamental questions of ecology, relating to evolutionary biology, eco-physiology, disease ecology, and environmental change.
About SCENE
Situated amidst the Loch Lomond and the Trossachs National Park, the pioneering teaching and research facility has since 1946 been committed to understanding the mechanisms that govern the natural world and the impact of humans upon these. As of spring of 2014, SCENE's facilities have been completely replaced and greatly expanded, thanks to major donor engagement and EU investment through the INTERREG IV programme ("IBIS"-project). With sustainable construction and energy efficiency as priorities, these facilities are among the 'greenest' buildings in Scotland.
Surrounded by a rich variety of aquatic and terrestrial habitats, the SCENE field station gives researchers unique opportunities for studying a broad range of species and ecological communities. These assets of the natural environment are complemented by state-of-the-art laboratory facilities, controlled temperature rooms and cabinets, aquaria and experimental streams, which enable rigorous experimental tests alongside field observations. Today's research emphasis is on a wide range of topics across ecology, evolutionary biology, physiology, environmental change and disease ecology.
SCENE is formed of two buildings; the Maitland Building which is the base for research staff and students in addition to laboratory space and aquaria, and the Harry Slack Building which was designed for visiting field courses and other groups.
Learn more about our facilities

The Scottish Centre for Ecology and the Natural Environment is on the eastern shore of Loch Lomond in west central Scotland (56.13o N, 4.13o W). Within 1 hour of the international airports of Glasgow and Edinburgh, the city centres of Stirling (45 mins), Glasgow (50 mins) and Edinburgh (80 mins) are all a short drive away.
How to get here
By car:
From the south via Glasgow M8 (Erskine Bridge), A82, A811, B837
From the north via Stirling A9, A811, B837
Flying:
The international airports of Glasgow, Edinburgh and Prestwick have scheduled domestic and international flights.