Security and an Independent Scotland
The Glasgow Global Security Network is delighted to welcome five leading scholars and strategic commentators to speak on the possible security and economic implications of Scottish independence for the people of Scotland, the UK and the wider world.
The fifth lecture in this well received series supported by funding from CRCEES is "Independence? Lessons Learned by a Recently Independent State in Europe". This lecture will be held on 23 May in the Boyd Orr Building at the University of Glasgow. The speaker will be Professor Ivo Samson (Slovak Foreign Policy Association), with further details to be confirmed.
If you missed the previous four lectures in the series, you can now listen back to them on the Glasgow Global Security Network website.
The topic under focus in the fourth lecture in the Security and an Independent Scotland International Lecture Series was "Scottish Independence and the Question of Transatlantic and European Security". The speaker was reknowned Independent Security Analyst, Ms Hajnalka Vincze.
The third lecture in the series, "The Economic Challenges Facing an Independent Scotland" was delivered by John Kay, Financial Times Columnist and Visiting Fellow at the London School of Economics.
The second lecture in the series is on "Scottish Independence and Critical International Legal Issues" was delivered by Ambassador David Scheffer (Professor Northwestern University), while the first lecture, "International Reactions to Scottish Independence", was held on 27 November 2012 with guest speaker Professor William Walker of St. Andrews University.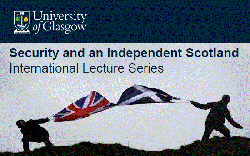 Entry to all lectures is free and doors open at 4:45pm. Each lecture runs from 5:15 - 19:00pm. For more information and details on how to register, visit the Glasgow Global Security Network website.
The lecture series is supported by The Centre for Russian, Central and East European Studies (CRCEES) and the University of Glasgow.
---
Location: Room 203, Boyd Orr Building,D4 on the Campus Map
Date: 23 May 2013
Register: Register through Eventbrite
First published: 23 May 2013