Location
Wolfson Wohl Cancer Research Centre
University of Glasgow
Garscube Estate
Switchback Road,
Bearsden, Glasgow
Scotland
G61 1BD
United Kingdom
Team
Karen Bellec - Postdoctoral researcher
Karen was born and raised in France. After studies in Cellular Biology and Genetics, she joined the Epithelia Dynamics and Mechanics' team for her PhD under the supervision of Dr Roland Le Borgne in Rennes, France. Karen's PhD work focused on the role of the Stratum protein in the regulation of Notch signalling in Drosophila melanogaster. This project allowed her to develop great skills in genetics, advanced microscopy and intracellular trafficking. Karen joined the lab in January 2019 to study how intestinal stem cells adapt to tissue damage to drive regeneration and to also tip the balance in favour of French Nationals in the lab.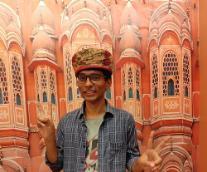 Utkarsh Bhore - PhD Student
Hailing from India, Utkarsh's lifelong curiosity centres around how signals mould organisms' choices and adaptations. His research journey kicked off with an internship investigating the interplay of dispersal, nutritional availability, and environmental cues on survival strategies.
Diving deeper into this field, he realised that environmental signals control whole-body homeostasis through various signalling pathway. His master's thesis at IISER Berhampur focused on the role of miRNA let-7 in ovarian development, using Drosophila as a model. His research extended to exploring miRNA let-7's role in Wilms tumour using cell lines, guided by mentors Dr. R Selvi Bharathavikru and Dr. Bodhisatta Nandy.
Utkarsh is grateful to have received a studentship from Cancer Research UK, allowing him to delve into the intricacies of the gut-brain axis and its disruptions in intestinal cancer. He hopes that his dedication and passion will contribute to the collective knowledge of how environmental and systemic cues influence organismal adaptations. Between research endeavours, he eagerly looks forward to exploring the Scottish Highlands, inspired by the magic of Harry Potter and the adventures of Doctor Who.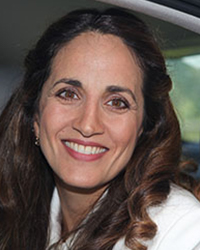 Julia Cordero-Principal Investigator
Julia was born and raised in Argentina as the first daughter of and Italian mother and Lebanese father. She studied Biology at the Universidad Nacional de San Luis. She did her PhD in the laboratory of Ross Cagan on Drosophila epithelial tissue patterning followed by a post-doc in the laboratory of Owen Sansom in the U.K. as a Marie Curie and EMBO fellow where she studied intestinal regeneration and cancer in Drosophila and mice. Towards the end of 2014, Julia established her research group at the Wolfson Wohl Cancer Research Centre in Glasgow, funded by a Royal Society Dorothy Hodgkin Fellowship first and the by a Wellcome Trust/Royal Society Sir Henry Dale Fellowship.
Julia's laboratory combines Drosophila and mouse model systems to study local and whole-body functions of the intestine in health and disease. Outside of the lab, Julia enjoys travelling, physical exercise and, most of all, spending time with her family.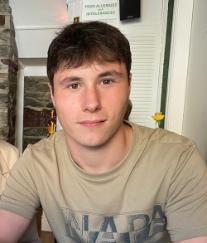 Cai Johnson - PhD Student
Born in North Wales, Cai grew up in a small village on the side of the Mawddach estuary. He moved to Lancaster in 2019 to complete a BSc in Biochemistry with Genetics, where he completed a dissertation project investigating DNA replication initiation and kinase inhibition in various cancer types. Following obtaining his undergraduate degree, he studied for an MSc in Cancer Research and Precision Oncology at the University of Glasgow, where he completed a project exploring the anti-cancer properties of γδ T-Cells in colorectal cancer. Captivated by colorectal cancer research with a keen interest in intestinal stem cell regulation, Cai joins the Lab in October 2023 for his PhD in collaboration with Professor Massimo Vassalli and Dr. Andrei Shvarts at the School of Engineering. During his PhD, Cai he will take a multidisciplinary approach, integrating biophysical, computational mechanics and genetic experiments to investigate intestinal/microenvironment interactions during intestinal regeneration and cancer. Cai enjoys doing anything sports-related in his spare time, especially football and running.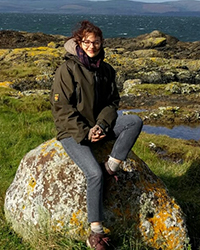 Jessica Perochon -Postdoctoral researcher
Always passionate about Life science, Jess followed her undergraduate education in her natal Paris with a PhD at the University of Versailles Saint Quentin-en-Yvelines (UVSQ), also in France. During her PhD, she worked with Drosophila as a model organism to study the consequences of chronic Endoplasmic Reticulum (ER) stress at the molecular and tissue level. After her PhD, Jess realised she loved flies and whisky too much and then decided to move to Scotland for a post-doc in our lab at the end of 2015. Jessica's project involves inter-organ communication programs and their impact on intestinal homeostasis. More precisely, she studies the communication between intestinal stem cells and the gut associated, vasculature-like tracheal system.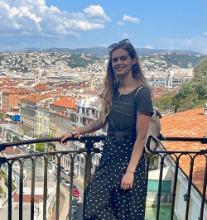 Jade Phillips - PhD Student
Jade did her BSc and MRes at Imperial College London where she studied the impact of respiratory infections on lung cancer progression in the lab of Dr Cecilia Johansson. It is during this time that Jade became interested in tumour-microenvironment interactions and decided this was something she wanted to study further. She started PhD in the Cordero lab in October 2021 after being awarded a studentship from CRUK to study inter-organ communication between the intestine and it's associated vasculature in health and disease. Jade is interested in understanding how the mechanics of the intestinal epithelium change during damage or tumorigenesis and how this affects angiogenesis.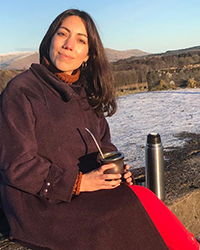 Sofía Polcowñuk - Postdoctoral researcher
In Sofía's words: 'I´m passionate about biology; nature always amazed me'. Sofía started her career in the field of ecology. She did he undergraduate degree in her native Bariloche, Argentina. Soon she realized she wanted to learn more about behaviour and physiology and how genes could affect these fundamental biological processed. It was then when she moved to Buenos Aires, to do her PhD in Fernanda Ceriani's laboratory at the Instituto Leloir. During this time, she worked on circadian rhythms using Drosophila melanogaster as a model organism. Working in the neuroscience field made Sofía realize she wanted to know more about the link between the central nervous system and other organs. She was looking forward to moving and having the experience of living abroad and, luckily for us, her family history made her place Scotland in her bucket list. Sofía joined us in February 2020 (one month before the start of the COVID-19 pandemic), to study the gut-brain connection and how this is disrupted in intestinal cancer.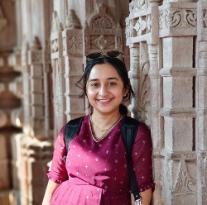 Parvathy Ramesh- Postdoctoral researcher
Parvathy was born and raised in India. After completing her Masters in Life Sciences, she joined Developmental Genetics Lab at Indian Institute of Science Education and Research, Mohali, India to purse her PhD under the supervision of Prof. Lolitika Mandal. Parvathy's PhD work focused on understanding the role played by NF-kB signalling in Developmental hemopoiesis using Drosophila larval hematopoietic organ 'lymph gland' as the model system. This project allowed her to enhance her skills in genetics, microscopy and infection biology. Parvathy joined the lab in March 2023 and is currently trying to understand the immune control of local and systemic manifestations of Colorectal Cancer (CRC) in Drosophila as well as the crosstalk's between gut and brain in CRC like conditions. Apart from science, Parvathy loves to go for weekend hikes and is passionate about photography.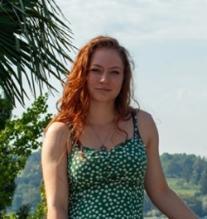 Carolin Schwab-Erasmus student
Carolin was born and raised in Germany, where she studies Molecular Medicine in her 3rd year at the University of Tübingen. Wanting to learn more about working with flies, she is currently doing an internship at the Laboratory, investigating feeding behavior in Drosophila, before she will return to Tübingen in June 2024.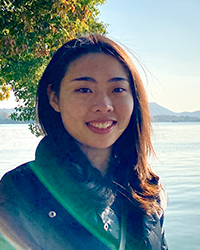 Yuanliangzi Tian- PhD student
Tian was born and raised in China. She did her undergraduate studies in Animal Science at Sichuan Agricultural University, where she studied the intestinal bacteria adaptation to the bamboo diet of the Giant Panda. This lab experience inspired her interests in biological research and drove her to do a Master's degree. Since then, she started to work on Drosophila with a main focus on the function of vacuolar ATPases in the maintenance of adult intestinal homeostasis. Beyond that, she also did some work on the screening of anti-ageing agents using Drosophila as a model system. In 2020, Tian got her Master's degree in Genetics and was awarded a scholarship from the China Scholarship Council to join our lab as a PhD student. Because of the pandemic, Tian arrived to the lab in March 2021, which was six-month later than expected. However, she is now here, and we are all very excited to have her with us to continue her research with amazing fly intestine.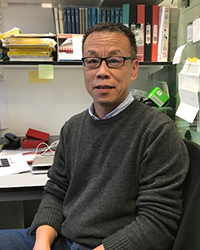 Yachuan Yu - Lab Manager
Yachuan was born in China where he trained as a Chemist. After that, he moved to the UK, to do a PhD and postdoc at the University of Swansea, studying genome stability and DNA repair with Prof. Raymond Waters. He then did a second postdoc on spermatogenesis in Drosophila under the direction of Prof. Helen White-Cooper. In 2013, Yachuan joined Marcos Vidal's group at the CRUK Beatson Institute as a Scientific Officer/Lab manager and, since 2016, he has become a central member of our laboratory. He is not only responsible for the everyday management of the lab and overall technical assistance but also for the development and troubleshooting of new techniques. Yachuan's contribution over the years has been essential to allow Julia to create a friendly and competitive research environment as well as to keep her sanity (to a certain extent…).
Location
Wolfson Wohl Cancer Research Centre
University of Glasgow
Garscube Estate
Switchback Road,
Bearsden, Glasgow
Scotland
G61 1BD
United Kingdom
Cordero Lab Alumni
Cordero lab alumni
2018-2023 - André Medina PhD student. Currently: Post-doctoral Fellow. BIMSB_MDC. Berlin, Germany.
05/2021- 03/2022 - Andre Carvalho Research Assistant. Currently: PhD Student at i3S, Porto, Portugal.
2016 – 2021 - Jean Philippe Parvy Post-doctoral Fellow. Currently: Research Associate at the Centre for Virus Research, University of Glasgow.
05/2018- 08/2018 - Bruno Beernaert Dominguez Undergraduate student. Currently: PhD Student in Cancer Sciences at the University of Oxford, UK
05/2018- 08/2018 - Alina Kurjan. Undergraduate student. Currently: PhD Student at the University of Oxford, UK
2014 – 2018 - Alessandro Scopelliti. Post-Doctoral Fellow. Beatson CRUK. Currently: Post-doctoral Fellow. University of Edinburgh.
2014 – 2018 - Lynsey Carroll. PhD Student (Graduated). University of Glasgow. Currently: Regulatory Affairs Associate at CS Life Sciences
2015 – 2018 - Máté Naszai. PhD Student (Graduated). Currently: Graduate Medical student. University of Oxford, UK.
2015 – 2017 - Joseph Hodgson. PhD Student (Graduated). Beatson CRUK.
2015 – 2017 - Christin Bauer. PhD Student (Graduated). Beatson CRUK. Currently: Post-doctoral Fellow, AstraZeneca, UK.
05/2015- 05/2016 - Rasa Elmentaite. Undergraduate student. Currently: PhD student at the Sanger Institute, University of Cambridge, UK.