Event Spaces AV functionality
This area describes the AV functionality available in the ARC's event spaces. It is not a list of technical specifications and focuses on the functionality available in each space.
Common Elements
Full HD vs 4K Ultra HD

Resolution
All of the projectors in the building are native WUXGA resolution – 1920 x 1200 (16:10). The motorised projection screens are in the correct 16:10 ratio. The projectors are compatible with Full HD resolution – 1920 x 1080 (16:9) – which is what tends to be output from PCs and laptops. Some laptop displays are WUXGA resolution. Such laptops will also output WUXGA from their HDMI port, which will be supported.
All of the LCD monitors in the building are native 4K Ultra HD resolution – 3840 x 2160 (16:9). However, their output may be constrained to Full HD, depending on other equipment in the circuit (e.g. matrix switchers).
Multimedia PCs
Many of the AV locations are equipped with a multimedia PC running a standard desktop environment based on Windows 10. Common software is pre-installed, including Microsoft Office, Teams and Zoom. These PCs are locked down using software known as Deep Freeze, which prevents software being installed and resets the PC back to a known state when restarted.
By default, PC monitors are mirrored to the displays in that location. However, it is possible for users to reconfigure the PC to output separate signals for the PC monitor and displays. The PC monitor should be set as the main monitor to enable PowerPoint Presenter View. Restarting a PC undoes this configuration.
Wall-mounted Control Panels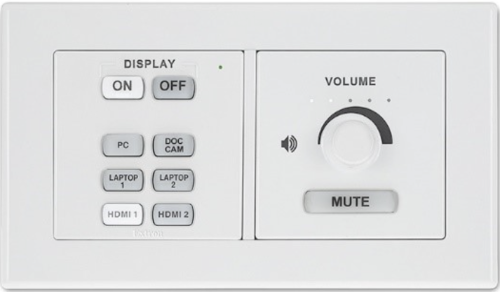 A standard wall-mounted control panel is shown alongside. These control panels provide physical buttons for display on/off, input selection and mute plus a rotary volume control. The input labels will vary by location.
Exhibition Space
Audio System
Handheld Radio Microphone

Clip-on Radio Microphone

Ceiling-mounted Microphone

Ceiling-mounted Speakers

Infrared Hard of Hearing System
Meeting Rooms 223, 224, 225
Display
Wall-mounted 86" 4K Ultra HD LCD Monitor

Wall-mounted Stereo Speakers
Inputs
Multimedia PC

HDMI Cable with USB Cable

Wireless Presentation
Control Panel
Wall-mounted

Display On/Off

Input Select

Rotary Volume Control

Mute Button
Video System
Display-mounted Full HD PZT Video Camera

Accessible from PC Input or HDMI/USB Input

Compatible with Teams and Zoom for Hybrid Events
Audio System
Ceiling-mounted Microphones

Infrared Hard of Hearing System
Seminar Room 237A
Display
Wall-mounted 86" 4K Ultra HD LCD Monitor

Wall-mounted Stereo Speakers
Inputs
Multimedia PC

HDMI Cable with USB Cable

Wireless Presentation
Control Panel
Wall-mounted

Display On/Off

Input Select

Rotary Volume Control

Mute Button
Video

System
Display-mounted Full HD PZT Video Camera

Accessible from PC Input or HDMI/USB Input

Compatible with Teams and Zoom for Hybrid Events
Audio System
Ceiling-mounted Microphones

Infrared Hard of Hearing System
Seminar Room 237B
Display

1

(

Long Wall, Left-

hand Side

)
Ceiling-mounted WUXGA (1920 x 1200) Projector

Wall-mounted 107" Motorised Projection Screen

Wall-mounted Stereo Speakers
Display 2

(

Long Wall, Right-hand Side

)
Ceiling-mounted WUXGA (1920 x 1200) Projector

Wall-mounted 107" Motorised Projection Screen

Wall-mounted Stereo Speakers
Inputs
Multimedia PC

HDMI Cable with USB Cable

Wireless Presentation

Visualiser
Control Panel
10" Touchscreen

Display 1 On/Off

Display 1 Input Select

Display 2 On/Off

Display 2 Input Select

Volume Control

Camera Control
Video System
2 x Ceiling-mounted Full HD PZT Video Cameras

Cameras Viewable Individually or in Side-by-side Mode

Accessible from PC Input or HDMI/USB Input

Compatible with Teams and Zoom for Hybrid Events
Audio System
Echo-cancellation

Handheld Radio Microphone

Clip-on Radio Microphone

Ceiling-mounted Microphones

Ceiling-mounted Speakers

Echo360 Recording System

Infrared Hard of Hearing System
Seminar Room 237C
Display 1

(End Wall)
Ceiling-mounted WUXGA (1920 x 1200) Projector

Wall-mounted 135" Motorised Projection Screen

Wall-mounted Stereo Speakers
Display 2

(

Long Wall)
Ceiling-mounted WUXGA (1920 x 1200) Projector

Wall-mounted 107" Motorised Projection Screen

Wall-mounted Stereo Speakers
Inputs
Multimedia PC

HDMI Cable with USB Cable

Wireless Presentation

Visualiser
Control Panel
10" Touchscreen

Display 1 On/Off

Display 1 Input Select

Display 2 On/Off

Display 2 Input Select

Volume Control

Camera Control

Extend AV to 237B or 237A+B

237A/B Displays mirror 237C Display 1

Mix Audio System including Radio Microphones
Video System
2 x Ceiling-mounted Full HD PZT Video Cameras

Cameras Viewable Individually or in Side-by-side Mode

Accessible from PC Input or HDMI/USB Input

Compatible with Teams and Zoom for Hybrid Events
Audio System
Echo-cancellation

Handheld Radio Microphone

Clip-on Radio Microphone

Ceiling-mounted Microphones

Ceiling-mounted Speakers

Echo360 Recording System

Infrared Hard of Hearing System