Application system guide
Managing your application after you have applied: Applicant Self-Service
After you have submitted your application, you can manage it using Applicant Self-Service

Using Applicant Self-Service
You can use Applicant Self-Service to:
check your decision status
upload documents
update personal details
view and print a copy of your communications, including offer letters
accept or reject any offer that you receive
defer any offer that you receive
pay a deposit to secure your place on a course (only if a deposit is requested for that programme)

How to access Applicant Self-Service
You will be able to access Applicant Self-Service 1-3 working days after you have submitted your application.
To access Applicant Self-Service:
Click on the 'Apply now' button on the webpage of the programme you have applied to.
Log in using the same email address and password you used when you registered for the online application.
Once you have logged in, a button called 'Applicant Self-Service' will appear on the application homepage.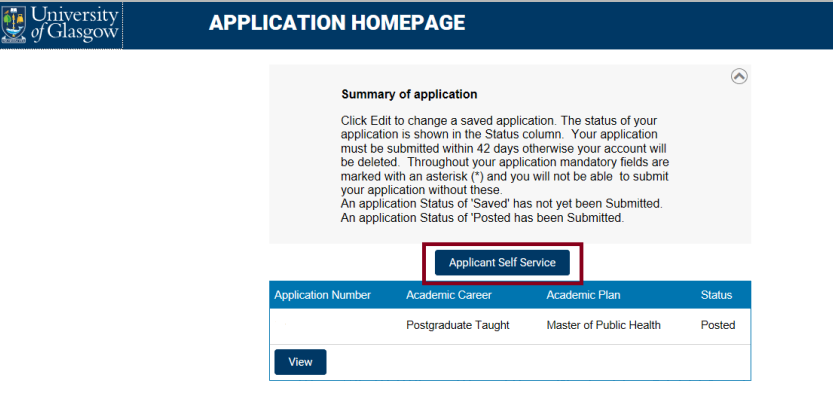 Uploading documents
You can upload documents to your application when you apply (using the Online Application Form) or after you have applied (using Applicant Self-Service).
This includes:
references
transcripts
degree certificates
official translations of documents not in English
evidence of English language ability
Documents must be uploaded in .jpg, .jpeg or .pdf format and must not exceed 5MB in size.
There is a maximum 10MB upload size for all documents with the application.