Chemify announces £36m of funding to digitise chemistry
Published: 2 August 2023
The funding will be used to accelerate the growth of the company and performance of its breakthrough technology platform. Chemify's technology platform enables optimal molecular designs for biological and industrial requirements, faster manufacturing at experimental scale of target molecules, libraries of complex scaffolds, and the assembly of otherwise unmakeable molecules and materials.
Chemify, a pioneering company operating its proprietary molecular design, discovery, and chemical manufacturing technology to provide pharmaceutical, biotechnology, and industrial partners with better molecules, today announced funding of £36 million including a Series A led by Triatomic Capital, joined by new investors including Hong-Kong based Horizon Ventures, US-based Rocketship Ventures, Possible Ventures, Alix Ventures, Scotland-based Eos, and the UK Government Innovation Accelerator program. Existing investor BlueYard Capital also participated in the round.

Founded in 2019 by CEO Lee Cronin with backing from David Cleevely (co-founder of Abcam), Chemify is based on decades of chemistry research, robotics, AI, and conceptual advancements from Cronin's Digital Chemistry Laboratory at the University of Glasgow.
Professor Cronin's pioneering research spans the digitisation of chemistry including the use of artificial intelligence in chemistry to explore chemical space - the trillions of possible combinations of natural elements.
Chemify can help reduce the amount of costly and time-consuming experimentation required to discover promising new molecules, speeding up their development as products to underpin advances in medicine, farming, materials science, and green energy.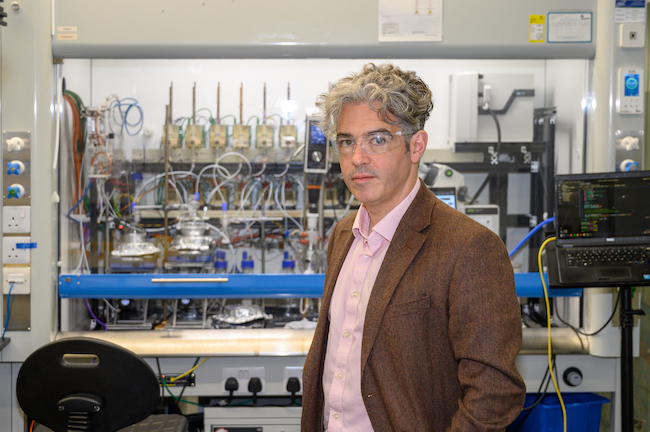 Lee Cronin said: "It has long been our dream to digitize chemistry, and I'm delighted that through this funding, Chemify is building a company that can design, make, and discover complex molecules on demand using digital blueprints on demand faster, more efficiently, and safely than is currently possible. Our mission is to deliver better molecules for pharmaceutical and industrial partners in a fraction of the time and cost currently required."

Chemify spun out from the University of Glasgow in March 2022 and has built a world class team to commercialise the digitization of chemistry. The underlying technology was designed and developed by Cronin and his team at the University of Glasgow, based at the Mazumdar-Shaw Advanced Research Centre.
With over £25 million invested in the foundational research behind Chemify, the team developed a new digital chemical approach to program chemistry.

Chemify's vision is to build the infrastructure to digitise chemistry and enable the execution of chemical code for drug discovery, chemical synthesis, and materials discovery. Chemify is creating a digital chemical future where the access to important molecules, drugs, and new materials, currently unimaginable, are instantly accessible.
Chemify's aim is to radically increase the speed of innovation, solving problems and generating new chemical technologies for the benefit of humanity.

Secretary of State for Scotland, Alister Jack, said: "It was fascinating to visit the University of Glasgow yesterday and hear about all the excellent work they are doing. The UK Government is backing the UK science, technology, and innovation sectors with record levels of funding including £33 million towards the Glasgow City Region (GCR) Innovation Accelerator (IA).
"The new funding announced today by Chemify, Ltd, which is one of the projects supported by the GCR IA, is a great example of our levelling up agenda in action with the public and private sectors working together to help unlock further funding, a clear demonstration of Scotland's vital role in keeping the UK at the forefront of global science and research."

Steve Hochberg from Triatomic Capital says: "We are excited to be leading the series A in Chemify focusing on delivering digital-chemical solutions to many partners where molecular design and manufacturing is a critical bottleneck."

Chemify's platform technology has been proven to have broad and transformative applications including:

- Synthesis of complex molecules for partners increasing speed, yield and efficiency.
- Drug discovery using integrated code to molecules system producing novel libraries.
- Design of new materials with desired electronic properties for application in high value devices and catalysts.

By working closely with select partners with world-class expertise in drug discovery, advanced materials, industrial chemicals, and other specialties, Chemify aims to provide access to its platform and help solve the most complex and impactful chemical design and manufacturing challenges.
Minister of State at the new Department for Science, Innovation and Technology, George Freeman said: "To ensure we meet our ambition of being a science superpower by 2030, we need better commercialisation of UK innovation. With the right backing, we can make a success of spinning-out businesses in every part of the country.
"This announcement from Chemify, which is developing ground-breaking digital techniques for chemistry, shows how Glasgow City Region's world-leading expertise is already succeeding in attracting high levels of private sector investment, and shows the huge potential for UK spin-outs and scale-ups right across the UK.
"Our Innovation Accelerator programme is providing £100 million to three high-potential regions – Glasgow City Region, Greater Manchester, and West Midlands - helping to attract investment and become globally competitive centres for research and innovation."
---
About Chemify
Based in Glasgow, UK, and led by CEO Lee Cronin, Chemify is building the digital chemical infrastructure for the next generation chemistry. Chemify is designing, making, optimising, and discovering new molecules and materials for partners an order of magnitude more quickly. Built upon 15 years of research from Professor Cronin's Digital Chemistry group at the University of Glasgow, Chemify's platform consists of proprietary synthetic chemistry robotics, the largest and continuously growing database of validated chemical reactions, and AI-enabled tools for the design, manufacturing, and validation of molecules of unprecedented complexity deep into the chemical space. Chemify's platform enables partners to reach more optimal molecules meeting stringent performance criteria in a much shorter amount of time. Find out more at www.chemify.io
About Triatomic Capital
Triatomic Capital, the Series A lead, is a venture capital firm whose mission is to help great entrepreneurs build 'century-defining' businesses and technologies. Triatomic was founded by Jeff Huber (former Google SVP & Founding CEO of GRAIL), Steve Hochberg (former Deerfield Management), and Peter Zhou (former Couatue Management & Hongkou Capital).
About the Innovation Accelerators
Chemify is one of six research projects linked to the University of Glasgow which have support from the UK Government's Innovation Accelerator programme. The programme is investing £100 million in 26 transformative R&D projects to accelerate the growth of three high-potential innovation clusters – Glasgow City Region, Greater Manchester, and West Midlands. The programme led by Innovate UK, the UK's Innovation Agency, is pioneering a new model of R&D decision-making that brings together local leaders, industry, and research organisations to harness innovation in support of regional economic growth. The funding aims to boost Scotland's economy through Silicon Valley-style Innovation Accelerators.
First published: 2 August 2023
Related links