Robert Burns Ellisland Farm recreated in Minecraft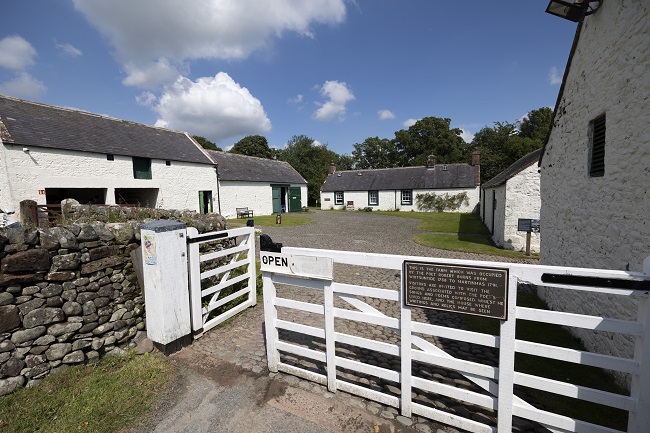 It was home to Scotland's national bard Robert Burns.
It was also the location and inspiration for some of the poet's most famous works including Tam o Shanter and Auld Lang Syne.
Now Ellisland Farm, where Burns lived from 1788-1791, is being brought back to virtual life in the video game Minecraft.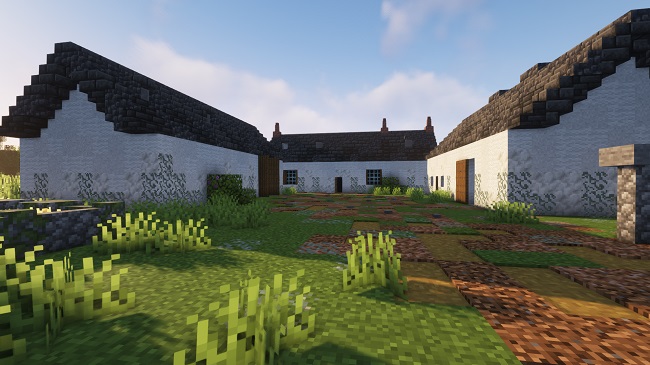 Students and academics at the University of Glasgow working with the Robert Burns Ellisland Trust have helped to faithfully recreate, in Minecraft, the 18th-century farm as Burns and his family knew it.
Players also have an opportunity to not only hear Burns' poetry and song while in the Minecraft world but will also be able to interact in Scots with the poet and his wife Jean Armour. It is believed to be the first time Scots has been used in Minecraft which has nearly 140 million monthly active users around the world.
The project is a partnership between the University, Robert Burns Ellisland Trust which runs Ellisland Museum and Farm and The South of Scotland Destination Alliance (SSDA).
It was funded through the Scottish Government's Tourism Leadership & Recovery Fund to support business and community-led tourism enterprises taking the lead in the sector's COVID-19 recovery.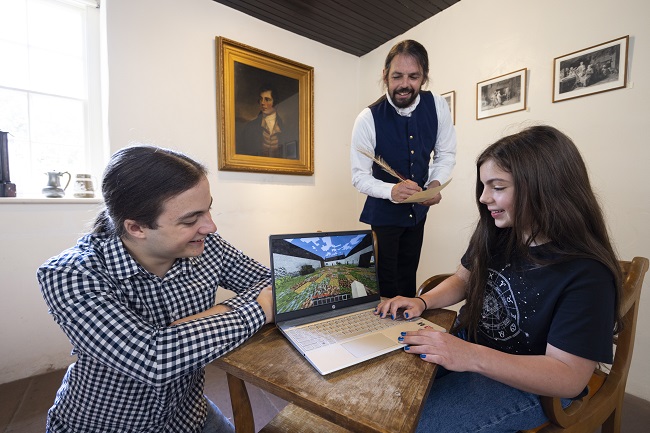 The Minecraft Ellisland world was built by around 15 students – undergraduates and postgraduates drawn from a range of different subjects - who are part of the University's Minecraft Society.
Bailey Hodgson, the Minecraft Society's President and one of its founders, who has been playing Minecraft for a decade, played a significant role both in project setup and delivery.
Bailey said: "I live on a farm near Ellisland so this was a project I really enjoyed taking on. Our society is new with just under 100 members, around 15 of us were actively involved in different parts of this from building to testing. We found that our play testers said the game encouraged them to want to visit Ellisland in real life.
"We worked closely with Joan McAlpine at Ellisland along with Dr Timothy Peacock and Dr Matthew Barr to ensure we created an authentic experience that captures the farm as Burns would have known it, while also having educational elements. Players can interact with Burns as well as use this experience to read and listen to his works.
"Everybody that worked on the game is delighted with the project we have created. We hope that everyone who gets to experience it has an enjoyable time while also learning something about Burns and his work."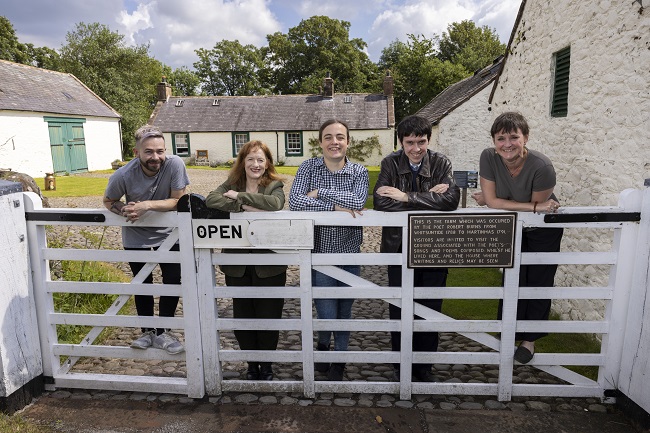 The Minecraft Ellisland project was led by Dr Timothy Peacock and Dr Matthew Barr from the University's Game and Gaming Lab – a cross-disciplinary lab – based in the University's College of Arts - on how games and gaming can be used in research and teaching.
Dr Peacock, the Lab Co-director and a history lecturer based at the University's School of Humanities | Sgoil nan Daonnachdan, said: "Robert Burns' life and works have a significant global impact in inspiring people, while games have, in different forms, inspired and transported players to new worlds or even provided new ways of understanding our own.
"It has been a privilege to work with the different partners to bring both Ellisland and Minecraft together in this creative project, and we hope it is something which will inspire new ways of people engaging with this cultural treasure in the years ahead."
Joan McAlpine, the Business Development Manager of the Robert Burns Ellisland Trust, said: "Heritage attractions are always striving to attract diverse new audiences and this Minecraft Game opens Ellisland to potentially large numbers of children and young people all round the world. They will know Auld Lang Syne, but may not have known where it was written or by whom.
"The game includes a brand-new version of the song by our trustee the singer Emily Smith and original audio of Tam o Shanter. We are so excited about it and loved working with Bailey and the Glasgow University team."
Ross McAuley, Chief Executive of the South of Scotland Destination Alliance, said: "We were delighted to be able to support this very exciting project and it's amazing to see it come to fruition and to watch people actually playing the game. The designers have done a fantastic job bringing Robert Burns' Ellisland Farm home into Minecraft and I'm sure players will be inspired to come from far and wide to visit the farm and see for themselves the beautiful area where Burns lived and wrote.
"It's such an innovative way to use new technology to reach a wider, younger audience. What better way to introduce young people to the story of Burns in the south of Scotland, an area which is absolutely brimming with literary connections to discover – perfect for the growing trend in literary tourism."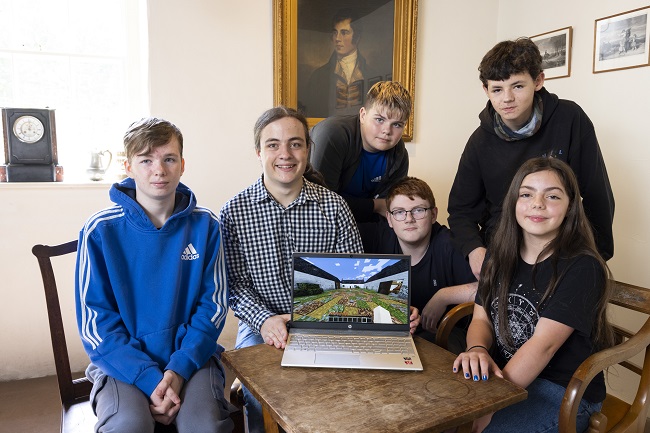 The University of Glasgow was recruited to the project by Interface, a Scotland-wide organisation which helps businesses grow by matching them to Scotland's world-leading academic expertise.
Born in 1759, Robert Burns' poems and songs have been translated into every major language, and his influence has extended far beyond Scotland. Today it is estimated that some 9.5 million people worldwide attend Burns Suppers annually. The poet died in Dumfries, near to Ellisland, on 21 July 1796, age 37.
---
Minecraft Ellisland
In order to accsss Minecraft Ellisland you will need to have a Microsoft account and buy Minecraft on that account in order to be able to play it.
Minecraft Ellisland is for the Minecraft: Java Edition which is compatible with both laptop and desktops. A mobile version of Minecraft Ellisland is in development.
Minecraft Ellisland game is available to download from the website of the Robert Burns Ellisland Trust via this web page.
Ellisland Farm
Ellisland Farm just outside Dumfries was the home of Robert Burns from 1788 until 1791. During his time living there he experienced his most creative and fruitful years in terms of his poetry and song. During his time at Ellisland he wrote Tam o'Shanter and Auld Lang Syne.
Learn more about the Ellisland Museum & Farm on this website.
The Games and Gaming Lab at the University of Glasgow
The Games and Gaming Lab (GGLab) (UofGGamesLab) is a cross-disciplinary Arts lab on how games and gaming can be used to aid research and teaching.
UofGGamesLab, based at the University's College of Arts, promotes research into games and gaming, looking at everything from Tabletop to Electronic media, from Children to Adults, and across time periods from Ancient to Modern, Fantasy, and Futuristic.
The South of Scotland Destination Alliance (SSDA)
The South of Scotland Destination Alliance (SSDA) is the strategic Destination Management and Marketing Organisation for the South of Scotland, encompassing Dumfries and Galloway and the Scottish Borders.
The company was set-up in May 2020 and formally brings together the Scottish Borders Tourism Partnership and Visit South West Scotland to be the new region-wide, industry led organisation for tourism and hospitality marketing and destination development.
Interface
With connections into all Scotland's universities, research institutes and colleges, Interface matches organisations to world-leading academic expertise to help them grow and develop.
For more information visit Interface.
First published: 1 August 2022