New Kavya Prize winner announced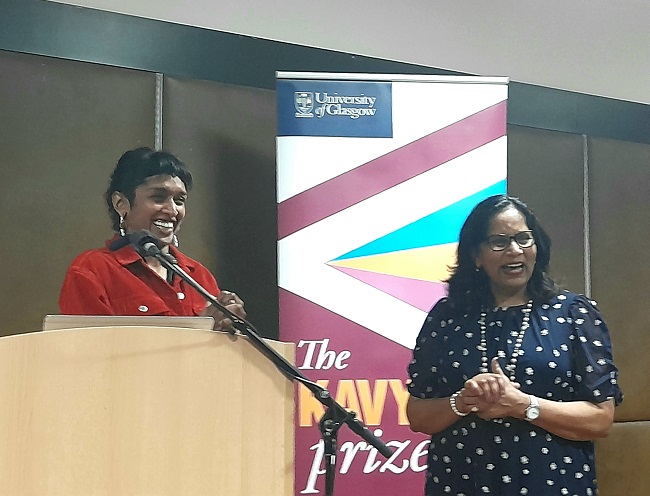 Uma Nada-Rajah has been named winner of the first Kavya Prize, a new Scottish literary prize celebrating published work by Scottish writers of colour.
The playwright won the inaugural Kavya Prize for Toy, Plastic Chicken published by Salamander Street.
Uma Nada-Rajah said: "I am really touched (and still in shock!) to have been awarded the inaugural Kavya Prize.
"My respect to all of the organisers and contributors for nurturing a sense of community in the celebration of diverse Scottish voices. Congratulations to all the shortlisted writers."
The Kavya Prize, in association with the University of Glasgow and founded by Indian-born Scottish author Leela Soma, seeks to recognise, and encourage writers of colour who are Scottish by birth, residence or formation.
The inaugural prize for full-length published works of fiction, creative non-fiction, poetry or short story collections was awarded by Leela Soma at Aye Write last Saturday.
Leela Soma said: "Congratulations to Uma Nada-Rajah, the winner of the Kavya Prize!
"Her playscript Toy Plastic Chicken is hard hitting, powerful and humourous, a difficult blend to achieve. She's a worthy winner.
"In this, The Year of Scotland's Stories 2022, the Kavya Prize has opened a new chapter for diverse voices to be heard."
Kavya is a popular and well recognised word in Sanskrit and refers to a literary style or a completed body of literature that was used in Indian courts of the Maharajahs who nurtured the cultural arts in India.
The Kavya Prize 2022 featured a very strong shortlist of writers which, as well as Uma Nada-Rajah, also included:
Katie Goh, writer and journalist - The End: Surviving the World Through Imagined Disasters (404 Ink);
Hannah Lavery, poet and playwright - Lament for Sheku Bayoh (Salamander Street)
David Onamade, a writer of poetry and prose, who sadly passed away in 2021 - Sorrow, Tears and Blood (Arkbound Publishing)
Sean Wai Keung, writer and performance maker - Sikfan Glaschu (Verve Poetry Press)
Lorraine Wilson, writer - This is Our Undoing (Luna Press)
---
For more information contact Aine Allardyce in the University of Glasgow Communications and Public Affairs Office on 07976 201938 or email aine.allardyce@glasgow.ac.uk
About Uma Nada-Rajah
Uma Nada-Rajah (She/Her) is a playwright based in Kirknewton, Scotland and is of Sri Lankan Tamil heritage. She is one of the BBC's Scottish Voices 2020 and was most recently the Starter Female Political Comedy writer-in-residence at the National Theatre of Scotland. Uma is a graduate of École Philippe Gaulier and a previous participant of the Royal Court's Young Writers' Programme and the Traverse Theatre's Young Writers' Programme. In 2014 Uma won the New Playwrights Award from Playwrights' Studio Scotland. She works as a staff nurse with NHS Scotland.
About Leela Soma
Leela Soma is a Scottish-based writer who was born in India, and now lives in Glasgow. She writes novels, poetry and short stories which have been published in several anthologies and publications. Learn more here
The University of Glasgow's Creative Writing postgraduate taught, and research-led writing courses are among the most challenging and popular in Britain. They have helped launch the career of a number of successful writers. https://www.gla.ac.uk/subjects/creat
First published: 25 May 2022