Major new exhibition at the British Library to explore Fantasy
Published: 27 October 2023
UofG's Professor Matthew Sangster has co-curated the exhibition with the British Library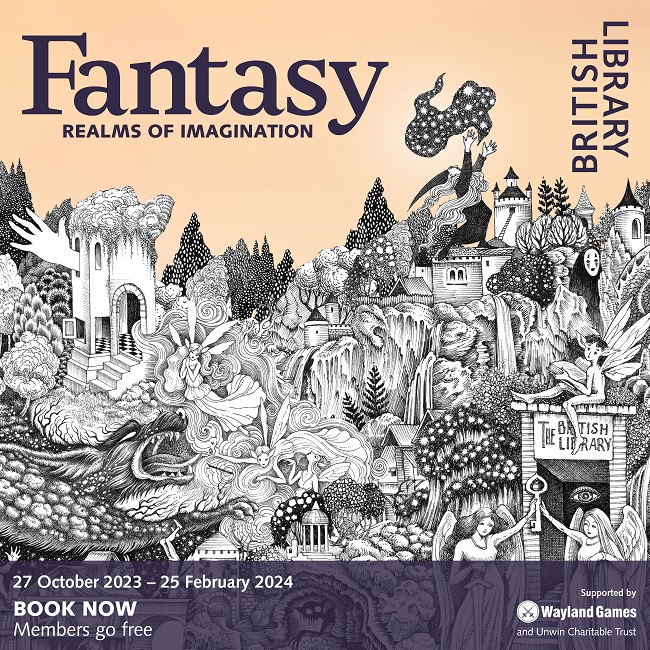 For centuries readers have escaped their everyday lives and journeyed into new worlds filled with magic and adventure, incredible mythical creatures, and heroes and villains that speak to our greatest dreams and fears.
Now, a major new exhibition at the British Library, co-curated by UofG's Professor Matthew Sangster, will explore the evolution of Fantasy. From ancient folk tales and fairy stories, gothic horror and weird fiction, to live action role playing games inspired by Fantasy worlds, the exhibition will celebrate the genre and its enduring impact.
In Fantasy: Realms of Imagination the British Library will invite visitors to discover over a hundred items – including historical manuscripts, rare first editions, drafts of iconic novels, scripts and maps, film props and costumes – and will offer unique insights into the roots and evolution of the genre.
The exhibition will take visitors on a journey through fantastical worlds imagined by writers, artists and creators over the centuries and across continents.
Visitors will get to see works from authors as varied as Ursula K Le Guin, Neil Gaiman, Mervyn Peake, NK Jemisin, JRR. Tolkien, Susanna Clarke, Angela Carter, Terry Pratchett, China Miéville and Jeannette Ng to name a few.
Highlight objects include:
Unique manuscripts of Beowulf, Sir Gawain and the Green Knight, C.S Lewis' The Lion, The Witch and the Wardrobe, Lewis Carroll's Alice's Adventures Under Ground, The Magic City by E. Nesbit, The Owl Service by Alan Garner and The Colour of Magic by Terry Pratchett
Ursula K. Le Guin's drafts and drawings for her Earthsea novels – which are on display in the UK for the first time ● Original sketches and outlines for Piranesi by Susanna Clarke, Gormenghast by Mervyn Peake and Michael Palin's notes for Monty Python And The Holy Grail
The costumes worn by Margot Fonteyn and Rudolf Nureyev in the Royal Opera House's 1968 ballet production of The Sleeping Beauty and props and costumes from The Lord of the Rings, The Dark Crystal and Wicked ● Clips from iconic Fantasy film, television and video games including Princess Mononoke, Buffy the Vampire Slayer, Pan's Labyrinth and Skyrim
A playable mini-game by Failbetter Games designed especially for the exhibition, based on the Fallen London universe.
The design of the exhibition allows visitors to journey through different Fantasy landscapes, from a dark enchanted forest, through epic mountains and a sinister fallen city to sunrise on a new world.
The exhibition begins by exploring the Fantasy archetypes that still fascinate us today in 'Fairy and Folk Tales' from The Snow Queen to The Arabian Nights and Peter Pan.
Visitors will then enter the world of 'Epics and Quests', meet iconic heroes and villains from Sir Gawain and the Green Knight to Xena, Warrior Princess, and explore how ancient tales have helped to shape modern Fantasy epics.
The 'Weird and Uncanny' section focuses on iconic monsters, sinister landscapes filled with eerie edifices and the darkness at the heart of Fantasy. Visitors will discover the roots of weirder fantasies in works like Frankenstein and the stories of Edgar Allan Poe.
Once they have encountered the strange creatures that haunt the genre, visitors will journey into 'Portals and Worlds' where they will discover the richly detailed world-building that makes Fantasy universes unique, and how the sub-genre of Portal Fantasy has shaped the history of children's literature.
Matthew Sangster, Professor of Romantic Studies, Fantasy and Cultural History and Co-Director of the Centre for Fantasy and the Fantastic at the University of Glasgow, who co-curated the exhibtion, said: "It has been a pleasure to collaborate on Fantasy: Realms of the Imagination, bringing our subject expertise from the Centre for Fantasy and the Fantastic into conversation with the British Library's brilliant staff and incredible collections.
"We are delighted to have been able to help realise the exhibition's vision by workshopping ideas with colleagues and students, by offering suggestions about content and framing, through writing for the companion volume, and through my own role as external curator working on the narrative, design, exhibition text and accompanying programmes.
"It's been very rewarding to contribute to an exhibition that provides a broad and inclusive vision of Fantasy, depicting its histories, influences, multifarious media forms and longstanding culture of collaboration and co-creation. Hopefully, visitors will find in it an exciting combination of familiar things, unexpected connections and new favourites."
Tanya Kirk, Lead Curator of Fantasy: Realms of Imagination at the British Library, said: "Fantasy is hugely influential today but it has roots that are far older than many imagine. For centuries, people have loved stories about impossibility, and they've responded to Fantasy's ability to provide us with both an escape but also a way to view our own world from a new perspective.
"This exhibition tells the story of the genre, from its origins to the enormously rich and diverse forms it takes today. We wanted visitors to feel they were on a journey into imagination, and to experience the genre across different media – not only rare printed books and original manuscripts, but also film, TV, art, music, gaming, costume and fan culture."
Richard Lawford, Managing Director of Wayland Games Ltd, said: "For over a decade we have taken our customers on journeys into fantastical tabletop gaming worlds, filled with the mythical creatures inspired by the iconic stories in fantasy literature. We're delighted the exhibition celebrates the role of fantasy fans and will inspire visitors to continue their fantasy journey after the exhibition through our range of tabletop games."
Accompanying Fantasy will be a display in the Entrance Hall of the Library, The Fantastical World of Mervyn Peake: Islands and Seas (24 November – 25 February 2024) which will showcase the richness of the Mervyn Peake Visual Archive.
There will also be a season of in-person and online events inspired by the exhibition, such as a Late at the Library filled with musical performances and art inspired by the electronic music duo Drexciya and the fantasy mythos they created, with a live performance by Dopplereffekt and talk from Drexciya collaborator Abdul Qadim Haqq.
The Library will also be celebrating fantasy literary classics with Neil Gaiman and Rob Wilkins marking the 40th anniversary of Terry Pratchett's first Discworld novel The Colour of Magic and Susan Cooper in conversation with Natalie Haynes on the 50th anniversary of her best-selling novel The Dark is Rising.
There will also be events exploring world-building in fantasy and the legacy of Dungeons and Dragons which turns 50 next year, alongside in conversation events with writers including Neil Gaiman, Philip Pullman, Susanna Clarke and RF Kuang and artists Alan Lee, Terri Windling and Brian and Wendy Froud.
This is alongside an event series in partnership with Irenosen Okojie's Afrofuturist festival Black to the Future, with more to be announced.
---
Fantasy: Realms of Imagination runs at the British Library from 27 October 2023 – 25 February 2024
Tickets: A full priced ticket is £16, with concessions available. Book via British Library
First published: 27 October 2023