North Ayrshire pupils back fusion power proposal
Published: 24 January 2022
Pupils from a North Ayrshire primary school are backing plans to bring a pioneering fusion energy plant to a former industrial site in Ardeer.
Pupils from a North Ayrshire primary school are backing plans to bring a pioneering fusion energy plant to a former industrial site in Ardeer.

Children from P6 at Ardeer Primary School have produced a series of drawings of how the Spherical Tokamak for Energy Production (STEP) plant might look if the bid to bring it to their neighbourhood is successful.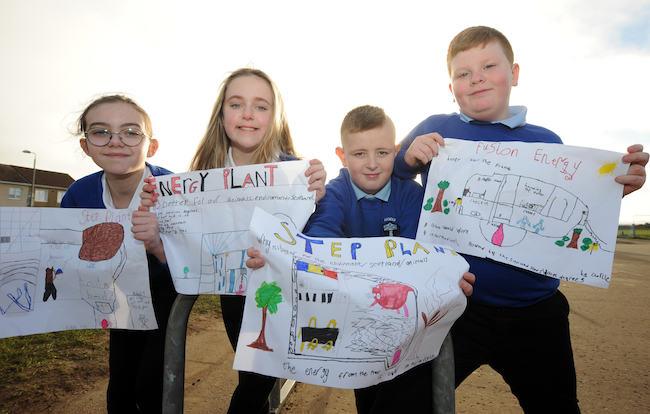 The drawings will form part of a presentation from the bid's backers to representatives of the UK Atomic Energy Authority (UKAEA) during their final site visit to Ardeer on Tuesday 25 January.

Early last year, UKAEA solicited bids from around Britain to find a suitable site to base STEP. The Ardeer bid, produced by a consortium called Fusion Forward (Ardeer) led by the University of Glasgow, North Ayrshire Council, and landowners NPL Group, is one of the five proposals under consideration. It is the only Scottish site still in contention.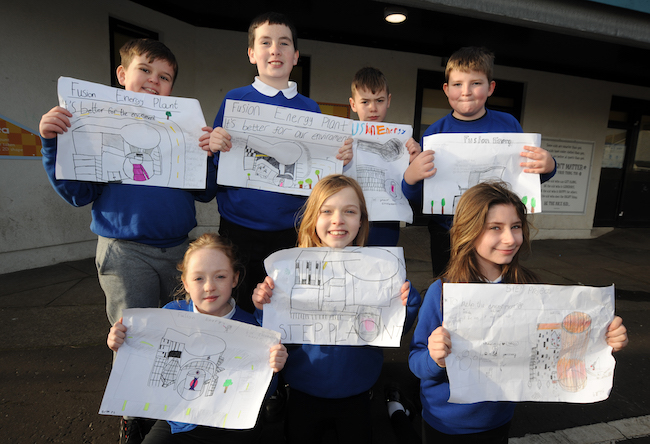 The drawings illustrate some of the potential benefits of STEP for the region. Pupils have chosen to highlight how STEP could bring new jobs and training opportunities and explain how fusion power might help reduce carbon emissions around the world.

Fusion technology harnesses the energy generated when atoms are pressed together under conditions similar to those found in the centre of stars.

Unlike the fission reactions harnessed in conventional nuclear power plants, which generate potentially dangerous radioactive waste products, fusion reactions have the potential to create abundant zero-carbon power while producing helium, a harmless inert gas, as a by-product.
https://www.youtube.com/watch?v=onkh3bTOfqs

The pupils' drawings are the result of a virtual visit to the class from Fusion Forward (Ardeer) earlier this year.

Anne Surgenor, Head Teacher of Ardeer Primary School said: "We are delighted to have been involved in STEP. The children were fascinated to hear about how fusion energy works and excited about the possibility of a breakthrough in environmentally-friendly energy generation happening right where they live.

"That excitement really comes through in their drawings, where you can see how they've imagined things they learned about like robot maintenance crews and the superheated plasma that will be created in the heart of the reactor.

"By the time STEP is operational in 2040, our current children will be adults and could be directly benefiting from the plant by using the energy it produces and many have ambitions for successful careers there. We are proud to be part of the presentation to the UKAEA and we hope we can do our part to make the Ardeer bid successful."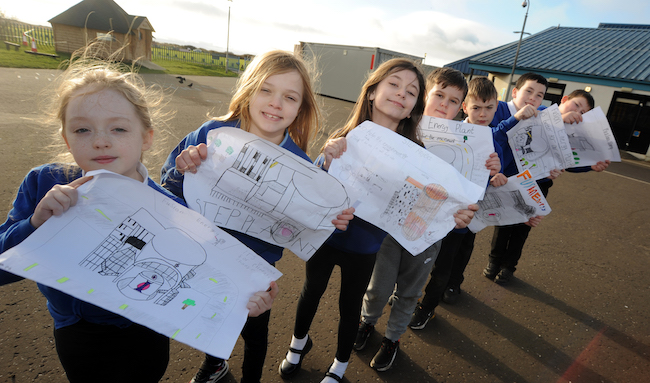 UKAEA expect that STEP will support the delivery of around 3,500 skilled jobs during its construction phase, and up to 1,000 engineers, technicians and support staff once the plant is operational. Up to 5% of those jobs will be apprenticeships and graduate positions.

The consortium's engagement with Ardeer Primary is just one part of a wider plan to tap into the educational, research and training benefits that STEP could bring to the region.

Professor Declan Diver, of the University of Glasgow's School of Physics and Astronomy, is convenor of Fusion Forward (Ardeer) and led a virtual meeting with Ardeer Primary 6 to explore STEP.

He said: "STEP represents a huge opportunity for education and training in a whole new area of industry. I've been working in the field of plasma physics for 30 years, and the prospect of being able to see my area of research turned to a practical benefit for Ardeer and the world is fantastic.

"We've been working closely with further and higher education institutions across the west of Scotland to agree a co-ordinated approach to preparing for STEP. We're aiming to deliver appropriately-designed education opportunities from primary to postgraduate level.

"It was great to see the interest and enthusiasm from the Ardeer pupils and we're delighted to be able to demonstrate to UKAEA that we can rely on the support of future generations, who are set to benefit the most from fusion power generation."

Representatives from UKAEA will be visiting the Ardeer site on Tuesday 25 January to make their final assessments ahead of a recommendation to the UK Government in the spring.

On the evening of Wednesday 26 January, Fusion Forward (Ardeer) and UKAEA will host an online public presentation and Q&A session The presentation will include contributions from Ardeer Primary School. To book a space to attend the virtual event, which will take place between 6pm and 8pm, visit this Eventbrite page.

---
First published: 24 January 2022