Sorry Mary Queen of What?
Published: 22 November 2021
How much does the nation really know about Scotland's most famous monarch? A new UofG and FutureLearn free course, The Life and Afterlife of Mary Queen of Scots, aims to answer and bring her back into mainstream focus.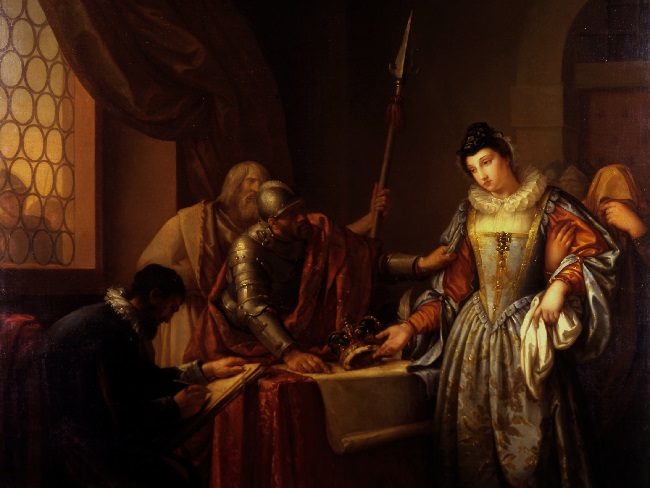 A majority of Britons have proven history isn't their strongest subject; when shown a portrait of Mary Queen of Scots, 51% were unable to identify her.
Regarded by academics as one of the most infamous monarchs in British history, Mary Queen of Scots is featured in lectures, lessons, popular culture and even on RuPaul's Drag Race. So why can't the public identify who she is?
It's a problem the University of Glasgow and online learning platform, FutureLearn, aims to answer with its new course The Life and Afterlife of Mary Queen of Scots.
Five years in development, the new course from University of Glasgow aims to bring Mary Queen of Scots back into focus and test the nation's knowledge. The free course explores Mary's life and legacy, launches today.
A new survey of 2,000 people, saw respondents answer questions related to Mary's life. Only 27% could correctly state how old she was when she was executed and only 18% knew that she was just six days old when she became Queen of Scotland. Nearly three quarters (73%) couldn't identify how many children she had.
Reassuringly, more than 3 in 5 Britons (62%) were able to identify Mary's famous red hair as well as knowing that it was her cousin, Elizabeth I who imprisoned her (36%).
Anecdotally, British people love good gossip as an unsurprising 63% knew that Mary was accused of killing her second husband, Lord Darnley. Although over three quarters of the nation (77%) couldn't correctly state Mary was held captive for 19 years, with less than half (48%) knowing what century she ascended the throne.
Dr Steven Reid, a Senior Lecturer in Scottish History at the University of Glasgow, and course leader, said: "We've found over 2,000 different objects, ranging from art to personal relics, that tell us how Mary was remembered and how stories about her were told throughout centuries.
"These stories tell us as much about the cultural biases of the people who tell them – their views on gender, on religion, and on power, for example – as they do about how Mary has lived on in the popular imagination.
"This course provides us with a great opportunity to share that research with a global audience, and we're excited to see it launch."
The Life & Afterlife of Mary Queen of Scots

Our new FREE online @UofGArts history course, led by @stevenjohnreid, launches today aiming to boost the profile of Mary Queen of Scots.

Join the course https://t.co/xEO5dGwd37

1/2 pic.twitter.com/y7TFt1L0wK

— University of Glasgow (@UofGlasgow) November 22, 2021
The new course, The Life and Afterlife of Mary Queen of Scots, is free to access and finally showcases an honest look into her life. The course shows how Mary Queen of Scots left a lasting legacy on Scotland and the Royal Family as we know it. Mary was a keen jam-maker when she wasn't being accused of murdering her husband. Married three times and widowed twice before she was 25. Her third husband was believed to have killed her second and forced her to marry him. The trauma didn't end there. She was betrayed and imprisoned by her cousin, Queen Elizabeth I of England for 19 years before ultimately losing her head in a gruesome execution. It is easy to see why Mary was so impactful, seeing her legacy live on after her death.
Astrid deRidder, Director of Content at FutureLearn Said: "At FutureLearn, our mission is to transform access to education. We are thrilled to announce the launch of our new course built in partnership with The University of Glasgow's leading academics, which dives into the fascinating life and legacy of Mary Queen of Scots.
"With hundreds of courses available and over 17 million learners globally, FutureLearn's social learning platform is the ideal platform to help educators and learners broaden their skills, hone their expertise, and learn new and exciting subjects from history and culture all the way to healthcare and coding."
Survey
Do you want to test your knowledge about Mary, Queen of the Scots? Here are some of the questions asked in our survey, which multiple choices. The answers are at the end.
1. How old was Mary Stuart when she became queen of Scotland?
16 years old
10 years old
6 days old
Other age
She never became Queen
2. True or false: Mary Queen of Scots was accused of murdering her second husband?
True
False
3. In what year did Mary Queen of Scots come to the Scottish throne?
1601
1542
1845
1907
Other year
4. How long, if at all, was Mary Queen of Scots imprisoned for?
25 years
6 months
19 years
20 Years
Other time
5. What was Mary's (Queen of Scots) iconic hair colour?
Brown
Black
Red/ginger
Blonde
Other hair colour
6. Who was Mary Queen of Scots' well-known cousin?
Queen Victoria
Queen Elizabeth I
Henry VIII
Queen Elizabeth II
Someone else
Answers to questions
1. C, 2. A, 3. B, 4. C, 5. C, 6. B
---
For more information contact Aine Allardyce in the University of Glasgow Communications on aine.allardyce@glasgow.ac.uk or for FutureLearn email Futurelearn@talkertailor.com
Mary Queen of Scots Research at the University of Glasgow
The University of Glasgow has been leading a research project over the past five years, exploring Mary's afterlife in museums, galleries, and archives all over Scotland and in the larger national British collections. They've found over 2,000 different objects, ranging from art to personal relics, that tell us how Mary was remembered and how these memories shaped people's opinions of her through the centuries, how she was viewed due to gender, religion, and power. https://mqs.glasgow.ac.uk/
About the Course
The Life and Afterlife of Mary Queen of Scots is a three-week course available online via FutureLearn.com in partnership with The University of Glasgow will introduce students to Scotland and Europe in the sixteenth century, right in the middle of the most important time which shaped Mary's Reign when the Protestant reformation radically reshaped political alliances and had a direct impact on Mary's own reign as the Catholic ruler of a firmly protestant nation. The course will explore Mary's own life, the complex forces that led to her rise and fall from power, and her imprisonment at the hands of a fellow monarch.
About FutureLearn
Here at FutureLearn, our purpose is to transform access to education. We do that by partnering with over a quarter of the world's top universities to support millions of learners across the globe to develop skills and achieve their personal and professional goals. We're the world's leading social learning platform, founded in the UK December 2012 by The Open University and now jointly owned by The Open University and The SEEK Group. We use design, technology and partnerships to create highly rated, credible, and flexible online courses, microcredentials, and undergraduate / postgraduate degrees
First published: 22 November 2021