Former Prime Minister delivers inaugural John Smith Centre lecture
The former Conservative Prime Minister, Sir John Major, delivered the inaugural John Smith Centre for Public Service lecture on Tuesday, 19 February. The lecture was the culmination of a day-long conference on public service and was delivered in front of a large audience in the Bute Hall.‌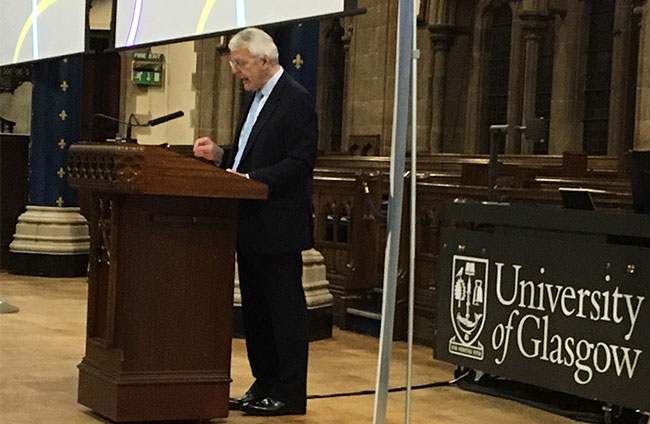 The Principal, Professor Sir Anton Muscatelli, paid tribute to the memory of the former Labour leader, John Smith, and said how pleased the University was to host the Centre and support its ambition of promoting excellence in public service. He then introduced Sir John.
Sir John praised John Smith, calling him a "tenacious politician" who, "if the fates had allowed, would have been a Prime Minister of distinction".
The majority of his address focused on the rise of populism, fake news and the dangers of Brexit. He said that in the referendum on Europe, "to our national shame, truth was a casualty", and that both main UK parties were being "manipulated by fringe opinion". Sir John also said that Brexit risked the future of the United Kingdom - stating that "English and Welsh votes are now taking Scotland out of Europe against their will" and adding: "It is astonishing to me that English Unionists are so avid to leave the European Union, that they are willing to put at risk our far more historic union with Scotland and Northern Ireland."
Formal thanks were given by Catherine Smith, who is both the chair of the Centre and younger daughter of John Smith. She said the lecture had been "prefect" and illustrated the importance of public service at a vital time in the nation's history.
The John Smith Centre, which sits within the School of Social and Political Sciences, promotes a positive vision for representative politics.
---
First published: 20 February 2019