World's largest inflammatory disease biobank will enable more precise treatment
A consortium led by the University of Glasgow has been awarded a £1.7 million grant to create the world's largest Immune-Mediated Inflammatory Disease (IMID) Biobank.
The Medical Research Council (MRC) funded project will be delivered by the IMIDBio-UK consortium, which brings together researchers from the University of Glasgow, Newcastle University, the University of Cambridge, Queen Mary University of London and the University of Manchester.
Immune-mediated inflammatory diseases are common medical conditions that cause substantial pain, distress, loss of function and early death. They include rheumatoid arthritis (RA), psoriasis, systemic lupus erythematosus (SLE), Sjogren's syndrome and autoimmune liver diseases such as primary biliary cholangitis.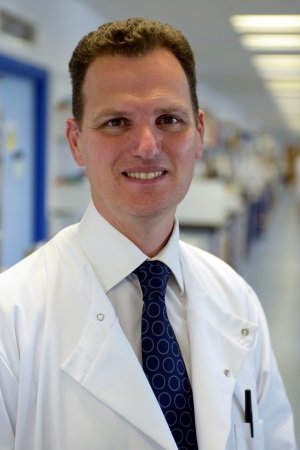 Led by Professor Iain McInnes, Director of the University of Glasgow's Institute of Infection, Immunity and Inflammation, the IMIDBio-UK project will incorporate MRC, National Institute for Health Research and Scottish Government Chief Scientist funded biobanks and clinical datasets into one single, searchable an‌‌d analysable 'superhighway', allowing unprecedented access to information about IMIDs across the UK.
This superhighway of information will provide the kind of large scale data needed to apply a precision medicine approach to these health conditions. Researchers hope that it will soon be possible to create a 'molecular map' of a patient, which would ultimately allow doctors to be able to prescribe more effective, less toxic drugs to patients, based on their individual condition.
Professor Iain McInnes, Muirhead Chair of Medicine, said: "IMIDBio-UK is a unique opportunity to bring together the strengths of inflammation medicine from across the United Kingdom.
"By working together we will learn from cohorts of patients with seemingly different conditions, such as psoriasis, arthritis, kidney and liver disease, and bring them together to shed new light on the specific causes of each condition individually, but also we hope to find common pathways that drive them collectively.
"Using this knowledge in future we will be able to seek new medicines, and importantly, by applying the principles of precision medicine, we will be able to use these new medicines in the right person, at the right time, and at the right dose."
The IMIDs are clinically diverse, variously targeting the skin, joints, or kidneys, but share some common genetic features, environmental triggers and inflammatory mechanisms. Since the 1990s, drugs and improved treatment strategies have revolutionised the treatment of a significant proportion of people with some IMIDs. However some IMIDs have not really progressed and even in those in which advances are notable, many patients do not yet respond to treatment or lose their responses over time.
Until now, most IMID collections of data have been specific to only one disease, leading to a narrow approach to the broader inflammation medicine field.
Researchers hope that this project will enable wider, safer use of biologics and new medicines across the IMID spectrum. By bringing together samples and comparing data and clinical practice, it will optimise clinical pathways for common IMIDs, and provide much needed insight into biologic use in rarer or poorly characterised IMIDs, ultimately delivering patient benefit and health care savings.
---
Enquiries: ali.howard@glasgow.ac.uk or elizabeth.mcmeekin@glasgow.ac.uk // 0141 330 6557 or 0141 330 4831
First published: 21 September 2017