Glasgow lecturer is BBC New Generation Thinker
Issued: Thu, 16 Mar 2017 10:00:00 GMT
University of Glasgow academic Dr Alistair Fraser has today been named as a New Generation Thinker by the BBC.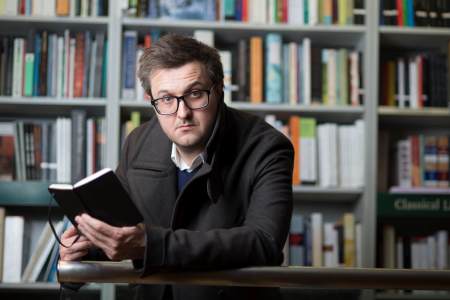 Dr Fraser, a criminologist at the University of Glasgow, whose expertise focuses on youth culture and street gangs, has been selected by the BBC for the prestigious New Generation Thinkers list, featuring nine other UK academics.
Dr Fraser has studied youth gangs in Hong Kong, Glasgow and Chicago. He will begin working with the BBC to turn his research into radio and television programmes across several output channels. The scheme will partner with BBC Four, where some of the selected academics will also be given the opportunity to present a full length programme for television.
Other specialist research areas, which the New Generation Thinkers will turn into future programme ideas and documentaries include Shakespeare in the Middle East, Children in War and Surveillance and how music might be used for its health benefits and the ethics of population change.
The selected academics will be publicly unveiled at a free event recorded as part of BBC Radio 3's Free Thinking Festival at Sage Gateshead, March 18, and broadcast on the April 4. Further programmes about the New Generation Thinkers research will be aired throughout 2017.
Reacting to his selection to the prestigious team, Dr Fraser said: "I'm really delighted and excited to be part of this scheme. To have the opportunity to work with producers and broadcasters to communicate research to a wider public is a tremendous opportunity, and a real honour'.
He added: "Much of the work I do is with young people who are stereotyped and stigmatised and whose voices are often silenced in public debate. I see this as a real opportunity to get those voices heard."
The New Generation Thinkers 2017 were selected after a nationwide search for the best academic ideas with the potential to be shared through broadcast. The ten chosen will have the opportunity to make programmes for Radio 3 and other outlets.
Robyn Read, Editor of Free Thinking, says: "The New Generation Thinkers have become an essential part of our programme's quest to nurture new talent in the world of arts and ideas. It is incredibly stimulating for production teams to work with academics who are so passionate about their research. These ten new voices from our universities have fascinating original work and their hunger to reach new audiences brings something exciting and distinctive to Radio 3 listeners."
The other 2017 New Generation Thinkers are:
Dr Christopher Bannister, School of Advanced Study, University of London
Simon Beard, University of Cambridge
Emma Butcher, University of Hull
Daisy Fancourt, Royal College of Music/Imperial College London
Hetta Howes, Queen Mary University of London
Islam Issa, Birmingham City University
Eleanor Lybeck, University of Oxford
Joanne Paul, University of Sussex
Thomas Simpson University of Oxford
---
More information Jane Chilton, Communications Office. Tel: 0141 330 3535 / Jane.Chilton@glasgow.ac.uk