University of Glasgow students elect a new Rector
Published: 21 March 2017
The new Rector for the University of Glasgow has been elected. Aamer Anwar beat nine other candidates for the position and will represent the university's students for the next three years.
Aamer Anwar has been elected by the student body to serve as the next Rector of the University of Glasgow.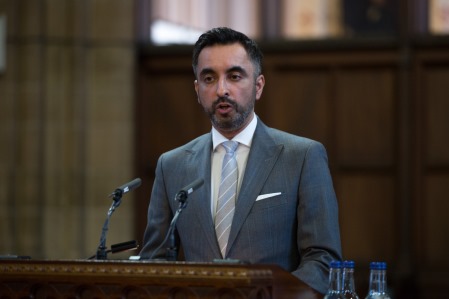 A total of 8210 students took part in the election, which was held under the single transferrable vote system on Monday 20 and Tuesday 21 March.
Mr Anwar will take up office after the University's Easter break, replacing the current Rector, Edward Snowden. Details on the Rector's installation will be released in due course.
Speaking after his declaration, Aamer Anwar said: "I have been inspired by the thousands of students that I have met in the last three weeks whilst touring lectures theatres, student unions, interrupting lunches and holding street meetings. I also want to thank all those student groups and societies that spoke out in support of my campaign.
Professor Anton Muscatelli, Principal and Vice Chancellor of the University of Glasgow, said: " I would like to congratulate Aamer Anwar on his election as Rector and I look forward to working closely with him over the next three years."
Ameer Ibrahim, SRC President, said: "The SRC is happy to see the result of our newly elected Rector at the University, as democratically voted for by our student community.
"We wish Aamer Anwar the very best of luck, and we are looking forward to working with him over the next three years in service to the students at the University of Glasgow."
Total number of votes cast was 8210, with Aamer Anwar elected on the first ballot under STV.
The result was as follows
Aamer Anwar

4458

Lady Hazel Cosgrove 1409
Sir Vince Cable 535
Milo Yiannopolous 533
Professor Jordan Peterson 442
Jonathan JJ Tease 271
Brace Belden

236

John Lindberg 199
Duncan Logie 45
Thomas Hind

38
There were 44 spoilt ballots.
---
Further information contact University of Glasgow SRC: Tel: 0141 330 5360 / president@src.gla.ac.uk
First published: 21 March 2017